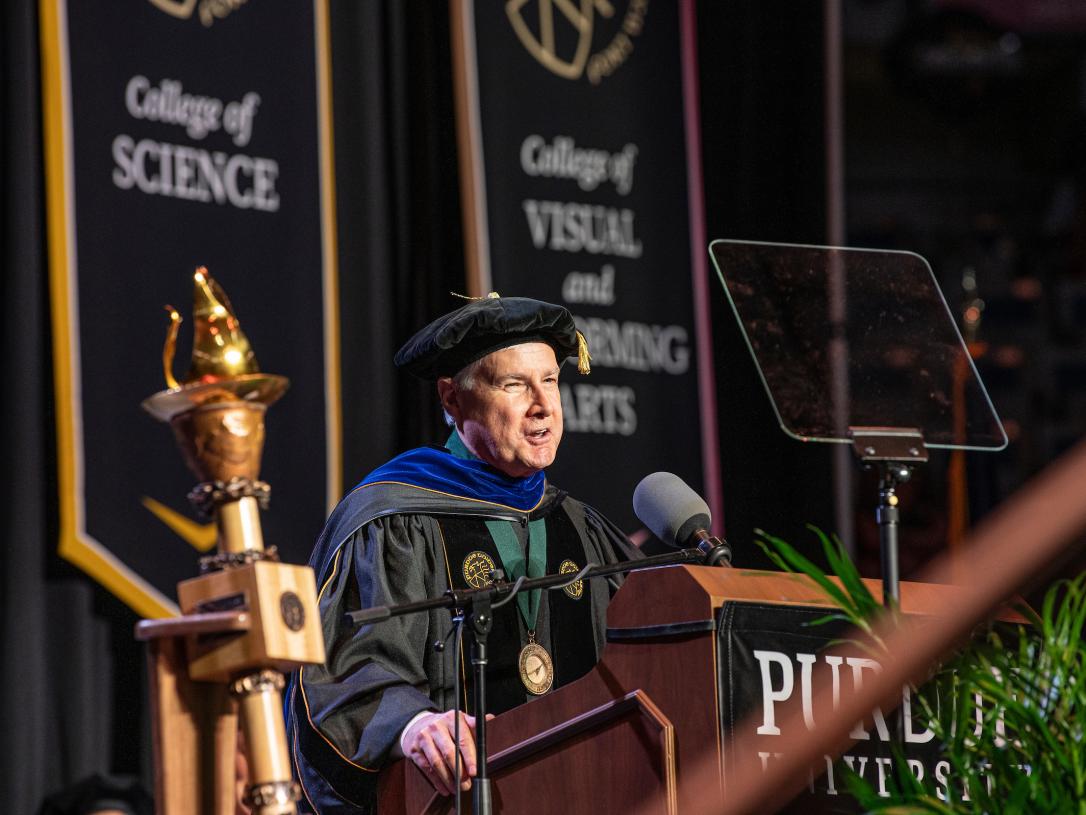 Take thunderous footsteps.
"Commencement ceremonies are one of life's special moments—a time to reflect on years of hard work and a time to look forward to your future as a new degree holder. When you don your cap and gown, be proud of yourself, be thankful toward others, and take thunderous footsteps into the world with the knowledge you have gained during your years at Purdue University Fort Wayne."
—Chancellor Ronald L. Elsenbaumer
COMMENCEMENT CHECKLIST
Find everything you need to prepare for the big day.
PARKING AND DIRECTIONS
Set your GPS for Memorial Coliseum.
Our ceremony will be held in the Allen County War Memorial Coliseum, located at 4000 Parnell Avenue.
Please allow adequate time for travel and parking, as traffic on the streets surrounding Memorial Coliseum will be gridlocked 30 minutes prior to the start of the ceremony.
Parking is free for everyone, courtesy of the Student Government Association.
PHOTOGRAPHY OPPORTUNITIES
Be ready to strike a pose.
GradImages will be on-site at the coliseum two hours prior to the ceremony for graduate portraits. No appointment is necessary.
GradImages will also photograph each graduate before getting on stage, as they are receiving their diploma cover, and after walking across the stage. The stage area will be restricted to university photographers during the distribution of diploma covers.
ARRIVAL AND ACCESSIBILITY
A ceremony for everyone.
Students must be robed and in line with their college or school 30 minutes prior to the processional time.
Upon arrival, guests may enter the front doors of the coliseum and proceed to the upper level (an elevator is located behind the escalators). Guests should then proceed to their seat in the arena.
Guests with mobility issues should ask an usher for assistance with seating. ASL interpreters will be signing throughout the ceremony. If you have questions regarding accessibility needs and accommodations, please contact us [email protected].
DIPLOMAS
Your diploma will be mailed to you.
After your degree is verified by the Office of the Registrar, your diploma will be mailed to the primary address listed on your goPFW account. Please check that the address is correct, as incorrect addresses and late address changes could cause a delay in the receipt of your diploma.
The Office of the Registrar is responsible for diplomas, diploma distribution, and degree verification for employers.
MORE INFO
Still have questions?
For questions regarding graduation and diplomas, please contact the Office of the Registrar at [email protected] or
260-481-6815.
For questions regarding international students, please contact the Office of International Education at [email protected] or
260-481-6034.
For questions regarding the commencement ceremony, please contact the Office of Communications and Marketing at [email protected].
It's easy to confuse the two. Graduation happens several times per year, at the end of each semester. This is the date you achieve your degree and it is conferred. For example, if you are planning to graduate at the end of the fall 2023 semester, your projected graduation date is December 18, 2023.
Commencement is a formal ceremony that occurs once a year, at the end of the spring semester. Any student who achieves their degree during the preceding year is included in the university's spring commencement. This year's ceremony is May 8.
What are all those tassel and hood colors? Spot your graduate in the procession based on their college or major by using the following list:
Applied science: silver and white
Business: drab
Education: light blue
Engineering, technology, and computer science: orange
General studies: silver and white
Liberal arts: white
Music: pink
Performing arts: brown
Polytechnic: orange
Science: gold
There is no winter commencement ceremony at Purdue Fort Wayne; however, the university's spring commencement ceremony is held each May and open to all students who have achieved their degree during the previous year regardless of which semester they graduate. If you graduated in December, you will be able to participate in our ceremony in May.
Yes. This has been standard practice in the past, and you may contact the Office of Communications and Marketing at [email protected] to arrange your participation. Fall graduates, spring graduates, and prospective summer graduates have all been invited to participate in commencement. Please note that participating in commencement does not mean that you have graduated; you must apply for graduation through goPFW.
You should meet with your advisor to discuss your progress and to determine if you are on track to graduate. Only your advisor can tell you if you have met your program requirements.
Yes. When you apply to graduate, you will be asked how you want your name to appear on your diploma. You can input your preferred name at that time. 
Yes. The Office of International Education can provide an official letter that a graduating international student's family may use in their visa application process. Since visa applications in many countries are experiencing long wait times for processing, it is important to start this process as soon as you know your family's plans. International students may send a request for a letter to [email protected].
As an honors-degree candidate participating in the commencement ceremony, you will wear an honor cord and receive special recognition during the ceremony. We will notify you by email if you are eligible to wear a cord.
If you are a candidate for an associate or a bachelor's degree, you qualify for graduation with  distinction or highest distinction by meeting the requirements set forth by the university Faculty Senate:
Distinction is defined as meeting or exceeding a cumulative grade point average of 3.80 and meeting minimum resident credits.
Highest distinction is defined as meeting or exceeding a cumulative grade point average of 3.95 and meeting minimum resident credits.
If you are a bachelor's degree candidate, you must have completed a minimum of 65 resident credits.
If you are an associate degree candidate, you must have completed a minimum of 35 resident credits.
Military Student Services Recognition
If you are currently serving, or formerly served, honorably in the military, you are eligible to wear a red, white, and blue cord. For more details, go to Military Student Services.
Honor Insignia from Greek Honor Societies
A wide array of honors organizations recognize outstanding achievement in service, philanthropy, and scholarship. Purdue Fort Wayne is proud of all students who fulfill the requirements for membership in these important societies, but on commencement day the university singles out those honor societies that emphasize academic achievement.
To become a member of one the following honor societies, you must achieve a minimum grade point average of 3.0. As a member, you may wear your society's honor cord or medallion during commencement.
You may purchase your cord directly from the society headquarters or local chapter:
Alpha Kappa Delta—International Sociology Honor Society
Beta Beta Beta—National Biological Honor Society
Beta Gamma Sigma—International Business Honor Society
Chi Alpha Sigma—National College Athlete Honor Society
Delta Alpha Pi—International Academic Honor Society for Students with Disabilities
Kappa Delta Pi—International Honor Society in Education
Lambda Alpha—National Anthropology Honor Society
Lambda Pi Eta—National Communication Association's Honor Society
National Society of Leadership and Success
Omicron Delta Epsilon—International Economics Honor Society
Phi Eta Sigma—National honor society for first-year students
Phi Kappa Phi—National honor society for all academic disciplines; Purdue Fort Wayne's Phi Kappa Phi chapter
Pi Mu Epsilon—National Mathematics Honor Society
Psi Chi—International Honor Society in Psychology
Sigma Gamma Epsilon—National Honor Society for the Earth Sciences
Sigma Tau Delta—International English Honor Society
Sigma Theta TauInternational Honor Society of Nursing
Tau Upsilon Alpha—National Organization for Human Services Honor Society 
Upsilon Pi Epsilon—International Honor Society for the Computing and Information Disciplines
LIVESTREAM
Join the ceremony from wherever you are.
If you are unable to attend, you can still take part in all the excitement because we will be livestreaming the ceremony. Check back here on the day of commencement for a livestream link.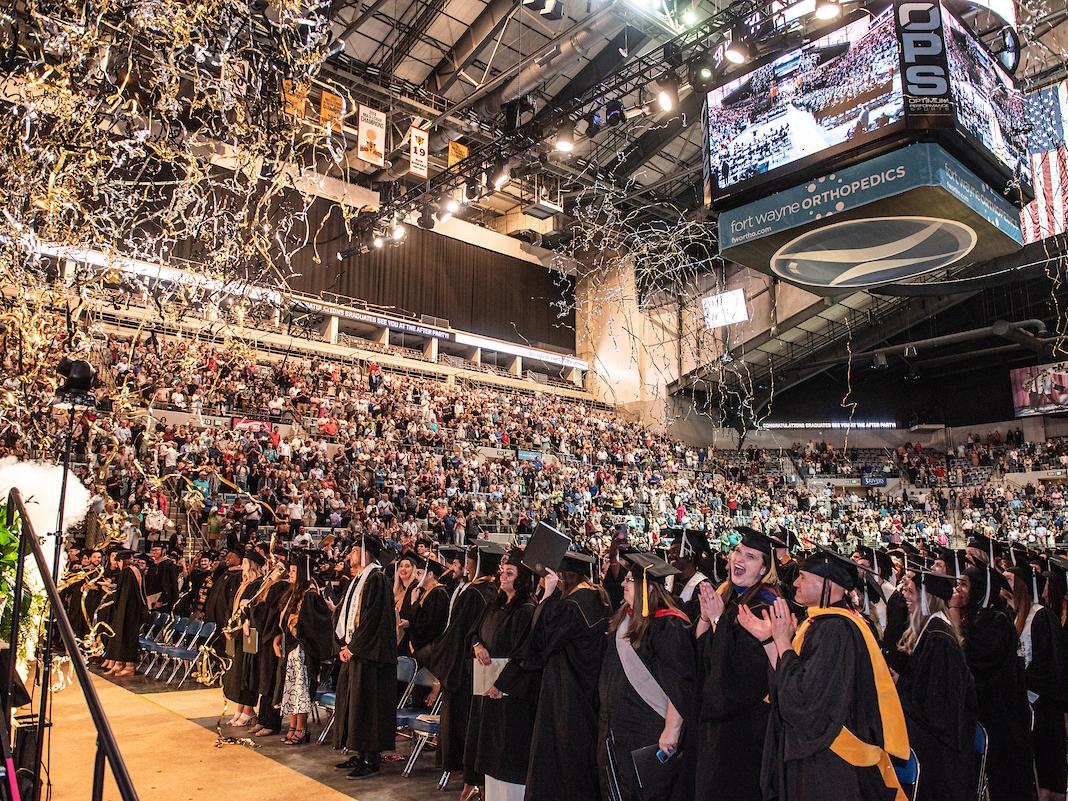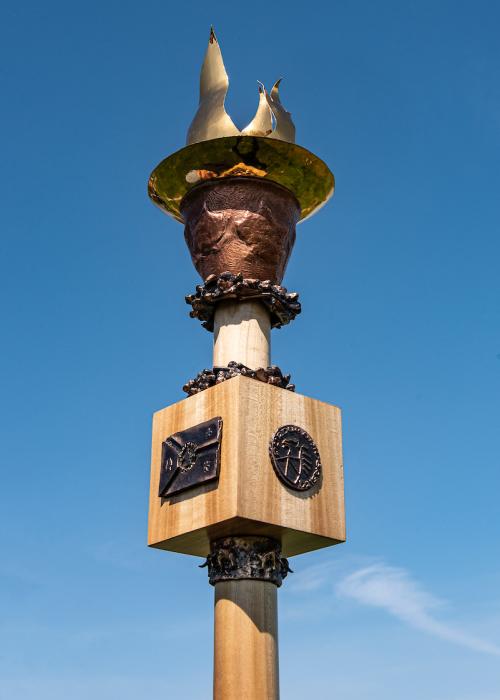 Ceremonial Mace
Tradition meets artistry.
Dating back to medieval times, maces have a long tradition of ushering in formal, ceremonial events. Carried by the university marshal, and only present when the chancellor is in attendance, the mace signifies that the proceedings have official sanction. The Purdue University Fort Wayne mace is used solely during commencement ceremonies and university convocations.
In 2020, Robert F. Schroeder, artist and limited-term lecturer, in collaboration with Dana A. Goodman, professor emeritus, designed and crafted the first official Purdue Fort Wayne mace. Through meticulous carvings and metalwork, thoughtful materials, and careful placement, the mace tells intricate stories of our university's founding.
Memories
Snapshots of previous commencement joy.