 People Directory
Find a Mastodon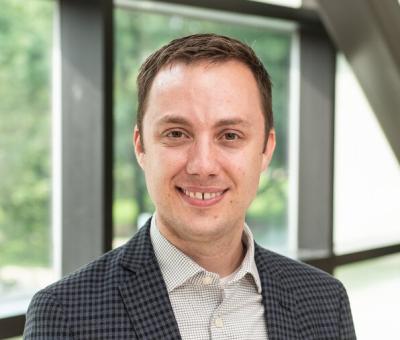 William Sauerland
Assistant Professor of Music and Directo
School of Music
William Sauerland
Assistant Professor of Music and Directo
School of Music
William Sauerland is Assistant Professor of Music and Director of Choral Studies for the School of Music at Purdue University – Fort Wayne, conducting the choral ensembles, teaching classes in music education, and supervising student teachers. He served as the Interim Coordinator of Vocal Studies and Interim Assistant Director to the School of Music during the 2022-2023 academic year. He was previously a Lecturer in Voice at San Francisco State University, and the Director of Choral and Vocal Studies at Chabot College in Hayward, CA, where he received an Educator of Excellence Award from the Chabot Black Scholars. Dr. Sauerland taught choral music at Lick-Wilmerding High School for six years, and served as Associate Music Director for the Grammy Award-winning Pacific Boychoir Academy. He also has 10 years of experience in directing community choruses, including the Oakland Gay Men's Chorus and the Lesbian/Gay Chorus of San Francisco. Dr. Sauerland is an adjudicator and faculty member for Schmidt Vocal Arts.

Praised by the San Francisco Chronicle for his "limpid tone and astonishing eloquence," Dr. Sauerland remains active as a professional countertenor. He is a member of the Indianapolis-based early music ensemble Echoing Air alongside renowned countertenor Steven Rickards. Sauerland's recent solo appearances include the American Bach Soloists, Echoing Air, Festival Opera Company, Folger Consort, Handel Opera Project, Musica Angelica Baroque Orchestra, Oakland Symphony Orchestra, and Pacific Chorale. A former member of the Grammy Award-winning vocal ensemble Chanticleer, Dr. Sauerland has sung throughout the world, and recorded multiple albums for Warner Classics.

As a researcher and scholar, Dr. Sauerland has presented at national and international conferences for the American Choral Directors Association (2015, 2023), Chorus America (2017, 2019), College Music Society (2018), International Society for Music Education (2022), Narrative Inquiry in Music Education (2022), National Association of Teachers of Singing (2022), Research in Music Education (2021), Royal Musical Association (2019), and Society for Music Teacher Education (2017). Dr. Sauerland's research interests include social justice pedagogy in vocal music education, trans and genderqueer vocality, and student-centered teaching. His publications appear in the Choral Journal, Journal of Singing, Journal of Music Teacher Education, VOICEPrints (Journal of the New York Singing Teachers' Association), and in two choral textbooks, Resonance (Pavane Publishing, 2021) and The Choral Conductor's Companion (GIA Publications, 2020). His book Queering Vocal Pedagogy was published by Rowman & Littlefield in June 2022.

Dr. Sauerland received the Doctorate of Education in College Teaching of Music and Music Education from Teachers College, Columbia University. As a Marshall Scholarship recipient, he earned a Master of Music (MMus) and Post-Graduate Diploma (PGDip) in Advanced Vocal Performance from the Royal College of Music in London. Born in Indiana and raised on a small dairy farm in Ohio, he received a Bachelor of Music (B.M.) in Music Education and Vocal Performance from Miami University in Oxford, Ohio.