 People Directory
Find a Mastodon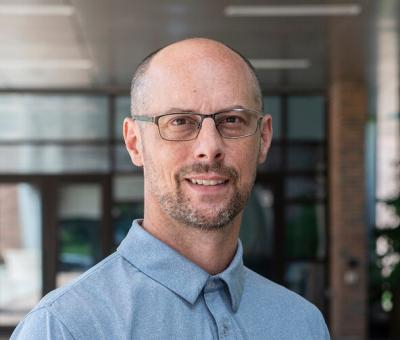 Christopher Ganz
Professor of Fine Arts
Department of Art and Design
Christopher Ganz
Professor of Fine Arts
Department of Art and Design
Biography
Christopher Ganz is Professor of drawing and printmaking at Purdue University Fort Wayne. Ganz received a Bachelor of Fine Arts from the University of Missouri-Columbia in 1995, and a Master of Fine Arts from Indiana University-Bloomington in 2001. His work has been displayed across the nation and at international art fairs, and his work is represented by Gallery Victor Armendariz in Chicago.

Ganz has twice won the grand prize in the Fort Wayne Museum of Art National Realism Biennial, in 2008 and in 2010, and won the best in show award at the South Bend Museum of Art's Regional Biennial 25 in 2009.

Seminal influences on the work of Ganz include Dore's engraved illustrations for The Divine Comedy and super-hero comics. Later, Old Masters such as Rembrandt and Caravaggio would inspire his wok, as well as contemporary artists such as Mark Tansey and Lucian Freud. The novels of Melville, and Dostoyevsky, and contemporary authors such as Thomas Pynchon and Umberto Eco are also sources of inspiration.

Artist Statement
Christopher Ganz depicts his person in multiplicity with different selves representing dramatis personae. His likeness is both implicit and symbolic in the portrayal of the narrative; the drama involved in creating art and the artist's role in society. The artist uses realism to invite the viewer into mysterious inner worlds that are layered reflections of the outer. Dehumanizing environments are imbued with art historical references as a critique of power structures. The artist is an Everyman who is at odds with society and himself. Visually, his work is a celebration of society's dark undercurrents and its overlooked absurdities. Ganz uses charcoal and printmaking media as their tenebrous values add a fitting metaphor. The nuances of light and shadow seduce viewers into a world their better judgment would have them avoid. This provokes a sense of disquietude that causes viewers to assess our world through the austerity of a colorless, yet not humorless, light.