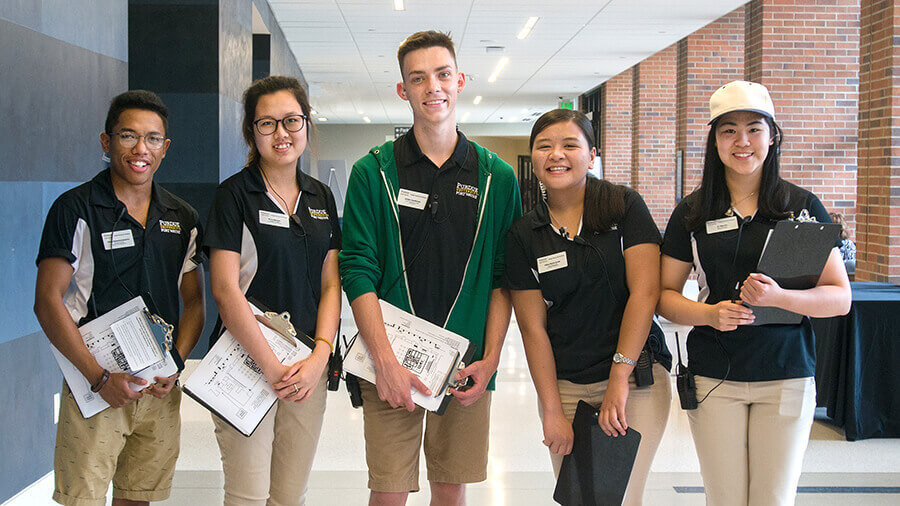 Getting Hired
Getting a job doesn't have to be stressful. Use the following tips to prepare for an interview and to learn about federal as well as information on federal work-study aid.
Find your next career on handshake
Conduct Your Research
Researching potential employers is an essential part of any job search. You'll need to know why you want to work for the company with whom you're interviewing, and be able to express that during the interview. You should be knowledgeable about what the company offers, what their goals are, and who they serve before going into the interview—this is a must-have for campus job interviews as well.
Career Services also recommends that you research the industry for which you are interviewing (e.g., banking, insurance, advertising, nonprofits).
Here are a few good resources for conducting your research:
The employer's home page (if available)—most employers have a website, and you can be certain that they will expect you to have viewed it!
College professors and people already working in the field
Stock brokerage firms for annual reports
Job Choices magazine for basic information on organizations that hire college graduates
Industry-related magazines or journals.
Practice Makes Perfect
Career Services can help you prepare with a mock interview, either on our Mock Interview Day or scheduled at your convenience.
Additional ways to prepare include making a list of questions that you want to ask the interviewers, and rehearsing your answers to questions that you're likely to be asked during the interview.
The Day of Your Interview
You've sent out your résumé, scheduled the interview, and prepped your question list—now it's the big day. What do you do? Here are some tips:
Dress appropriately; appearance is the first way in which you communicate with others; for interviews, a suit is almost always appropriate for both women and men; our What to Wear style guide (below) can help with more specific details.
Know the name of the interviewer; after your appearance, your first impression while speaking with the interviewer can make or break your job prospects; be ready to greet them by their last name (Hello, Ms. Johnson), and be prepared for a handshake.
Bring a pen and a portfolio-style folder with extra copies of your résumé—don't bring your backpack to the interview.
Arrive 10–15 minutes early—you never want to start off an interview with an excuse for being late; also, you may need to fill out paperwork before your interview begins.
Take a deep breath, and give it your all.
What to Wear
Dress for the job you want, not the job you're interviewing for. Whether you're interviewing to be a waiter or a computer service technician, what you wear to the interview is noticed by your potential employer, and prompts them to make conclusions about you before you even have a chance to speak. Appropriate dress is one of the most important factors in your job search. Your appearance creates an impression that can complement your credentials and give you an extra edge over a field of other qualified, competent individuals.
There are standards of professional dress in all career fields. Some industries are more traditional (such as banking, consulting, and business), while others can be more casual (such as advertising, the arts, and communications). Let the dress standards in the field in which you are interviewing be a guide to what you wear for your interview.
Check out our Tips for Professional Dress [PDF] and our Tips for Business Casual [PDF].
On-site Interviews
While traveling to an on-site interview, either business casual attire or professional dress (see above) is best. You may meet someone when traveling or be met upon arrival by someone who will have a part in the hiring process.
Evening Events
If you're attending an evening reception or dinner as part of your interview process, professional dress is most suitable unless otherwise specified in the invitation.
Career Fairs
For career fairs, professional dress is best.
Picking Up or Dropping Off Résumés or Applications
For picking up or dropping off a résumé or an application at an employer's office, you'll want to dress business casual.