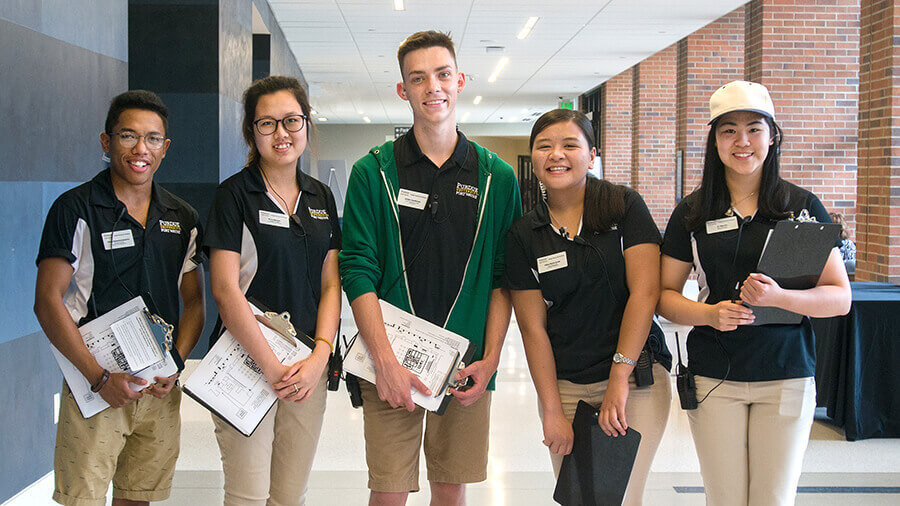 What You Need to Know
We get the following questions often—here are the answers. If you have further questions, let us know.
What is federal work-study?
Federal work-study is a source of federally funded, need-based financial aid. You must file the Free Application for Federal Student Aid (FAFSA) to be considered for work-study. If you demonstrate financial need as determined by Student Financial Aid, you may receive work-study as part of your financial aid package. If so, federal work-study will be listed on your Notice of Financial Aid Eligibility Letter, also called a financial aid award letter. The Office of Financial Aid will determine a maximum amount of work-study funds that you can earn during the school year.
Where can I look for a work-study position?
You can look on Handshake, our free, online, national job-posting service for students and alumni. In order to view work-study positions on Handshake, you must first submit this very short Work-Study Survey. Once you've submitted the survey, within 48 hours, you will be able to access the work-study positions posted in Handshake. Keep in mind, if you don't see a position that you want listed on Handshake, you can always ask departments if they're in need of a work-study student for the semester or year.
The On-Campus Job Fair, held the second week of fall semester, is also a great opportunity to learn about available on-campus positions, many of which are work-study positions.
You can also ask off-campus, nonprofit organizations if they need a work-study student. Depending on the job description, budget, and needs of the nonprofit—and the approval of Financial Aid—you could create a new work-study position.
What is the difference between a work-study job and regular employment?
The primary difference is in how the jobs are funded. Take a look at the following information.
Federal Work-Study
Federal work-study is a type of federal aid in which the federal government pays 70 percent of the wages, and the employing department pays 30 percent. To be awarded work-study funds, you must demonstrate financial need, as noted on the FAFSA. Only students eligible for work-study funds may work in work-study jobs.
Work-study earnings are not considered income when determining eligibility for financial aid the following year, and have a maximum limit listed on your award letter.
To work a work-study position, you must meet the half-time enrollment requirements:
Six semester hours for undergraduates
Four semester hours for graduate students
The same requirement applies for receiving work-study funding for summer work.
Regular Employment
Regular employment does not use federal financial aid money; the employing department or organization pays 100 percent of wages, and you are not required to file the FAFSA to be eligible. Regular employment earnings do not affect your current-year aid package.
Any student can apply for regular employment jobs, and you won't have a limit on how much you can earn. However, the numbers of hours available may be limited by the department's funding.
You'll still need to meet the minimum enrollment requirements listed above for the fall or spring semesters. If you're working over the summer, the enrollment requirements are waived if you were enrolled at least half-time in the spring and will be enrolled at least half-time in the fall.
How do I apply for federal work study?
You must complete a FAFSA to apply for federal work-study and other need-based aid. The Financial Aid office determines your eligibility for aid and notifies you in writing. If work-study is not included on your Notice of Financial Aid Eligibility and you're interested in a specific work-study job, contact Financial Aid at 260-481-6820—you may be eligible to have work-study added to your award package. Increasing or decreasing your work-study eligibility may affect your other financial aid.
What are the benefits of participating in federal work-study?
There are many benefits of a work-study job:
With work study, more opportunities are available to you; many campus departments and nonprofit organizations are able to hire additional staff because the federal government pays most of the salary for each student worker.
Work-study earnings do not affect your financial aid package for the following academic year, while earnings from other jobs do.
Social Security is not withheld from your paycheck during any period in which you are registered for classes (this is true for any student

'

s hourly job paid through Purdue Fort Wayne payroll).
Within reason, work-study employers make an extra effort to be flexible with work hours due to class schedules and exams.
Work-study enables students to have fewer loans and less debt.
Do all work-study jobs pay minimum wage?
Yes, but most pay more.
Will work-study decrease my pell grant or other grants or scholarships?
No. Work-study is given only if you demonstrate more financial need after all gift aid has been applied. It will never decrease any of your grants or scholarships. Only loans and work-study aid are interchangeable.
Do work-study wages go directly to the bursar's office to cover tuition and books?
No. You'll receive work-study payment (check or direct deposit) based on the pay rate and the number of hours you have worked in the pay period.
For more information, contact us at 260-481-6124 or [email protected].