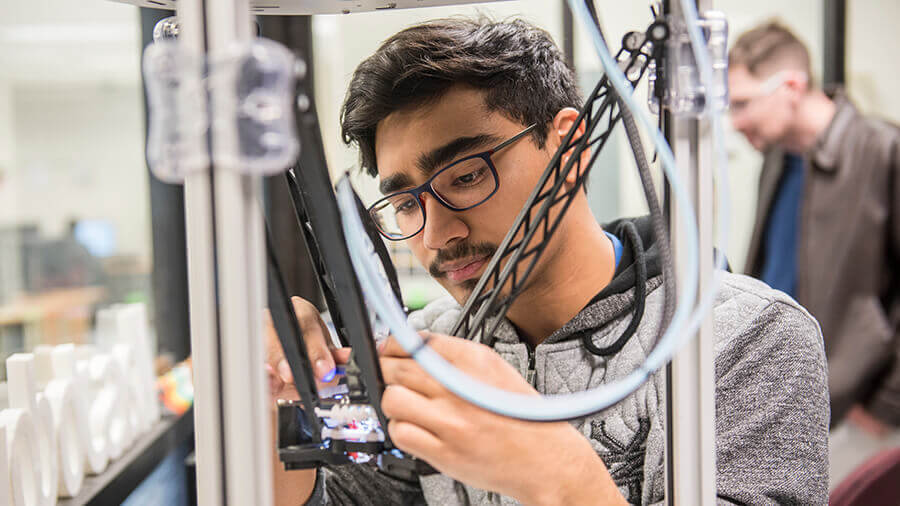 Welcome to the Walb 3D Print Lab
The 3D Print lab is a service open to students, faculty, staff, and classes. If you are interested in our printers or the general 3D Printing process, please feel free to stop by and talk to our technicians.
Submit a 3D print request
Print Lab Policies
Faculty, staff, and students will not be permitted to use the 3D printers to create materials and/or objects that are any of the following:

Prohibited by local, state, or federal law
Unsafe, harmful, dangerous, or obscene
In violation of intellectual property rights (e.g. the printers cannot be used to produced copyrighted, patented or trademarked material)

The 3D Print Lab reserves the right to refuse any 3D print request.
Printed items not picked up within 10 business days become property of the 3D Print Lab for display purposes; items must be picked up by the individual who requested them.
Prints often require support material to be printed. Supports are the responsibility of the 3D Print Technicians to remove (unless otherwise noted). Any other finishing touches, e.g. sanding, painting, assembling, are the requester's responsibility.
Users must submit complete files ready for 3D printing.
All requests must be done via web submission with a valid University account.
Users will see increased wait times at the end of each semester due to increased demand volume — we recommend submitting requests ahead of this timeframe.
Printing Cost
All charges for requests will be deducted from your PaperCut account balance, shared with paper printing. Pricing ranges from $0.10 per gram for single-color plastic prints to $0.20 per gram of filament. Your balance will be refilled every semester and can be increased beyond the standard semester allotment by visiting the Office of the Bursar. Scanning services are free of charge. See the equipment list for details.
The Printing Process
To begin the printing process please submit a request using the website submission form. .STL or .OBJ are the standard file types for 3D printing. Once your request has been submitted a technician will respond with a price estimate for your print. Your print will be added to the queue once you have confirmed the cost. If you do not confirm the cost, your print request will not be fulfilled. Once your print is completed you will receive an email from a technician notifying you it is done and ready for pickup. Your PaperCut will be charged upon completion of the print. Once the print is completed you will have 10 business days to pick up your print.
Our Equipment
2 Prusa I3 MK3S, Standard PLA, print bed size of 8inx8inx9in
2 Prusa I3 MK3S MMU2, Standard PLA, setup for multicolor files**
FormLabs Resin Printer &mash; high-definition resin printing capable of 0.025 mm, 0.05 mm, and 0.1 mm layer heights ($0.20 per milliliter)
Skanect iPad Scanner — ideal for scanning objects such as a person, large object, or room
**Multicolor prints must be separate files. We cannot print a single file in multicolor.
Begin Your Ticket
Start a 3D print request by clicking the button below.
Submit a 3D print request