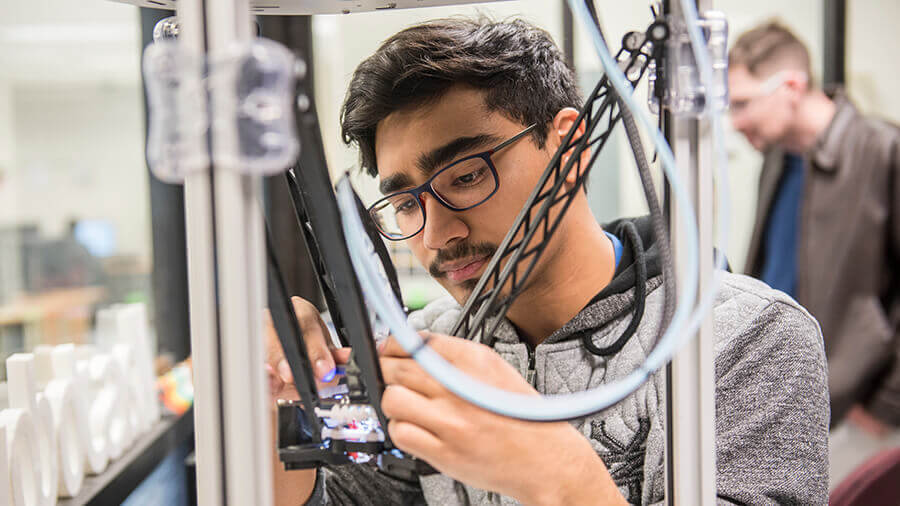 Our 3-D Print Lab Awaits
Join us in our Mastodon MAKERLab 3-D print lab, open to students, faculty, and staff. If you are interested in consulting with us on a project, or if you are interested in 3-D printing, start by filling out a Request Form.
The Printing Process
To get started with your print job, submit a request using the 3-D Print Request Form. Provide your model file (upload an .stl or .obj file) or link to an online resource, such as Thingiverse. Once you have submitted your request, a consultant will estimate the cost of your print. When you confirm, the print will begin. When your print is completed you will receive an email with the final weight of the print and the pick-up date. Print times depend on the request queue and the model uploaded. The majority of requests are completed within 10 days. All prints are subject to MAKERLab policies.
Printing Cost
All charges for requests will come out of your PaperCut account balance, shared with printing paper copies. Pricing ranges from $0.10 per gram for single-color plastic prints to $0.20 per gram of filament, and is $1.75 per milliliter of ink for full-color plastic printing. Your balance will be refilled every semester; the balance can be increased beyond the standard semester allotment by visiting the Office of the Bursar. Scanning services are free of charge. See the equipment list for details.
Our Equipment
The Mastodon MAKERLab is equipped by IT Services with the following devices:
ROBO3D R1+ printers—standard 1.75 mm PLA plastic 3-D printers
ROBO 1—setup for standard single-color print requests for 0.1 mm, 0.2 mm, and 0.3 mm layer heights ($0.10 per gram)
ROBO 2—setup with a wide nozzle for printing 0.4 mm, 0.5, and 0.6 mm layer heights for faster printing and large objects when less detail is needed ($0.10 per gram)
ROBO 3—setup with a Palette+ device that allows for the printing of one to four colors or filament types in one print (price varies based on material, starting at $0.10 per gram)
FormLabs Form2 Resin Printer—high-definition monochrome resin printing capable of 0.025 mm, 0.05 mm, and 0.1 mm layer heights ($0.20 per milliliter)
XYZ DaVinci Color Printer—capable of printing full-color PLA plastic parts by applying CMYK ink to each print layer ($0.20 per gram of plastic and $1.75 per milliliter of ink)
Makerbot Digitizer Scanner—for scanning small- to medium-size items that could fit on a record player
Skanect iPad Scanner—ideal for scanning objects that don't fit on the Makerbot Digitizer, such as a person, large object, or room
MAKERLab Policies
The 3-D printer may be used only for lawful purposes.
Faculty, staff, and students will not be permitted to use the 3-D printer to create materials that are any of the following:

Prohibited by local, state, or federal law
Unsafe, harmful, or dangerous
Obscene or otherwise inappropriate for the university environment
In violation of intellectual property rights (e.g., the printer will not be used to reproduce material that is subject to copyright, patent, or trademark protection)

IT Services reserves the right to refuse any 3-D print request.
Printed items that are not picked up within 14 days will become property of IT Services for display purposes; items must be picked up by individual who requested them with a Purdue Fort Wayne ID.

Only designated IT Services staff will have hands-on access to the 3-D printer.
Prints will sometimes require support material, which is included when we weigh finished prints; MAKERLab staff will remove support material before pick-up to reduce the likelihood of breaking the actual print; any additional sanding, painting, etc., will be the requester's responsibility.
There may be times when a printer is being upgraded, repaired, or is being used for an event or a course; such a delay will be noted on the request process.