RIPPLES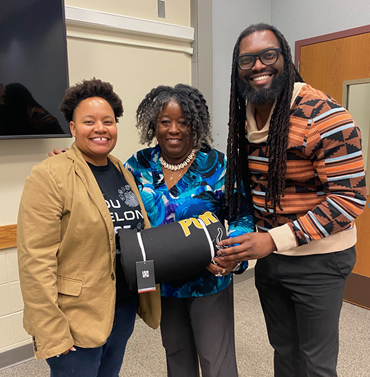 Rhonda Meriwether (middle) earned 50 Ripples and a PFW blanket!
RIPPLES
As faculty and staff, you can recognize your peers across campus and let them know that they have made a positive difference through RIPPLES. Your RIPPLES submission helps your peers understand that what they do matters, and their contributions help make the university a great place to work.
Nominate a Ripples Candidate Today
The RIPPLES values are:
R - Respect and Civility
I - Initiative to Make Things Better
P - Professionalism in All That We Do
P - Personal Accountability
L - Listening and Learning
E - Excellence in Service
S - Supporting Student Success
Awards for Recognition
RIPPLES certificate: Five (5) nominations PFW branded travel mug/tumbler: Fifteen (15) nominations PFW branded laptop bag: Thirty (30) nominations PFW branded fleece throw blanket: Fifty (50) nominations **Student employees are also eligible for RIPPLES! Students receive milestone awards (different from above) through the Career Development Center.