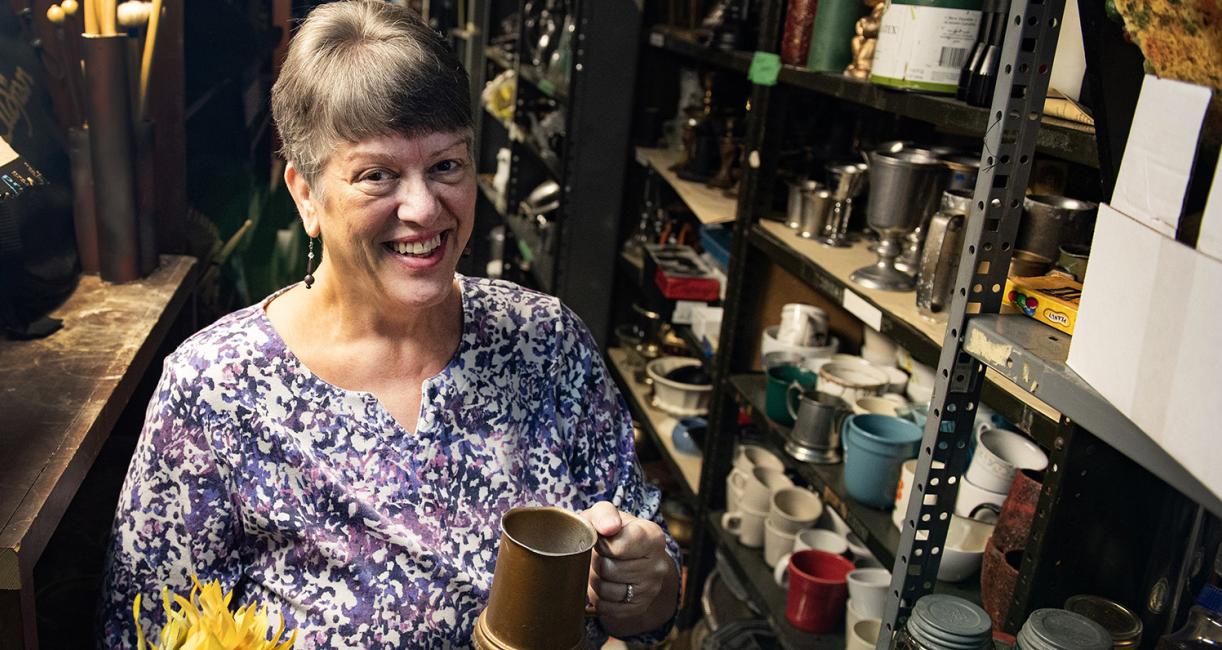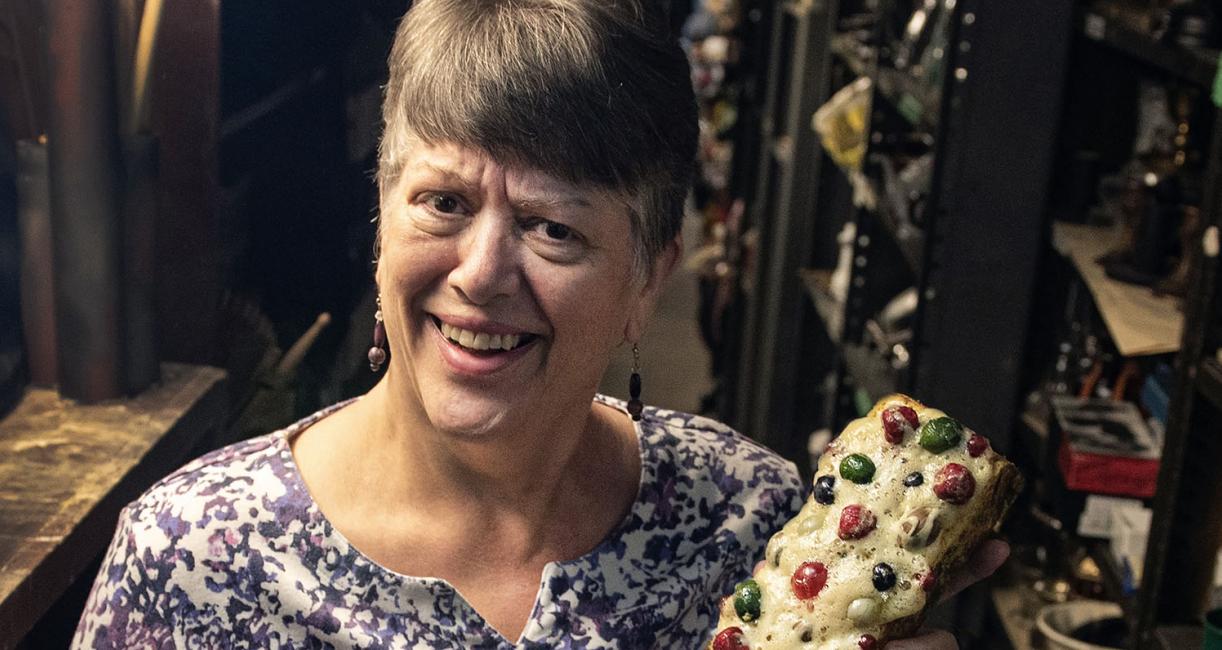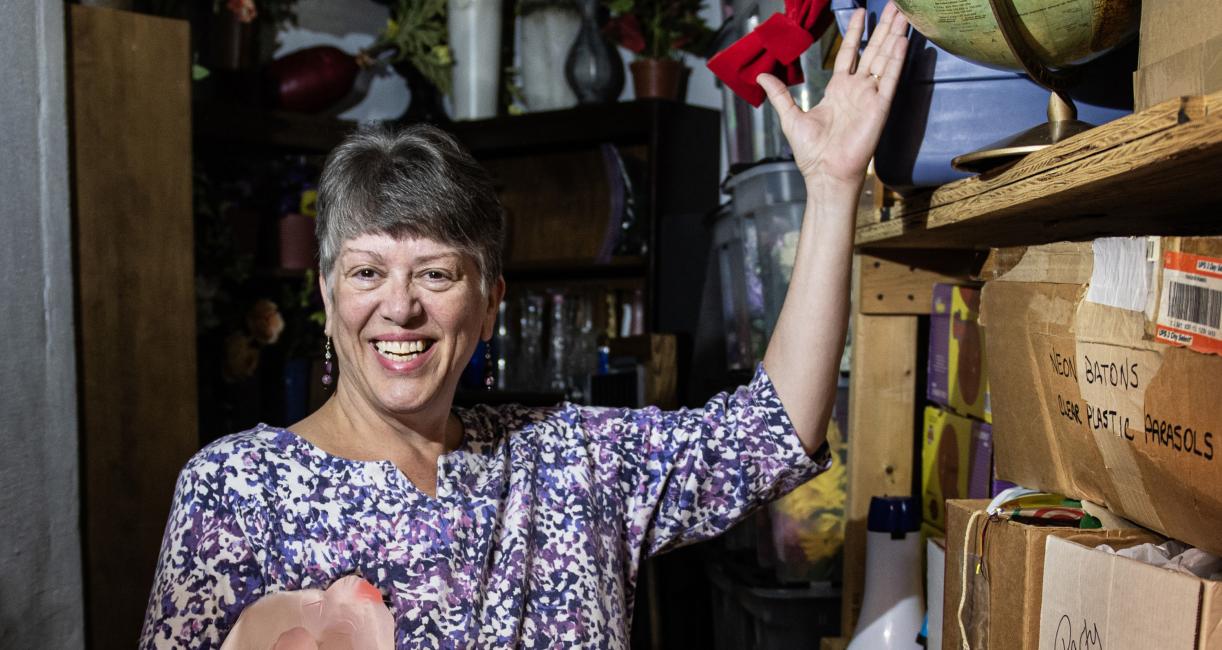 Susan Domer: Mastodon Memories
This summer series explores the campus experiences of current PFW faculty and staff who are also alumni.
By Blake Sebring
June 22, 2023
Susan Domer, B.G.S. '05
Marketing and public relations specialist for the College of Visual and Performing Arts 
Domer started on campus as a theatre major in 1979, but left after earning an associate degree because she needed to work full-time and theatre classes were only offered during the day. She returned to campus in 2000 to her current position, and graduated in 2005 with a bachelor's degree in general studies. 
Where were you from and why did you decide to go to school here?
SD: I'm from Fort Wayne, graduated from Concordia, and I was very undecided when I graduated from high school. I was working third-shift at a nursing home when I decided to start going to school again. I got folded into the theatre program and worked part-time and was very happy for many years doing that. I also worked full-time at Historic Fort Wayne as a first-person interpreter. 
What car were you driving at the time?
SD: It was some kind of black Buick with opera windows. White leather interior. I always had so many used cars, I've lost count. 
Why did you pick your major?
SD: I loved every topic, so when I came back to school, people were asking, "What is your major going to be?" I loved anthropology, political science, English; I loved all of it, so I decided being a general studies major was perfect for me. I had so many interests, and I liked to write, so I could write about any given topic with a little bit of research. I took very few new classes that helped me do the fundamentals of my job better, but they absolutely helped me get to know my customers better. I already knew theatre, so I took classes like music therapy, art appreciation, art history, and music for the listener. I felt I wanted to get on solid, even footing with the new customers I was representing—and I sure did. Those choices really impacted my job.
How did attending school here change your life?
SD: It brings you a solid level of accomplishment. I knew I was smart and I could do it, but finding the time and the wherewithal to do it was problematic. When I finally chose to knuckle down, the feeling of accomplishment was fabulous. 
What kind of music were you listening to, and who was your favorite artist or band?
SD: I was a total early-80s child. I liked Queen and Talking Heads and Cindi Lauper. I didn't really embrace disco so much as that's just what you did to go out and meet people. Probably my favorite artist is Paul Simon.
What was your favorite area of research?
SD: I think my favorite was learning more about music. There was so much to learn, the structure, understanding classical music, how we hear music, what all the different instruments are. Now I listen to music and I know exactly what that oboe is, and I can hear that bassoon from a mile away. It just helped me have a good, clear understanding of what I was listening to. I did much more research than what was required. 
Were you a member of any student organizations?
SD: They needed somebody to do reviews in The Communicator and I did that, and then they made me a features editor.
Did you have a favorite professor and why?
SD: Larry Life. I learned more from Larry about acting and theatre than anyone else. A lot of what happens in the classroom is academic, but once you get on stage and you are acting with other people, especially people from the community, you learn by participating, observing, and doing.
Why did you want to come back to the university?
SD: I just knew it was going to be the kind of job I'd enjoy. I just knew it had all kinds of things that spoke to me and my creative spirit.
How has PFW changed for the better?
SD: I feel like students are so much more engaged with the campus. I'm sure it's a combination of more student organizations, Student Housing, and Student Life and [Student] Leadership really pouring their efforts into creating a community. We've always been a community on this end of campus because we continually support each other. It's just so nice to see so much student involvement. I've had over 30 students work for me over the last 30 years, and every single one has gone on to do amazing things. They are great people.