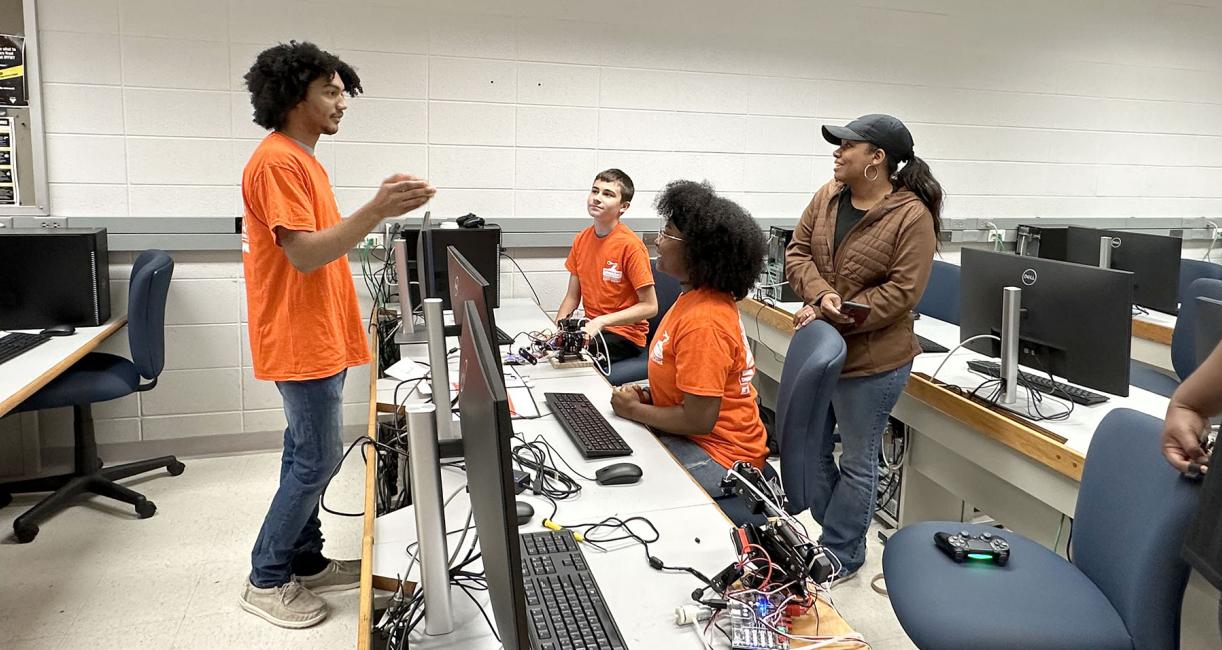 Sophomore steps up to lead new ETCS summer camp program
By Blake Sebring
August 8, 2023
A number of years ago, shortly after his grandfather introduced him to computers, soon-to-be sophomore Brian Waltz started working with his three younger siblings to teach them some skills. Then he did the same thing as a middle and high school student with classmates.
For the past five years, serving first as a camper and then as a counselor with Purdue University Fort Wayne's engineering and computer science exploration camps, Waltz's talents have been on display. When he started attending PFW last fall, representatives of the university's College of Engineering, Technology, and Computer Science quickly drafted him to help with their outreach programs.  
"We have all known that Brian was so beyond his year in his knowledge of computer science and technology," said Janet North, ETCS outreach program coordinator. "He never stops thinking about the next way to improve or invent a program, even while he was still in high school. I am in awe of his abilities and accomplishments."
This summer, instead of having him just serve as an assistant with the camps, the organizers put him in charge of one. It wasn't one he'd attended for a few years, either, as they had Waltz lead a brand-new program.
"Every once in a while, you come across someone who has incredible potential but does not recognize it in themselves—and Brian is one," said Michael Dobbs, president of Emerging Technology Associates and the lead instructor for the camps. "He is super-smart, super-driven, a very quick learner, and very humble. He is super with the students. Those who wanted to learn, he gave freely as much as they could absorb, and those that didn't want to learn, he still offered."
Waltz helped implement an engineering robotics exploration camp dedicated to automation bots where students program and work with a smaller version of an industrial robotic arm.
During the week-long, all-day sessions, Waltz organized the equipment, designed his teaching plan, and then anticipated questions, spending extra prep time in the lab to make sure everything was ready. He even recalibrated the robot to make it easier for student to work with.
Waltz wasn't too worried about impressing his supervisors because he was so concentrated on helping his students have the best experience.
"I think teaching is fun," Waltz said. "The most fun part is seeing kids feel success. They go through a period where they are unsure if they even want to do something, and then they finally get that answer that they wanted. When they finally succeed, and once you pass that point, it becomes, `How can I do this? How can I make that happen?'"
But even when the students struggled, Waltz was adept at helping them look at problems in different ways to consider new options. And for those students who may not have been as invested, Waltz found ways to connect.
"The most important thing that I get to teach and stress is that it's not anything in the camp," Waltz said, "it's applying self-learning to whatever you are interested in. I don't care if they are interested in the topic at hand as much as they are gaining skills and investing in what they are interested in. I try to make sure everything that we're doing is applicable to real life, and trying to develop ways that are more apparent to them."
Never boastful, Waltz said he learned as much as his students this summer, gaining more confidence as the class progressed, overcoming some of his own doubts.
Every time a visitor came to class, they left marveling at the prodigy, and that included some PFW professors and parents of his students. Even when members of the Don Wood Foundation, which helps sponsor the camps, came to visit, they were encouraged by what they witnessed.
"As you watch Brian with the students, you see so much more," North said. "He truly wants them to succeed in what they are working on and understand the importance of the how and why part, too. Each student is working on a different aspect of the robotic arm they found an interest in, and he switched gears to help them."
Waltz has already learned teaching's biggest rule, class success is not so much focused on the instructor but their students.
To see the range of learning opportunities available for K–12 students in the summer visit pfw.edu/youth.