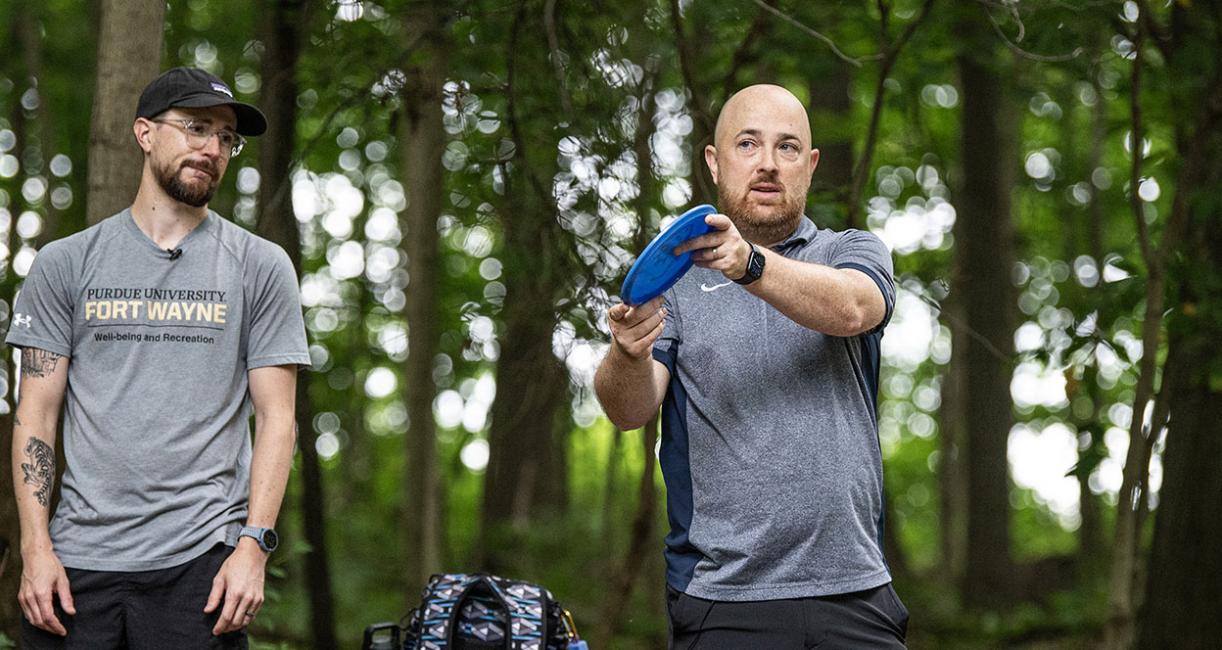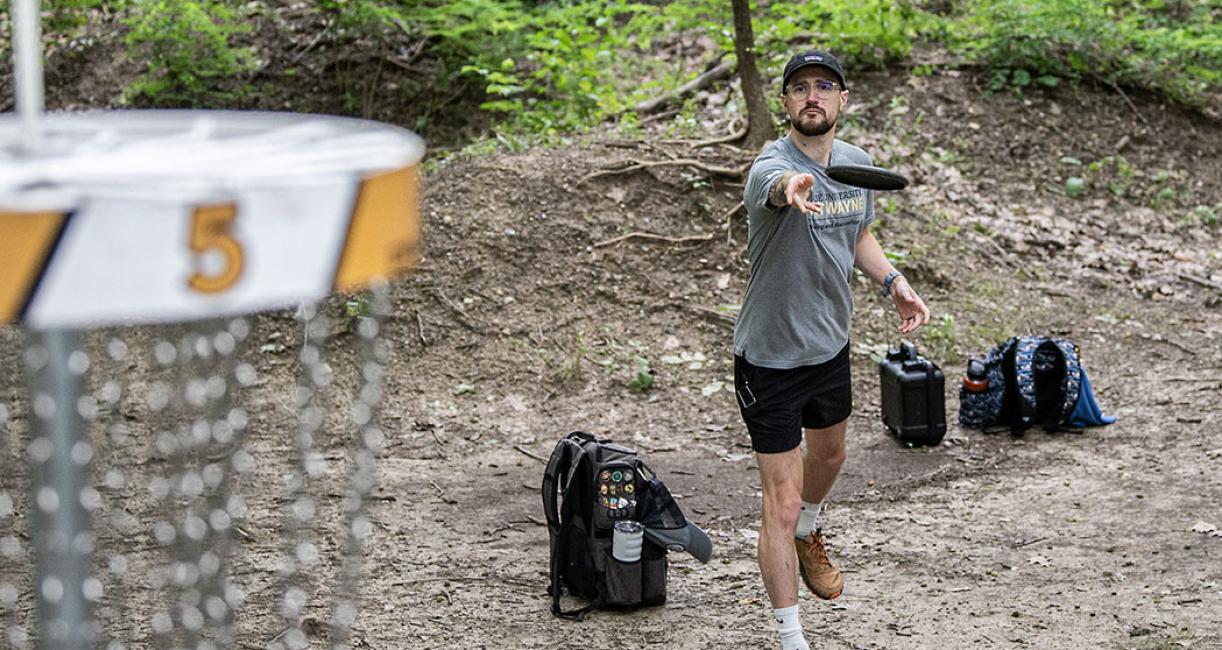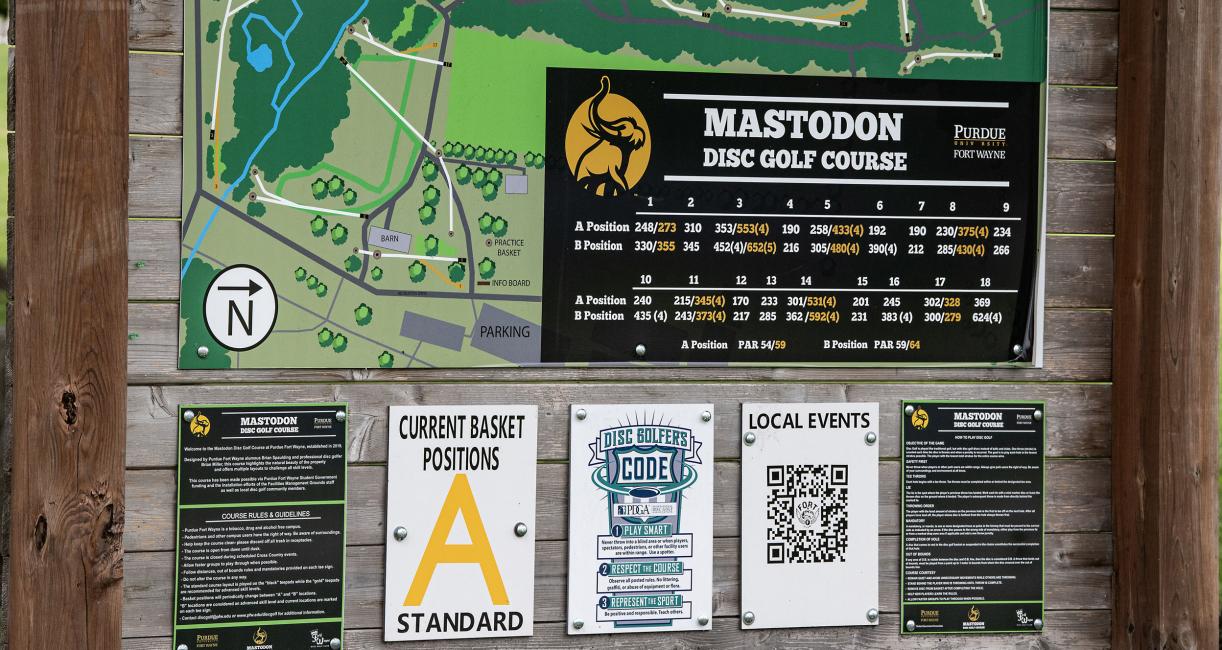 Close window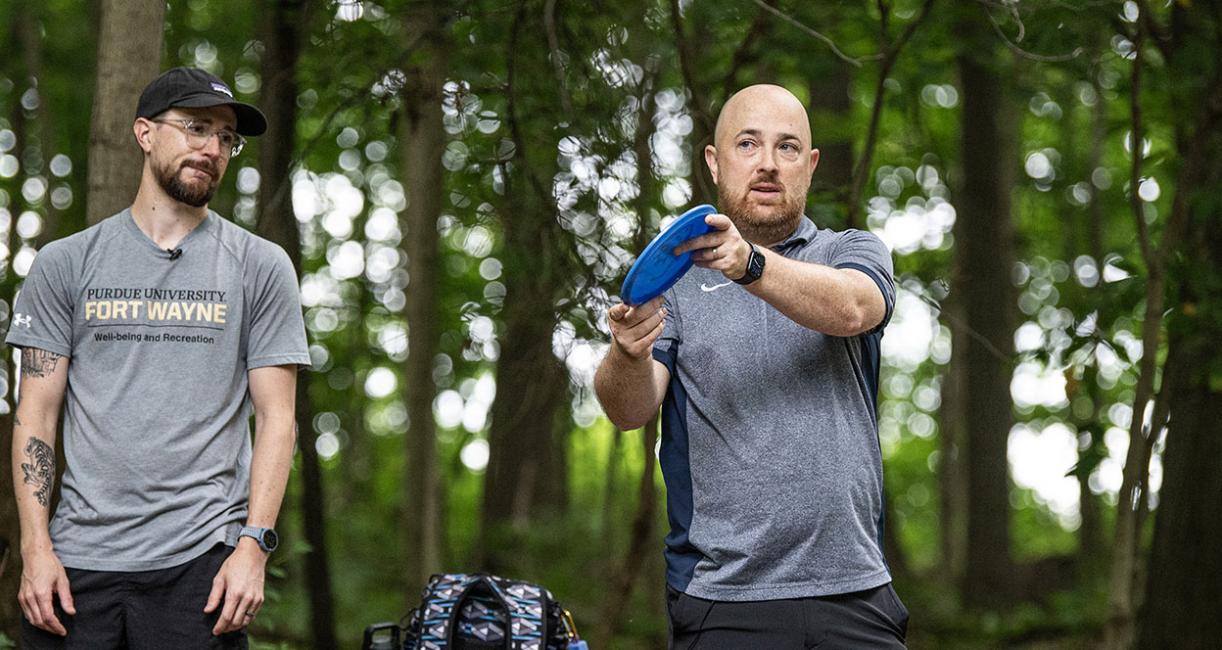 Nick Brand and Brian Spaulding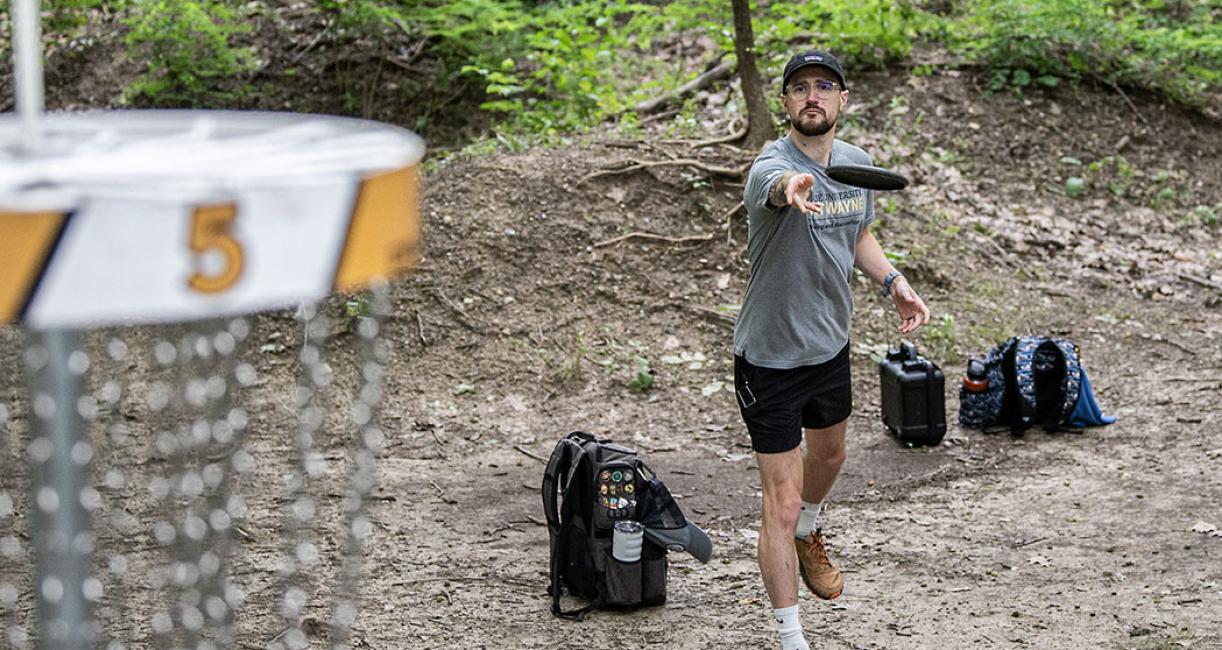 Nick Brand takes aim at a disc golf basket.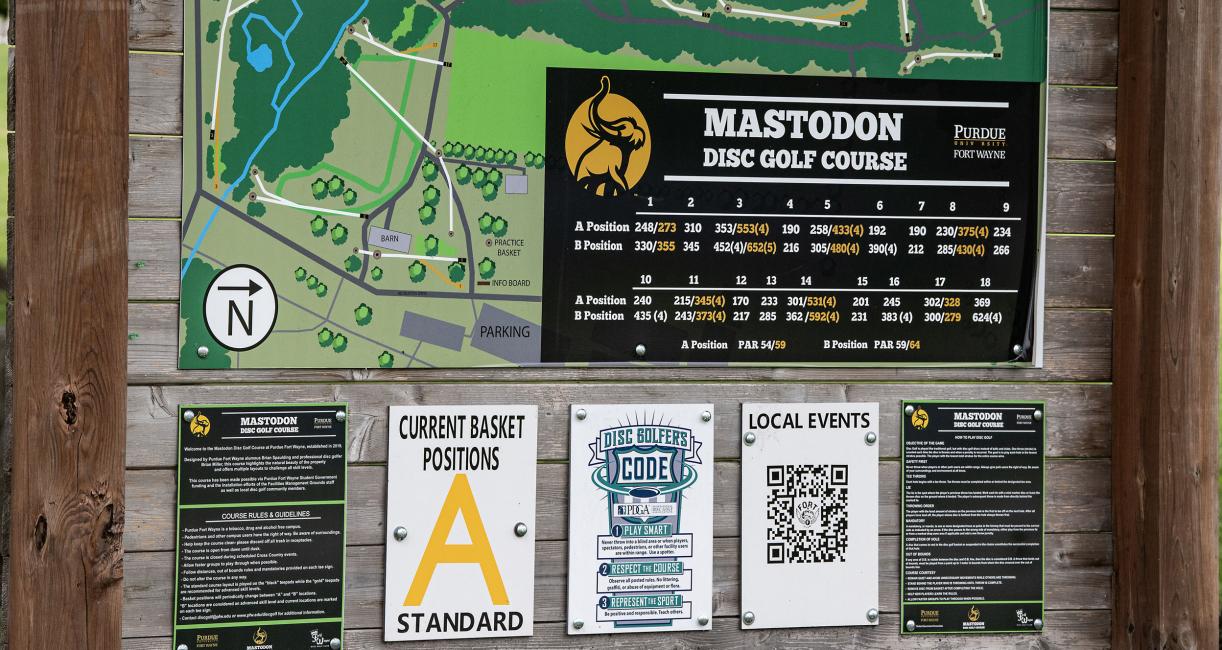 Mastodon Disc Golf Course map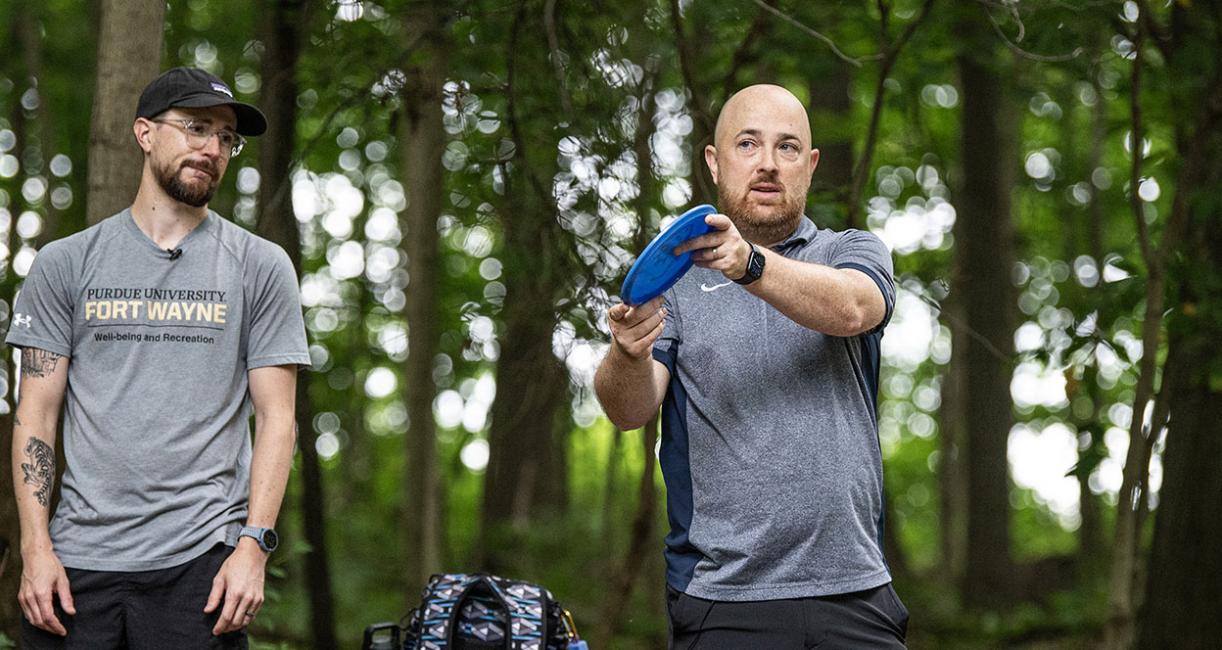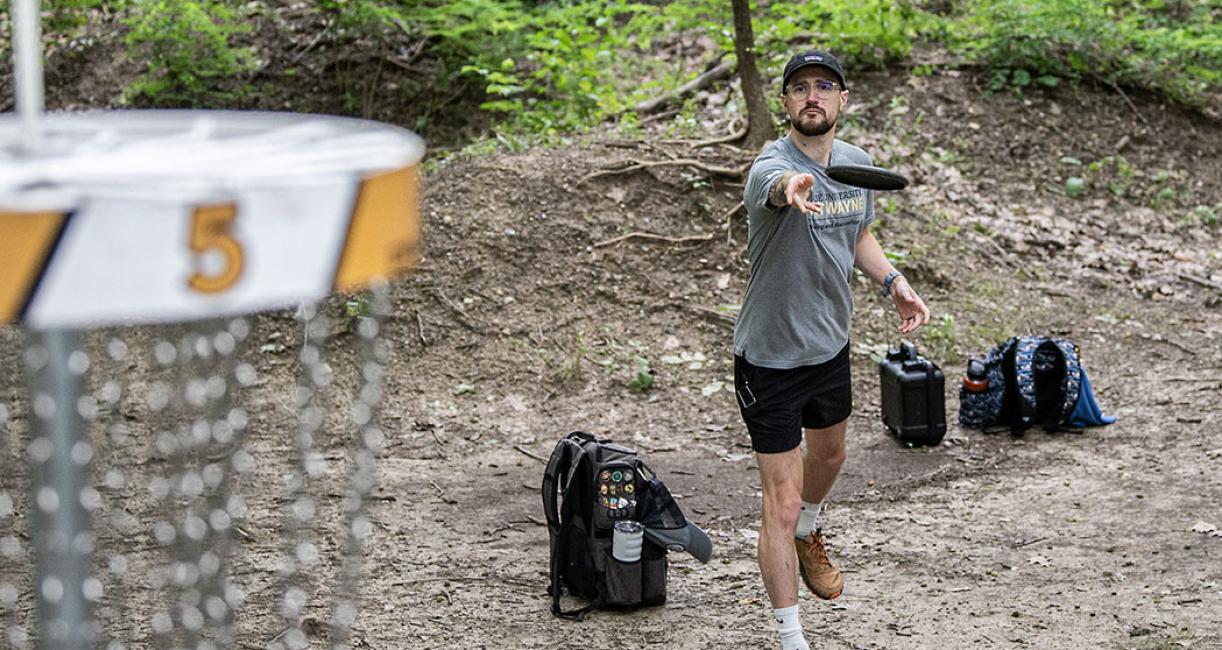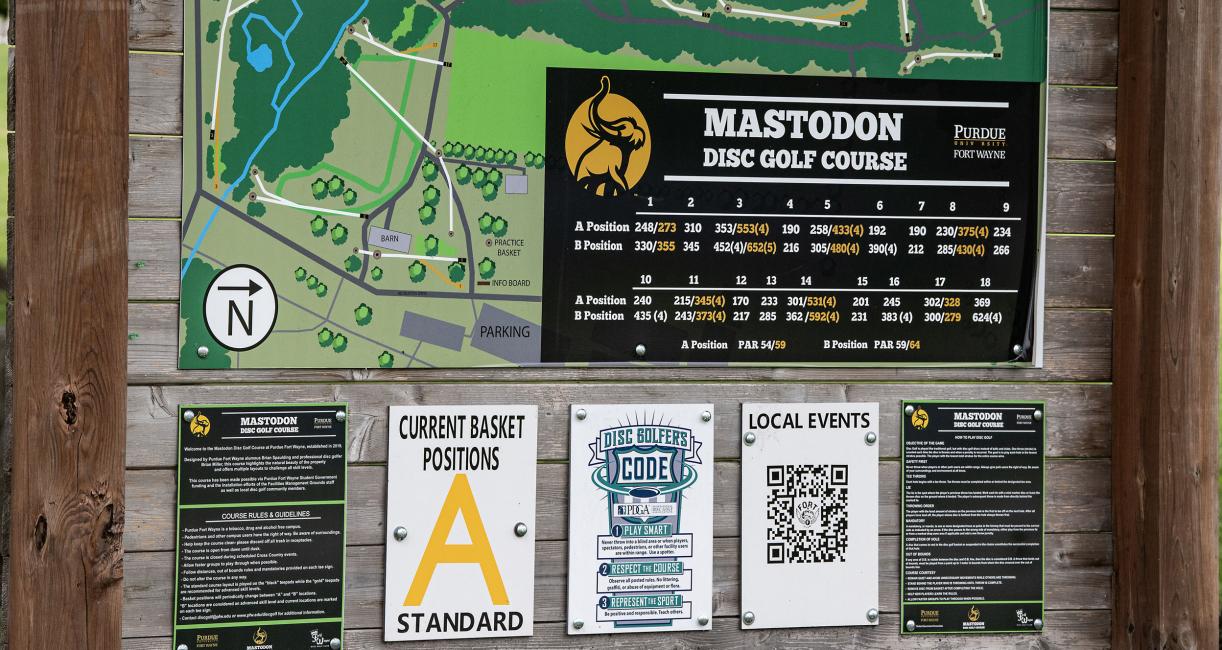 Mastodon Disc Golf Course receiving great reviews from enthusiastic players
By Blake Sebring
September 6, 2023
The Mastodon Disc Golf Course at Purdue University Fort Wayne was recently named the fifth-best venue in Indiana, and at the same time ranked fourth among the world's 10 best college courses. UDisc.com, an app most participants use to keep track of their scores, announced the results after asking players to rank the courses after every round.
The unique thing about the PFW course? The other courses charge fees, while the course across the St. Joseph River on the west campus is free and open to anyone. It was built with funds from PFW's Student Government Association and labor from Facilities Management.
"Concrete tees, informational signage, and well-kept fairways make this an enjoyable stop any time of year," UDisc said in its review. "With the exception of holes 1, 2, and 18, which play as more park-style holes, the course is entirely wooded. Tight lines and technical shots can make this track challenging for all levels of players."
Reviews continue drawing players from all over the country, and it's not uncommon to see 20-30 cars near the course on temperate evenings. According to UDisc numbers, Mastodon has hosted 3,461 rounds in 2023 and more than 21,000 since opening in 2019. It's possible the actual numbers are significantly higher because not every player uses the app, and tournaments are scored separately. PFW's part of the annual 3Rivers Open may draw almost 300 players.
Brian Spaulding, associate director of technology workspace for Information Technology Services, started playing years ago at Shoaff Park and has served as president for the Fort Wayne Disc Golf Club. He joined with Fort Wayne professional disc golfer Brian Miller to design the course. 
Because disc golf can be played while socially distanced, the course was an immediate success during the pandemic, using the existing features to create fun challenges. Each hole has options for two settings, along with "black" or "gold" tees, which test more skilled players.
"We love the property," Spaulding said. "It was part of the McKay Family Farm, and that area was actually a tree farm. The nice thing is there's not a lot of undergrowth, brush, sticks, and things that a lot of courses have."
Spaulding and Nick Brand, Well-being and Recreation coordinator, play at least once a week. Because of experience, Spaulding usually wins, but Brand is improving his game fast and has beaten his buddy a few times, even though he's only been playing about two years. Recently, they both nailed holes-in-one during the same round.
Their next goal is to expand the PFW Disc Golf Club, which Spaulding and Brand serve as advisors for,  compete regionally, and possibly qualify for national tournaments.