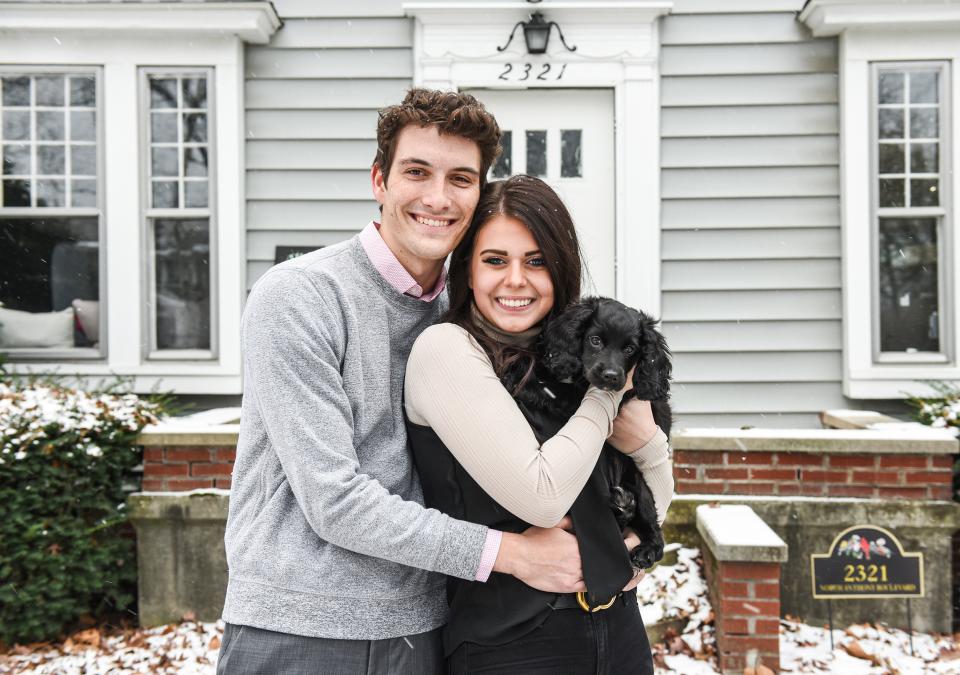 Keeping up with PFW senior's work ethic takes extra effort
Whenever someone suggests a member of Generation Z doesn't like to work, introduce them to Julia Green. Then watch them fail to keep up.
An accounting major on track to graduate from Purdue University Fort Wayne in May, Green plans to be employed full-time while also working on an MBA. Oh, and she and her husband Cooper are flipping their house — their second house.
Green is goal-oriented and understands what she wants from life and how to get there. And after each success, she has more objectives waiting.
She likes working hard. Enjoys it, in fact, and hates being bored, which is why she's always got at least two jobs or projects going.
"I feel like some of my work ethic is because of how I was raised, but the rest I think I was born with," Green said.
But she embraces that because there's always a solid plan involved as Green learned time management skills before most students ever heard of the concept. As a 13-year-old attending Fort Wayne's Blackhawk Christian School, Green began cleaning her grandfather's villa. She eventually wanted a car, so she passed out fliers around the neighborhood and was soon cleaning six houses weekly.
"I never had to advertise after that because it was all word of mouth," she said.
As a senior, Green left school at 11 a.m. and cleaned in the afternoon, driving to each location in her 2012 Ford Focus she paid for with cash. Eventually, along with residential properties, she was cleaning her father's Grace Gathering church — where she met Cooper — a marketing firm, and a local bed and breakfast. Each job took about three hours.
Other employment has included stints at Starbucks, Arlington Park Golf Course, and an Indianapolis hotel where she served as a receptionist for her first year of college before transferring to PFW. 
Currently, after interning at a CPA firm in New Haven, she's now working part-time for MedPro Group as a financial analyst with a contract to go full-time after graduation.
Green is also the service coordinator for her church; the person who organizes all the moving parts.
"Somebody needs to be the point person so everyone is not running to the person giving the message because then that stresses them out," she said.
When she and Cooper married after their sophomore year, they bought a 900-square foot, 100-year-old house, mostly with their savings, and used their wedding money and muscle to renovate it. They gutted the kitchen, re-stained the hardwood floors, painted inside and out, and reworked the bathroom. The work took about six months, but the results look like something from a Better Homes and Garden magazine.
"When we realized we wanted to sell the house, our realtor came back," she said. "When he gave us the number we could sell it for, we were stunned."
After listing the house, they had 11 showing requests the next morning. That evening, they had two full-price offers and sold it for a 50% profit, which they used to purchase their current 1,700-square-foot home.
They are tearing that one down to the studs and starting over with electrical, plumbing, and new drywall. They don't plan on selling this one for a while.
Green was also recently honored with the Fort Wayne Chapter of the Financial Executive International's Outstanding Student Award, and told her story during the ceremony.
"Julia is an extremely dedicated student who is always thoroughly prepared for class and asks insightful questions," said Steven Hanke, associate professor and chair of the Department of Accounting. "She is eager to learn and wants to maximize the most out of her course to help her achieve her goals."
When Green graduated high school, her parents gave her a career assessment test that suggested she'd be a great chief financial officer. She's always been interested in finances and wants to take the Certified Public Accountant exam, while Cooper wants to attend physical therapy school after graduating from PFW.
"A challenge doesn't bother me," Green said. "When things come up, I try not to dwell on being upset but plan how we can still make it happen."
Though she's 21, Green understands sacrifices now mean better things later.
"I always knew I wasn't working just to work, I was working to get somewhere," she said. "I'm really glad I pushed myself."