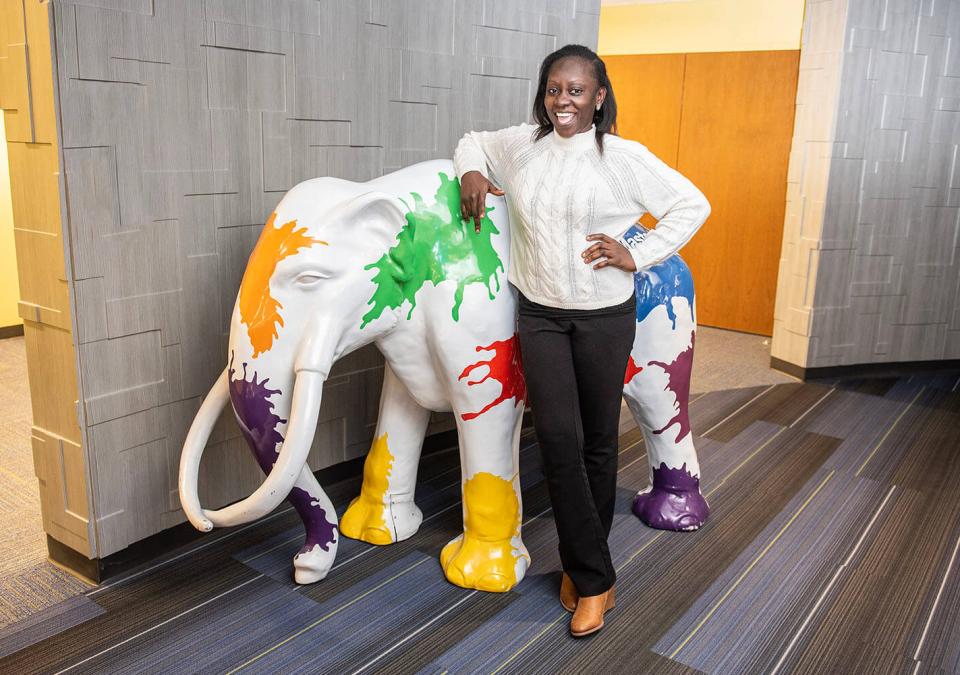 PFW Story
International student keeps finding new beginnings at PFW
Because there have been so many coincidences, Kaliyat Gamba eventually realized there must be an overall plan for her life. She's always being pushed out of her comfort zone, and even the meaning of her name ("What God says comes to pass") includes a bit of foreshadowing. 
Born in Nigeria, Gamba studied psychology at Southwestern Assemblies of God in Waxahachie, Texas, graduating in 2009. Because of a Nigerian friend attending Purdue University Fort Wayne, Gamba moved to the Summit City for her year-long practicum before returning home in 2010.
While starting a job working for the government, she met a man named John Emoabino at an onboarding training for new employees. One thing led to another, and they've now been married five years and have two children, daughter Edlyn, 4, and son Duke, 2.
Life seemed good overall, but Gamba was unhappy.
"Nigeria is a place where you would see someone who graduated with microbiology or engineering degrees working as a banker just because that's the only job available," Gamba said. "You couldn't get a job in what you wanted to do."
There was no career satisfaction, no reason to get up every morning other than to get paid. Unfulfilled, whenever she'd return home at the end of the day, she dreamed of doing something else in the field she is passionate about.
Working in electronics and computer technology, Emoabino loved his job, but listened to his wife talk about her desire to return to graduate school. That meant the family would have to move to North America.
"I just sat him down and said my happiness really hinges on the fact that I need to go back to school and get an advanced degree in what I love," Gamba told her husband. "I believe it's what I'm supposed to do."
Though he had never left Nigeria, Emoabino said if that's what Gamba needed to do, he'd support her 100%. Gamba started applying to schools.
Then the coincidences kick in.
By the time Gamba had returned home to work and marry, her younger sister, Chat, had left Nigeria to study electrical engineering at PFW. Because the experience Gamba's friend had was so positive, she encouraged her sister to consider the school. While here, Chat fell in love with local resident and PFW student Colson Hadley, and Gamba came back to Fort Wayne for the wedding in 2019. 
A few years later, Gamba applied to several schools in Canada and America, including PFW where she contacted Associate Professor Brett Wilkinson, director of the counselor education program in the School of Education. Much as he tried to convince Gamba to come back to Fort Wayne, she was reluctant, partly because of the three-year curriculum, and the winter weather. He didn't give up.
"Traits such as curiosity about the human experience, persistence in the face of adversity, interpersonal warmth towards others, and empathic responsiveness are paramount in the counseling field," Wilkinson said. "In email exchanges, phone conversations, and finally a Zoom interview, it was clear that Kaliyat possesses these traits. I just opened the door, and she did all of the hard work to ensure that she could walk through it."
Gamba and Emoabino finally decided and moved their family to Fort Wayne, where she became a first-year graduate student a few months ago at age 35. She loves being here, including her job in the Career Development Center.
"Perspicacity is also that which is born of suffering or oppression; a life-affirming consequence of human struggle in the face of adversity," Wilkinson said. "It is clear that Kaliyat has a drive within her tied to this trait, and we are proud that her life journey has brought her to our program here at PFW."
Emoabino takes care of the children, happy because his wife is—and she is so appreciative of him. The family is living with Chat, Colson, and their daughter Kayana.
Edlyn saw snow for the first time a few weeks ago. Everything is getting better for Gamba.
"I love my comfort, but this is a season in my life where I know I need to push myself to get out there so I can actually get to where I need to be," Gamba said. "For eight years, I worked a job I didn't enjoy. It paid the bills, but there were some work experiences I have amassed that are helping me now. In all honesty, I'm done with the prepping; let's get to the main event."
She also intends to return home to promote mental health in Nigeria and help diminish the stigma of getting help.
Each day, Gamba is getting stronger and charging ahead in the counselor education program's clinical mental health track. Somehow, Fort Wayne and PFW are where she's supposed to be.
That's not a coincidence.