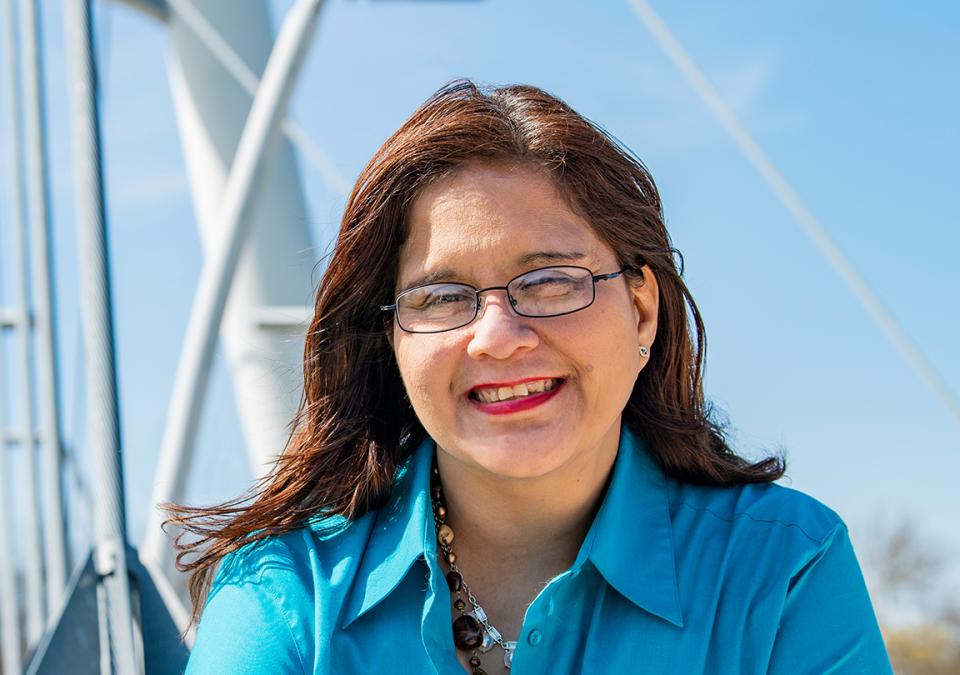 Imagining the possibilities at the intersection of mindfulness and Coliseum Boulevard
When describing mindfulness, Elva Resendez does it with three words she separates for added emphasis. "Conscientious. Aware. Holistic."
She describes herself as a fast-paced, active person who's attracted to environments that are nice, clean, and calm. They help her slow down and appreciate the here and now. 
It may have been her practice of mindfulness that helped Resendez, now a visiting assistant professor in management at the Doermer School of Business, see something others might miss while stopped for a red light at Coliseum and Anthony during a first-ever visit to Fort Wayne in December 2019.  
Her husband, Dan House, had accepted a position as a quality engineer at DePuy Synthes in Warsaw earlier that summer and relocated to the area shortly thereafter. Nearing the start of her 28th year as a member of the faculty at Texas A&M-Commerce, and wanting to let her daughter finish her last year of high school at home, Resendez was perfectly happy staying put in Texas. In fact, it wasn't until she ventured north for a family ski trip a few months later that the notion of checking out the higher education job market in northeast Indiana was seriously considered.  
Thinking about it today, Resendez clearly remembers driving through Fort Wayne and seeing a nicely kept property while stopped at that red light and thinking out loud, "I'm sure the people who work there love it."
At the wheel and needing to refocus quickly on the task at hand as the light turned green, she asked her husband to see what the monument sign said as they drove by. It was Purdue University Fort Wayne. Neither had heard of it, but in a way, Resendez now jokes that "landscaping and maintenance" is what brought her to PFW.
After returning to Commerce, a city situated a little more than an hour northwest of Dallas, she put Google to work. Her investigation revealed a lot. To begin with, Purdue Fort Wayne had several key similarities to A&M-Commerce: a commitment to first-generation students, a business school with AACSB accreditation, and a close connection to a well-known flagship institution with a strong reputation for recognizing the importance of teaching, research, and service. 
A click on the Careers link of the PFW website led to the next revelation. The university's Doermer School of Business only had one open faculty position at the time, and it was in her discipline. Resendez says that's when the stars began to align. 
She applied for the job with the Department of Management and Marketing in January. About four months later – long enough for her to suspect the position had been filled – Resendez received a call asking if she was still interested. She was.
"When I interviewed with Dr. Bingi and Dr. Gruys, I knew I had found my people and my new home," Resendez says. "I could only hope they felt the same."
​As it turned out, the deliberate pace of the process worked out well for the family. During the same week of August 2020 when she moved her daughter in as a freshman at Texas Tech, Resendez moved herself to Indiana.
Her passion is creating awareness of the impact of mindfulness and gratitude in business and the development of strong collegial workplace cultures. Several life experiences have helped Resendez remain focused on these pursuits, including one that stands out above the rest.
"The most important lesson my grandmother taught me growing up was no one has to do anything to help you, to develop you, to make life easier for you, or to help you have a better day," she recalls. "Thus, always show appreciation to those who do and pay it forward to others." 
Resendez says being a champion of mindfulness can be generally difficult these days because of the lesser social skills among members of the two most recent generations of our workforce. 
"Serving as an advocate for mindful and grateful behavior is tough at the moment; many of the dominant influences are just too large for the wrong reasons," she says. "But we can make a real difference in our small areas where mindful and conscientious energy quickly takes hold. We can be positive examples in our departments, schools, and organizations."
Asked to describe common characteristics of long-term success in business including employer/employee relations, Resendez points to effective communication, flexibility and recognition, along with an unrelenting desire for success. 
"I was part of a 127-year-old organization at A&M-Commerce, and the culture was amazing," she says. "However, that culture had to be monitored and kept in check with conscientious employees who knew the vision and mission of the institution and who placed its effectiveness above their own personal agendas."
Resendez emphasizes with students in her management class the benefits of being an active bystander with goals of awareness building and the adoption of a "see something, say something attitude." And even though conflict does occur, she teaches that some conflict is good because it shows more than one person is actually thinking and acting. She also believes viewing issues through many lenses and listening carefully to the opinions and views of others makes positive resolution well within reach in most instances. 
Approaching the end of her second full academic year at Purdue Fort Wayne, Resendez is inspired by the many students she comes across who truly want to learn while maintaining their solid Midwestern values.
"They know how to prioritize what many others have somewhat left behind – faith, family and culture," she says. "If our PFW students learn to keep all of those attributes with them out there in the global community, wow, that positive, lasting impact can be huge." 
Leading by example, Resendez also benefits from mindfulness off campus as a state and nationally certified emergency medicine technician serving local communities through the Tri-County Ambulance Service, and as a frontline mental health worker with the Bowen Center. Her work in the field of healthcare began after moving to Indiana.
In addition to teaching and continued research on organizational behavior and workplace spirituality, Resendez is also the director of accreditation for the Doermer School of Business.