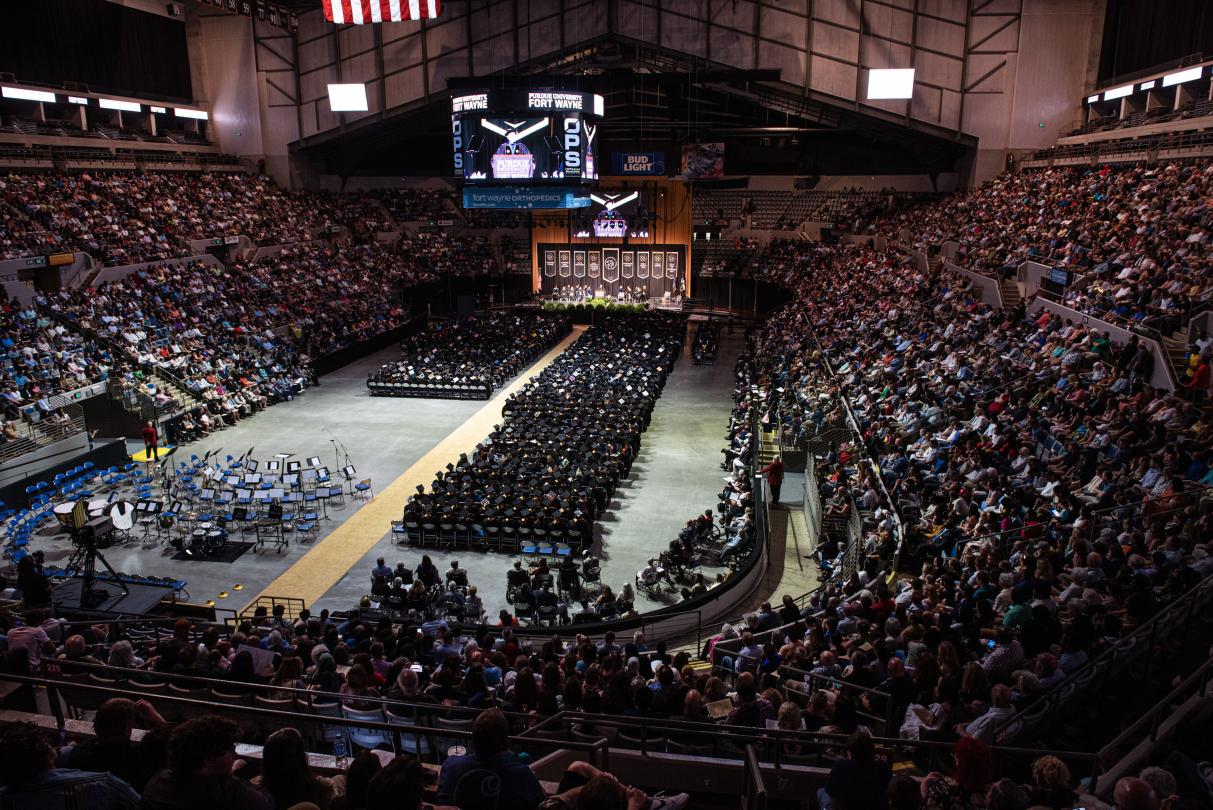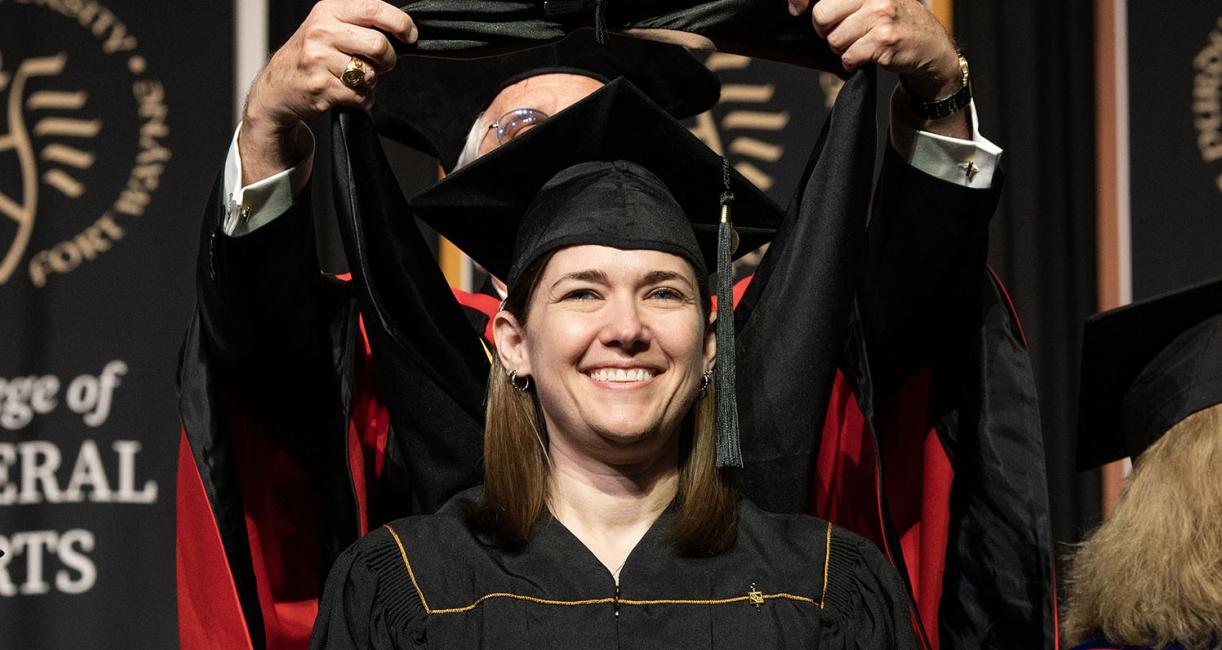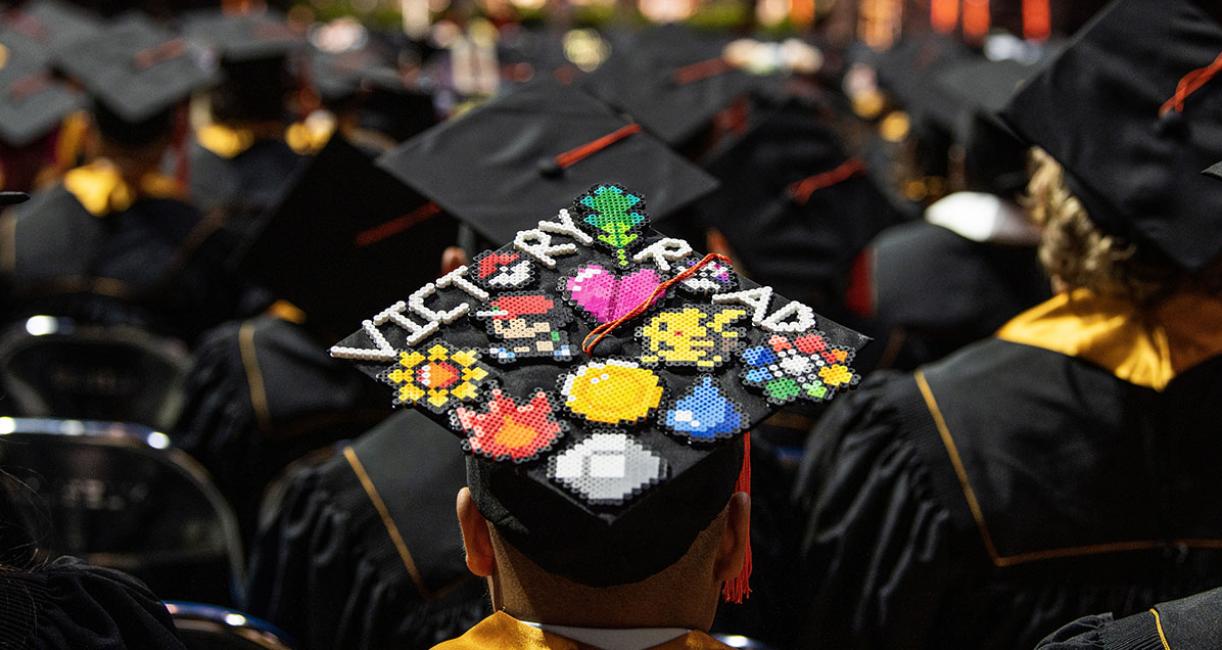 Grads celebrate the start of something big at PFW's 2023 Commencement
By Blake Sebring
May 11, 2023
Commencement is about recognizing student accomplishments, but also fulfilling the dreams of parents who have held onto those ambitions for decades. Plenty of longtime goals were realized Wednesday as approximately 1,050 Purdue University Fort Wayne students—or nearly 75% of all those who will graduate this year—celebrated the completion of their degrees before a Memorial Coliseum crowd made up of thousands of family and friends.
The PFW Symphonic Wind Ensemble played "Pomp and Circumstance" as students of diverse backgrounds and hometowns filed into the area. This set the stage for Brittany Sprunger's beautiful singing of the national anthem.
And somehow, education major Roza Na didn't go into labor. Na and her husband are expecting their first child at any time, a girl, who decided to grant mom's wish and wait a bit longer. As the rest of her classmates stood until all students were in place, Na calmly sat, praying.
"I didn't want the baby to come before I graduate," she said.
An immigrant from Thailand whose family came to America in 2008, Na endured to enjoy the moment with her mother, sisters, and husband as the family's first college graduate. Someday, her daughter will have a worthy example to follow.
"I feel tremendous pride and hope—hope for your success, hope for your future, hope for your good health, and hope for your happiness," Chancellor Ron Elsenbaumer said as he addressed the largest commencement crowd of his six-year tenure. "This journey has brought you to a pivotal moment in your lives. Whatever comes next, you should be truly proud of all that you have learned and all that you have accomplished during your time here at Purdue Fort Wayne."
To wrap up the ceremony, B.J. Hull, PFW's chief development officer, told the students, "This is your moment, Mastodons. Enjoy it, savor it. Today is the day your lives change forever."
While celebrating an hour later with family outside the after-party, psychology major Kendal Cooper Pitts said she still couldn't believe she was an official graduate.  
"It was emotional; it was surreal," a relieved Pitts said as nearby family members wiped tears of pride. "There were times when I felt the pressure, but you have no other choice than to just keep doing it because this is the best for you."
Among those who traveled the furthest, the parents and aunt of twin sisters Luiza and Laura Caetano made their first trip to Fort Wayne, suffering through 26 hours of connecting flights from Brasilia, Brazil. 
"It's amazing that they could come here, because it means so much for us and them and all of our family to have them here," Luiza said.
The sisters plan trips to Holland, Michigan, the Indiana Dunes, and Chicago before the family members' next set of flights. 
"I think whenever you have a big celebration like this, you stop and reflect on what you did," Laura said. "I had to stop myself from wanting to cry several times just thinking about everything that was going on because they are here, so many friends are graduating with us. It's just a really good experience."
Some took advantage of the inaugural Chancellor's New Alumni Dinner in Expo II. It was the perfect setting for family members to gather, enjoy each other, and relax without needing to find dinner reservations elsewhere after the ceremony.
"We didn't know what kind of response we'd have, but I talked to several people who said we should have done this 40 years ago," Elsenbaumer said. "The coliseum does a fantastic job, and their food is really good. We're just making this a good experience and a true capstone for our students' educational accomplishments."
Instead of the end, commencement is considered by many to be the start of something bigger. Beginning next week, biochemistry major Jennifer Kievert said she'll continue studying for a doctorate at Ohio State, but skip the high heels for her next graduation. A lot of standing and walking is required for this kind of event.
"All of us were talking about how we're all concerned that we don't have any homework this week," Kievert said. "We've all been stressed out about it for so long with finals last week, and then all of these assignments and projects to get done. It's been crazy."
But part of that craziness, sacrifice, and perseverance also built a lasting bond.
"I am proud to know that every single person who graduated today, even if I don't know them, I know as a fellow Don; they would help me out," human services major Libni Trostel said.
Through commencement, the expansion of the PFW family continues.