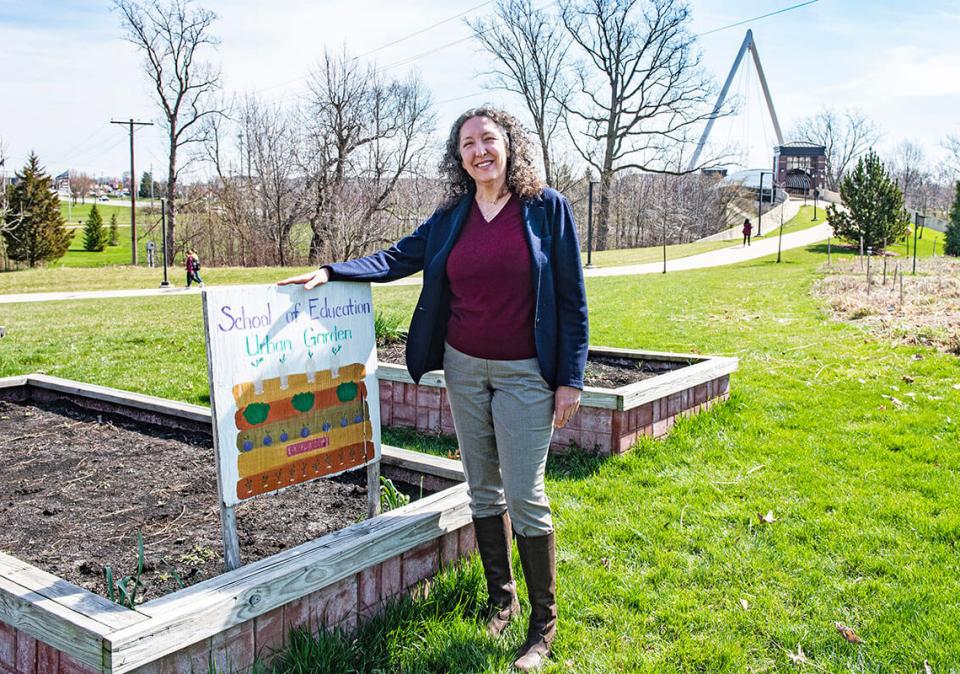 Dedicated People
Gardening allows Smith to sprout new ideas
Julia Smith, associate professor of early childhood development 
One of Julia Smith's favorite tools in her teaching early childhood development classes is asking students to write down how they feel at that moment. Then she guides them outside for a walk across campus to the Allen County Purdue Extension Office to enjoy the gardens.
"I just want you to feel the breeze on your face, look at the flowers, walk around, and enjoy the space," Smith tells them.
After a bit, they walk back to the classroom where she asks, "So now how do you feel?" Many express they feel uplifted and that their mood has changed.
"This is how children feel when they have the opportunity," Smith said. "That for me is a very powerful message for my students. I love this because they are like, 'Oh, yeah!' They come out here, and we talk about the colors and look around the garden. This is how you connect cognitive development, social/emotional learning, and physical development to gardening."
It also allows the associate professor of early childhood development to combine two passions. When she's not in the classroom or raising two daughters, Smith loves working in the garden. While she was growing up in Michigan, her parents had one which she loved, and now Smith often picks and plucks in the School of Education urban garden at the extension office.
Five years ago, Smith started talking with Terri Theisen, at the time the extension's educator of horticulture and urban agriculture, who was looking for ways to work closer with the campus community. Before coming to Purdue University Fort Wayne eight years ago, Smith had worked at the Michigan State University Center for Regional Food Systems connecting farmers to schools, improving nutrition in the schools, and helping children become aware of what was growing in their communities.
She also worked on a community garden in her neighborhood.
With help from PFW colleagues Sharon Parnin, Jeff Nowak, and Joe Ohlinger, Smith received a collective impact grant through the Office of Academic Affairs and the Institution for Research, Scholarship, and Creative Endeavors. A group including students, faculty, staff, and community partners built six raised beds and planted in the spring of 2019. The gardens produce radishes, beets, carrots, collard greens, kale, tomatoes, eggplant, peppers, sunflowers, and turnips.
The group regularly donates food to the FRIENDS of the University Pantry at PFW. The donations continued last year into November. They hope to start this season by delivering radishes in the next week or so. There's also a Nov. 14 inaugural farm-to-school summit scheduled in the Classic Ballroom at Walb Student Union.
"I just wonder sometimes what would happen if every school had a garden, and how the ways we teach children would be different," Smith said. "Children are spending so much time now staring at screens in the classroom, and if they could take a couple of hours a week to come outside and engage with nature, and play in the dirt, and look at the flowers and the colors and the vegetables, I just think it would totally change how we eat as a society."
Such an experience could also impact children by helping them produce something and watch it grow. 
"They want to try these vegetables," Smith said. "I like that and get real passionate about that. There are more hands-on learning opportunities for kids. They need to be outside, running around, and having fun."
During her career, Smith also worked on early childhood development programs with migrant workers in Michigan, and lived in Mexico for five years teaching English. She came to Fort Wayne to be closer to family.
"PFW has been a great place to work," Smith said. "I feel like we can be very creative in our work. I love sharing my knowledge and also learning from the students. I really like working with young people."
And gardens are a great place for her to maintain that passion.
"I just love good food, fresh food," Smith said. "I like helping people to eat better, especially children."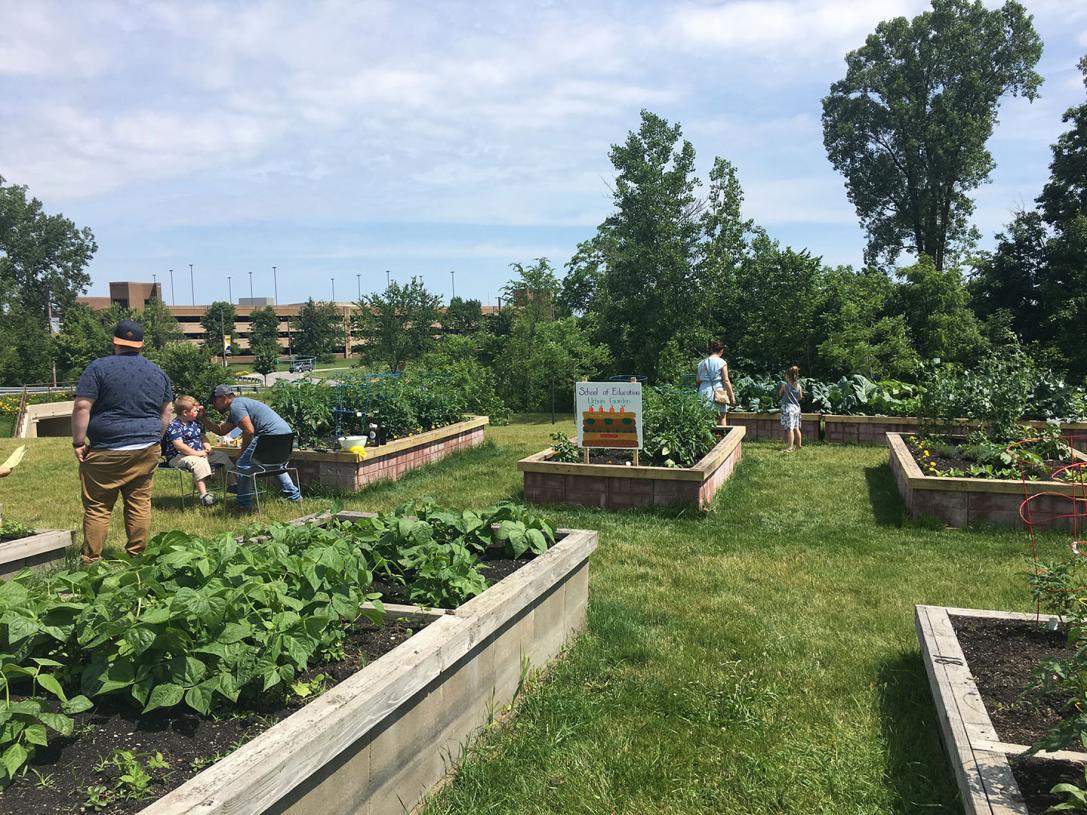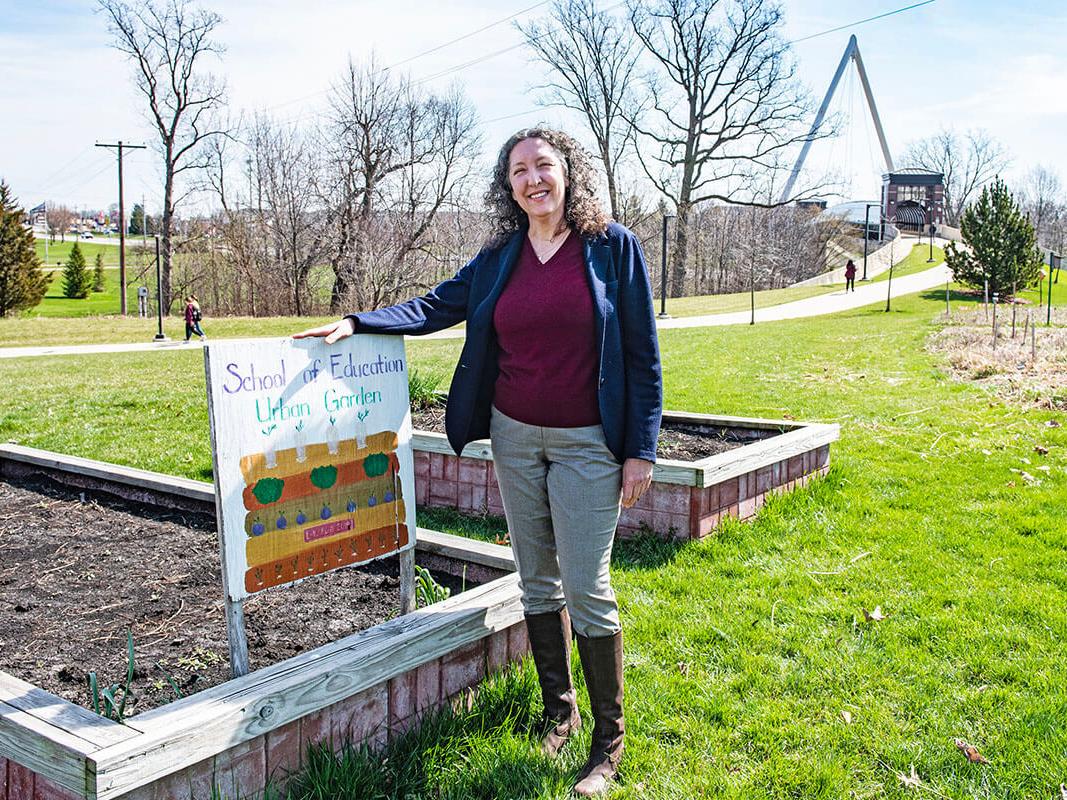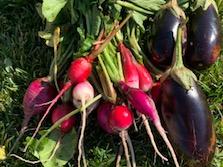 School of Education Urban Garden
Julie Smith is standing next to a garden bed
garden produce