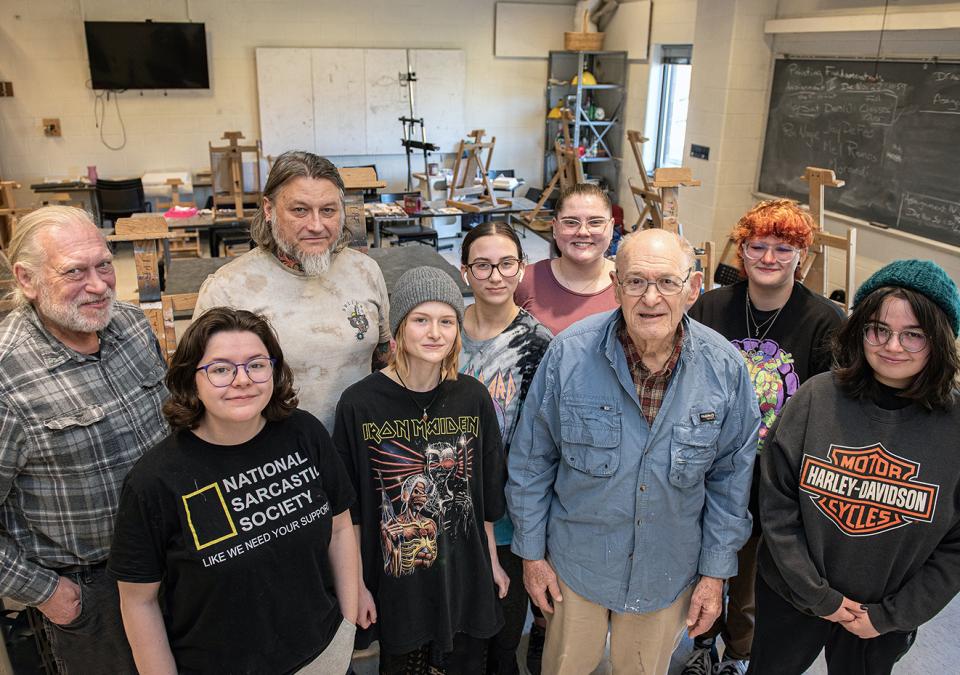 PFW Story
Designing an artful balance for a lifetime of teaching and learning
On Halloween morning, Alan Grinsfelder walked into his painting class looking like an 86-year-old man, wearing a checked shirt and khaki pants. But there's a twist; it wasn't a costume. 
Grinsfelder is currently the oldest student attending Purdue University Fort Wayne. One of his favorite sayings is, "It's never too late to keep learning," and he's living that as he continues a long relationship with the school.
Grinsfelder, whose birthday is Nov. 20, grew up in the Philadelphia suburb of Elkins Park, Pennsylvania, where he graduated from Cheltenham High School in 1953. It was then off to the University of Michigan to study architecture. Tuition at that time cost $325 for the fall semester.
He met Maureen Isay from Churubusco at a Michigan League (student union) party in 1956, and later one of his jobs was as a dishwasher in her sorority house. They married after he graduated in 1958. After a stint in the Army, he started working at a Fort Wayne architecture firm. One of his first big projects was working on the design of Kettler Hall, the first building constructed on the city's new campus. 
The university offered Grinsfelder a position teaching construction technology in 1965, and at the same time, he started his own firm, Grinsfelder Associates Architects. He left full-time teaching in 1971, but sometimes taught part-time in the evenings as his firm grew.
Maureen Grinsfelder also taught sociology classes for a semester and later returned to Kettler Hall as executive director of the Fort Wayne Educational Foundation — now Questa Education Foundation — from 1994 to 2009. The couple has four sons and nine grandchildren. 
Among his more recognizable projects around Fort Wayne are the Foellinger Theatre in Franke Park, the Renaissance YMCA, Headwaters Park, the downtown Community Center, and the Pontiac Branch Library.
Besides serving on the boards of several entities, after Grinsfelder retired in 2007, he noticed a newspaper ad offering a master's degree in organizational leadership that didn't require a dissertation, and decided to enroll. After achieving that degree, he took a little time off until he earned another degree in 2020, this time in fine arts, at age 85. 
Now, he's not adding to his wall diploma collection but continues to fill the space from his painting classes. Besides handing out gifts to family members and friends, his work was displayed in a show in a Bloomington retirement center, and he's got upcoming exhibitions at Henry's Bar and Old Crown Coffee Roasters.
As for words of wisdom he'd offer the younger generation of students:
"PFW is a great school that offers you a lot, so take advantage of it. You may have some ups and downs, but stick with it. There is always more to learn."
"Be flexible. You might start school in one major and decide you don't like it, and that's not unusual. Try another, because how many times do people change jobs out in the world? It's nothing to be ashamed of. You can either make the money or find something you love — or both — and you have to decide."
"One thing I think would help students would be getting involved in other things. Helping others always comes back to help you later on, just the people you meet."
"The biggest worry that I hear from students is how to get a job, especially with an art degree. I tell them, 'It doesn't have to be wall art. It could be other things, too, and maybe one will lead to another.'"
John Hrehov is a professor of drawing and painting in the Department of Art and Design and was the department chair when Grinsfelder started his art journey in 2013.
"I was impressed then, and continued to be impressed, by his tenacity as a student and person," Hrehov said. "Alan was told he needed to start our foundation classes with other first-year students. He didn't flinch or shy away from the path ahead.
"Alan, in essence, humbly came to our program with the attitude that he was starting from the point of not having all the answers. He has grown in our program as an artist and continues to challenge himself and grow personally. I find him an inspiration as an artist and person."
Grinsfelder estimates he's taken 28 art classes during his second academic career and continues to be inspired and encouraged by the students around him.
"I enjoy being with younger students, just to hear their ideas on things like music, language, goals, and philosophies of life," he said. "It's invigorating!"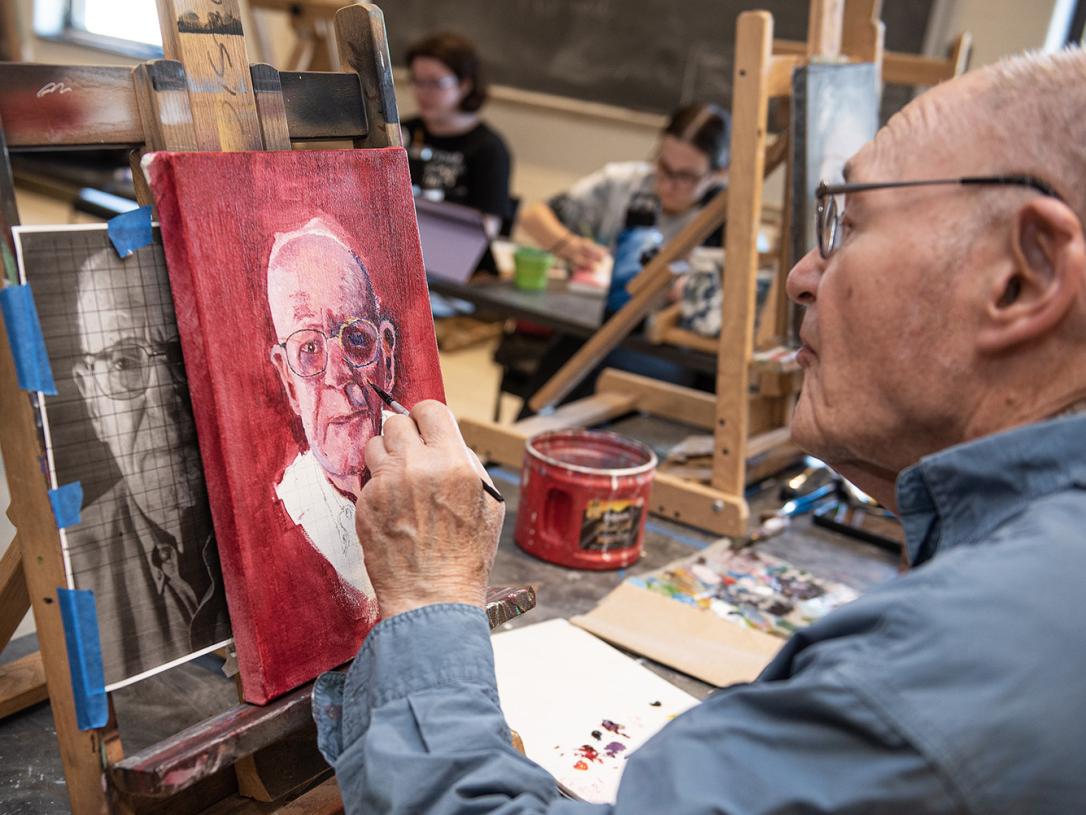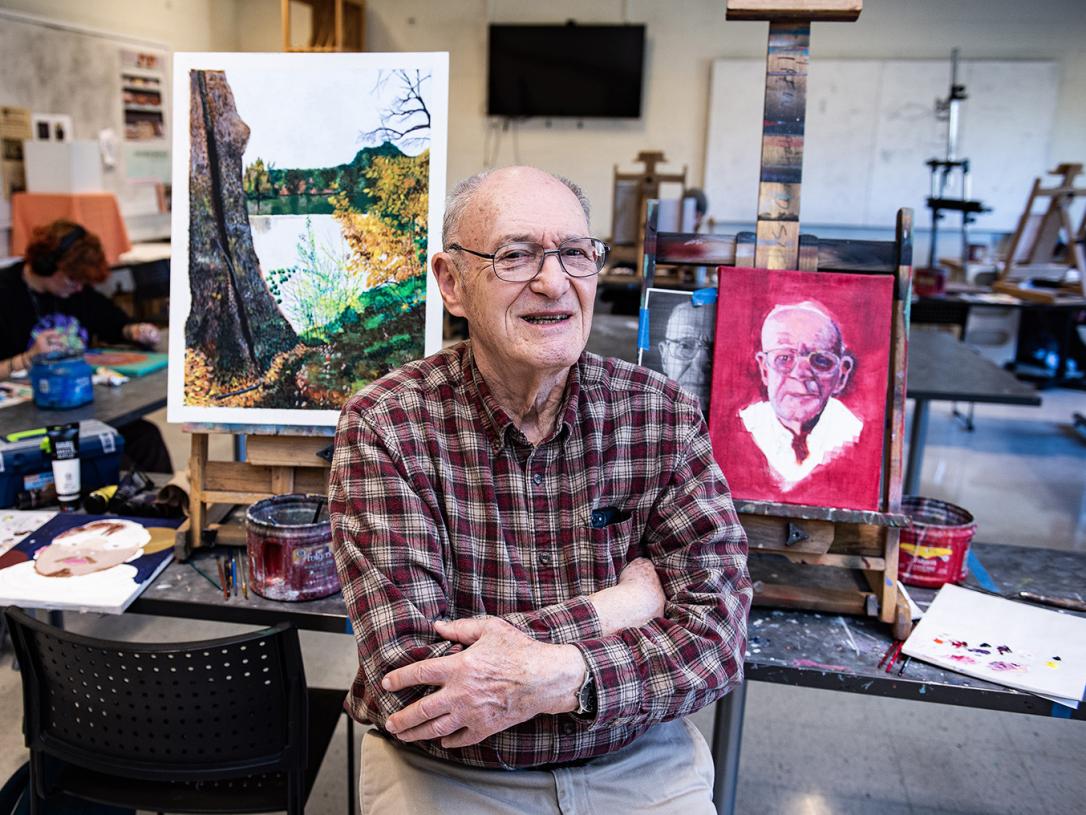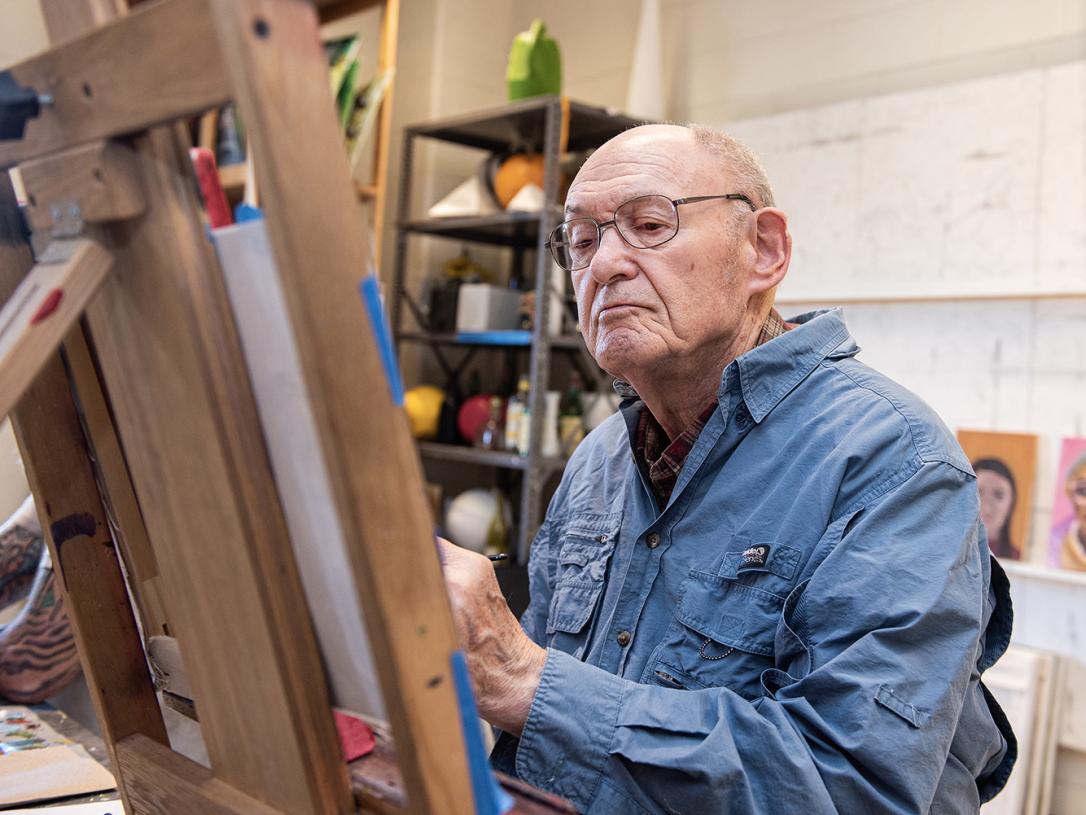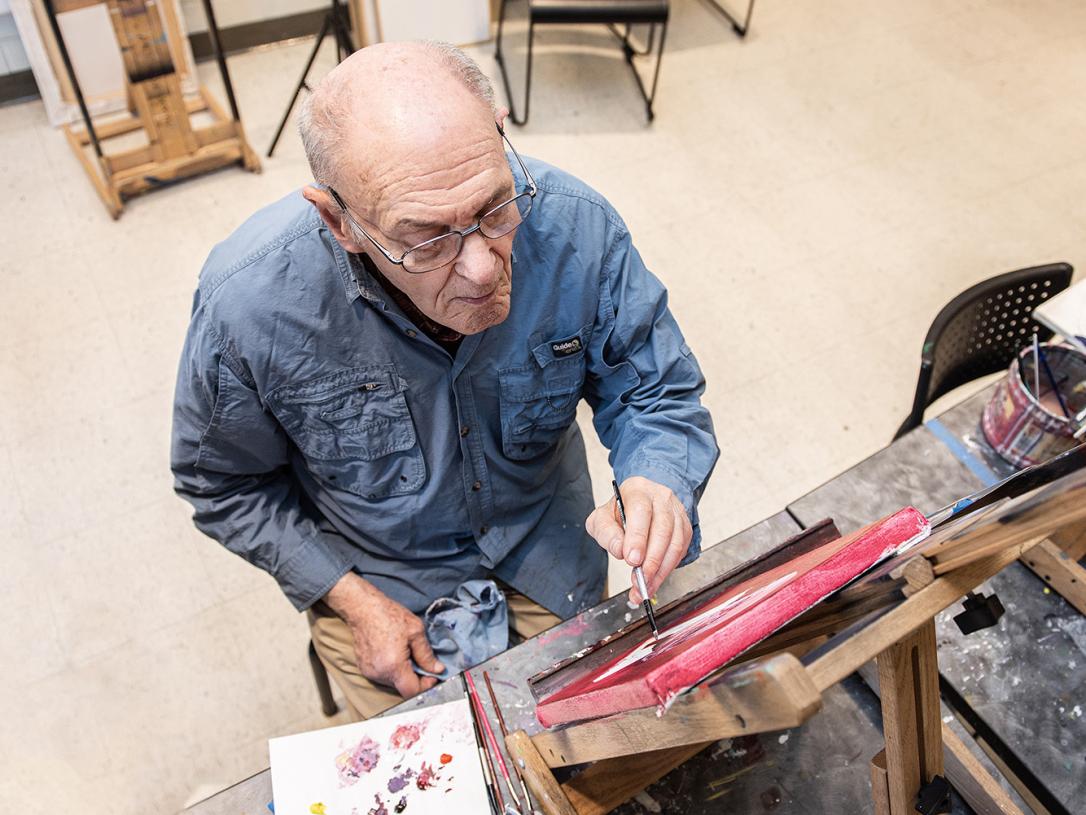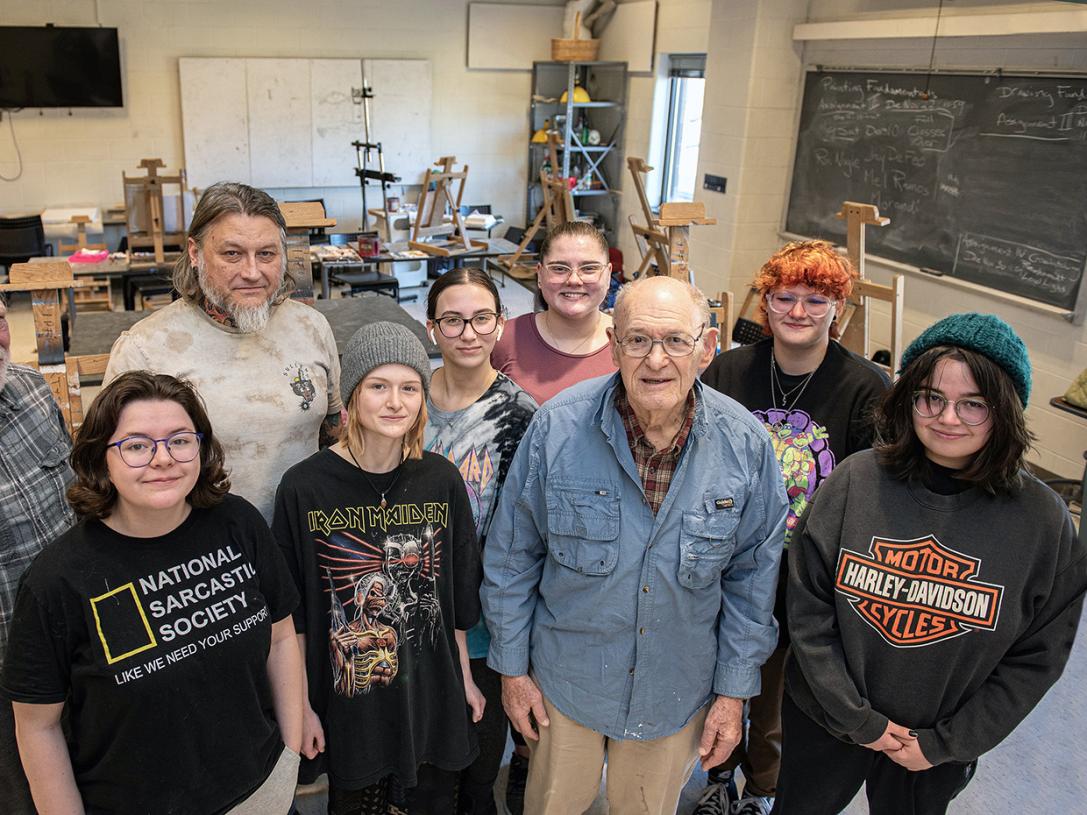 Alan Grinsfelder is painting his self portrait.
Portrait of Alan Grinsfelder
Alan Grinsfelder is behind an easel
Alan Grinsfelder is painting a portrait
Alan Grinsfelder with members of his painting class.