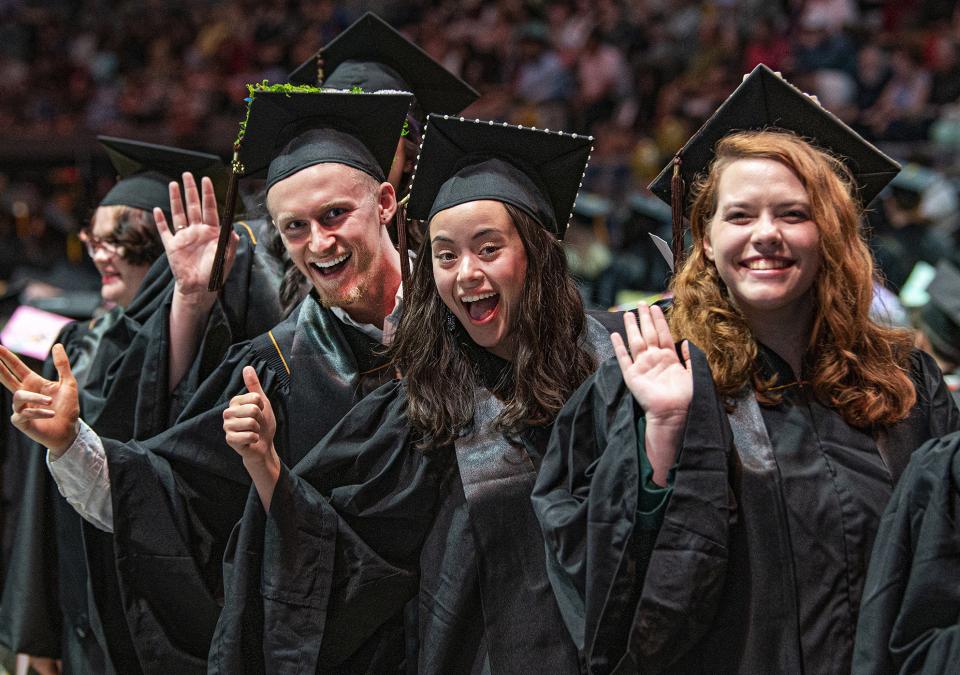 Class of 2022: Ready to step forward
A tear of pride. A sigh of relief. A shout of excitement. A whisper of anxiousness. A feeling of hope. A readiness for change. The emotions surrounding commencement are as varied as the paths our graduates will soon undertake. Amid the flood of emotions and all the hugs, handshakes, and stories of fond memories, one common thread unites all our graduates — they're ready to step forward in the world and make it a better place.
All their hard work. All their sacrifice. All their time. It's all led them here. Graduation. While every commencement shares commonalities — gowns and mortarboards, guest speakers, processions, degrees, tassels, grand marshals, university maces, and an air of sophisticated solemnity — each also carries its own nuances. For instance, this year marks the first solo ceremony for Purdue University Fort Wayne, after sharing the stage with Indiana University Fort Wayne for the past 54 years. And, of course, we can't forget about the reason these elaborate ceremonies take place: our 1,240 graduates of the Class of 2022.  
No matter their path, college students set out to achieve a common goal — to receive an education that will help them reach their greatest potential. And the Class of 2022 is poised to make some big changes that will leave a lasting impact. Like Emma McMillan, who looks forward to using her newly acquired B.S. in civil engineering to improve cities around the world while focusing on sustainability. She's anticipating "working on projects that make buildings, specifically skyscrapers, more sustainable for the environment, and making transportation within urban centers more environmentally friendly and time efficient."
And Caleb Keener, a Fort Wayne native with a B.S. in public affairs, who pursued his degree because he "wanted a better understanding of how governments and other organizations analyze situations and make policy to create change."
Brian Mockenhaupt, a longtime journalist who came to Purdue Fort Wayne to earn his M.S.Ed. in counselor education, is eager to employ what he's learned "in the community by helping people find greater self-understanding and growth and make positive changes in their lives." Meagon Chambers, who just graduated with her B.S. in human services, has a strong passion for community, helping others, and Purdue Fort Wayne. In fact, she "hopes to obtain a position to assist minorities who have dropped out of college." 
And then there's Raven Morton, who just received her M.S.Ed. in counselor education. She describes herself as having an "extreme heart for serving others with a desire to be able to help the whole individual." She recalls the deep conversations she had with her clinical supervisor regarding the American Red Cross and FEMA. And she credits those encounters with helping her land a job as the northeast Indiana disaster program manager for the American Red Cross. 
Words have tremendous power to enact change, as Layla Winters already knows. She is taking her lifelong love of reading and writing, and her new B.A. in English, overseas this fall to the University of Oxford to attend the Columbia Publishing Course. After completing this, she wants to "take what she's learned and pursue a position with a publishing house."
As the audience sees each graduate beam with excitement as their name is called and they walk across the big stage, Chancellor Ronald Elsenbaumer's earlier words seem to resonate throughout the Allen County War Memorial Coliseum: we all feel such tremendous pride and hope for the Class of 2022. While this sentiment is echoed in many commencements around the world, it rings with a little extra vigor — and heaviness — this year. This class, as well as those in surrounding years, has endured so much, and they persisted despite it all. And those who helped them along the way deserve a big thank-you "for the encouragement, sacrifice, and support [they] have provided . . . [to help] them succeed despite the challenges, disruptions, and, in some cases, the loss and heartbreak caused by the pandemic."
It's understandable that at this point some may want to put discussions of the pandemic to rest, but that's a disservice to our graduates — and everyone else who has endured hardships these past few years — because it's the challenges we face that help shape us into who we are. And that's why Chancellor Elsenbaumer and the Purdue Fort Wayne community are confident that this class is going to do some amazing things. 
To the casual observer, commencement may appear to be little more than a distribution of degrees in a grandiose ritual, but this unforgettable ceremony is also about recognizing and commending our graduates for reaching this momentous milestone and inspiring them to chase their dreams because they are the future. As our commencement speaker, the Honorable Holli Sullivan, said, "Today is the start of the rest of your life. Your path is limitless."
Jo'Male Collier, director at large of the Mastodon Alumni Community Advisory Board and a member of the Class of 2019, shared similar thoughts: "Today is the day your life changes forever." And it's true. Doors have been opened and new paths have been paved for our graduates, and we can't wait to see where they'll go next.
The pomp and circumstance surrounding commencement will live on in our graduates long after the streamers have been brushed off, and the mortarboards have found their place in a closet. They'll feel it each time they accomplish a goal. With every difference they make. With every change they're part of. When they land their dream job. And when they reminisce about their college days. It's a spark that will never leave them. While it may lie dormant on occasion, it's always ready to reignite. It will lead to a new tomorrow. One full of promise. One full of hope. One full of change. One full of Purdue Fort Wayne alumni letting that spark light their way as they step forward and create their next success.