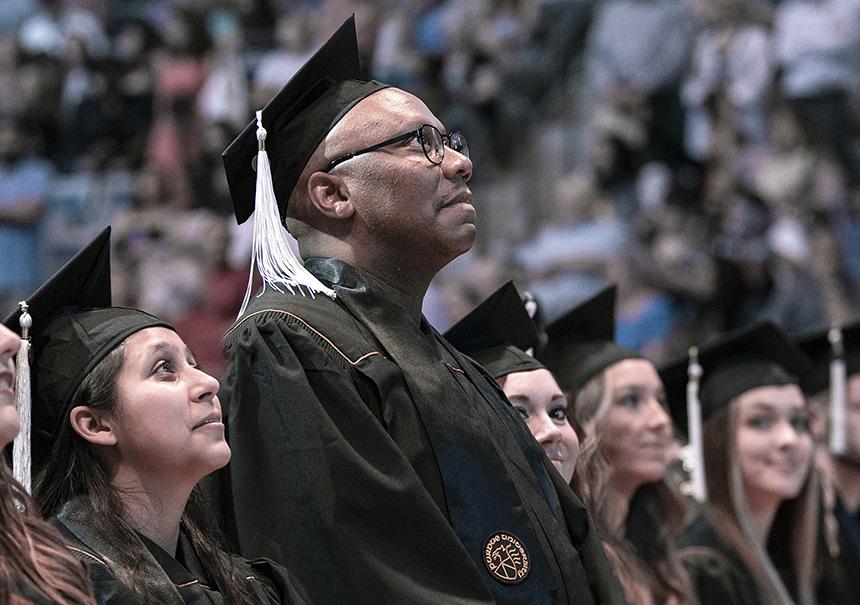 Brewer credits flexibility of Integrated Studies for promise kept
When De'Onte Brewer arrived on campus just a few weeks shy of his 19th birthday, you could find a gallon of gas for a buck fifty, twin towers stood tall over the Financial District of Lower Manhattan, NFL general managers were highly skeptical of burning an early round draft pick on Michigan quarterback Tom Brady later that spring, and no presidential candidate had reached the Oval Office without winning the popular vote since 1888. 
In December — nearly 22 years removed from his first class as a freshman — Brewer earned a bachelor's degree in general studies. At Purdue Fort Wayne's 2022 Commencement in May, he walked across the stage and out the doors of the Allen County War Memorial Coliseum into a world that's vastly different than it was when his long journey through higher education began.
As bumpy as the ride for humanity has been during the last two-plus decades, it's been as equally difficult for Brewer, a native of Fort Wayne, to fulfill a promise he made to himself to go to college and earn a four-year degree. In pursuit of that degree he finally completed at the end of 2021, and an associate degree in general studies he received in 2012, Brewer left school and then returned three separate times. It's the returning that defines who he is today, not the leaving.  
Along the way, he's worked in retail and nursing. There were also some personal challenges he needed to overcome, but he knew deep down his promise would one day come to fruition.
Brewer originally wanted to teach, but soon learned that math wasn't his cup of tea. That's when he discovered a path of general studies consisting of classes that he was interested in — art, history, anthropology — that allows students the flexibility to sculpt a future tailored to meet their own unique needs.
"This degree has helped me tremendously," Brewer says. "It's helped me improve my listening, speaking, and critical and creative thinking. I'm better prepared now to analyze a situation and respond accordingly."
By design, the Bachelor of General Studies and Bachelor of Applied Science degrees that make up the Integrated Studies program at Purdue Fort Wayne give students an opportunity to take classes with faculty members from various disciplines across the university. Brewer credits many, including Noor Borbieva, professor of anthropology and women's studies, Christine Erickson, associate professor of history, and Curtis Crisler, professor of English and linguistics, as three that inspired him in the classroom.
Brewer describes himself as being social by nature. Virtually all of his coursework outside of some remote learning necessitated by the pandemic was completed on campus. Over the years he participated in student government, the Black Collegian Caucus, and the Student Activities Board.  And while he's been less active with the extracurricular activities during the last 11 years compared to his first 11 as a member of the university community, Brewer encourages others to get as much as possible out of the experience while they still can.
"I hope my story inspires students of all ages," Brewer says as he reflects on his time at Purdue Fort Wayne. "To think that this started out as a commuter campus and to now see how it has grown, how it has embraced diversity and become more accepting of different lifestyles — I take that with me wherever I go."
Brewer intends to apply the skills he's learned as part of the Integrated Studies program to make himself a stronger candidate for future employment. He eventually sees himself ascending to the position of CEO at a nonprofit so he can continue to help people and our community as a whole.
Currently, pursuit of a master's degree is not out of the question for Brewer. "I am blessed to have been part of this campus and to have received instruction from faculty experienced in their fields," he adds.
Integrated Studies at Purdue Fort Wayne has 81 elective subjects to choose from and more than 5,000 alumni. Of those graduates, 92% report being satisfied with their postgraduate activity.  
Visit the new Integrated Studies website to learn more.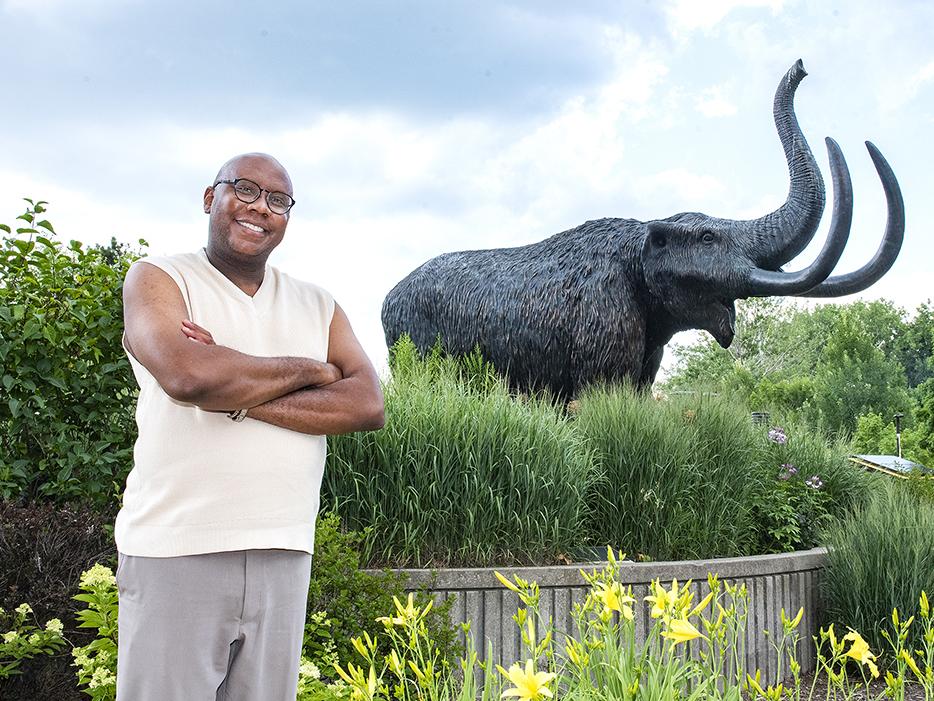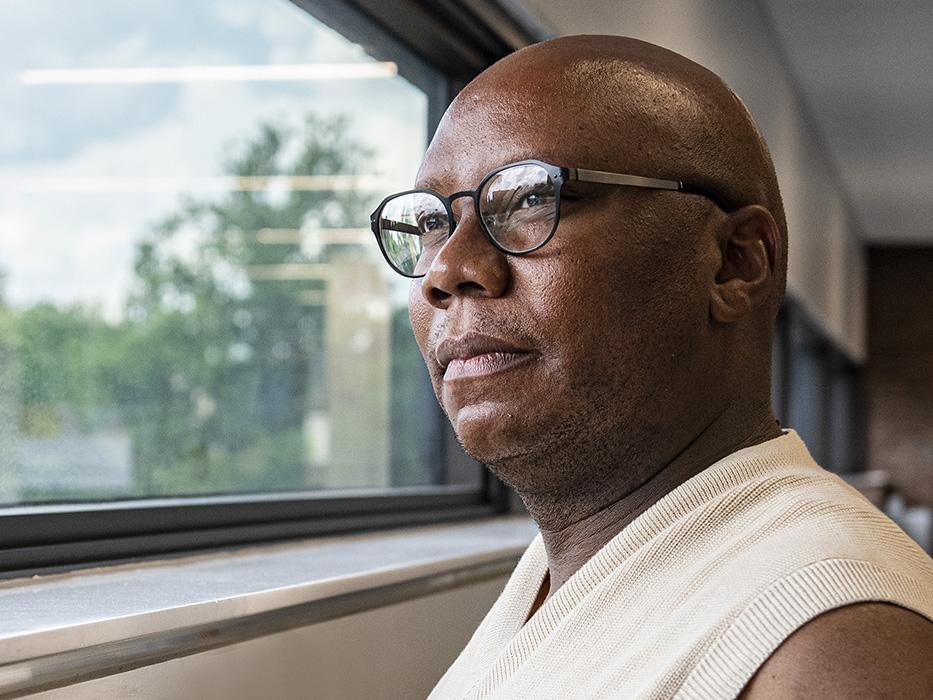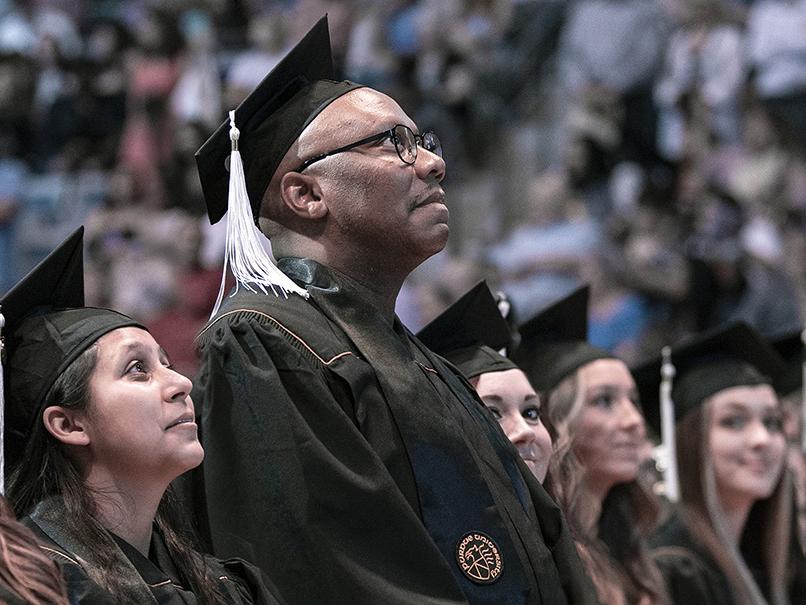 De'Onte Brewer
De'Onte Brewer
De'Onte Brewer
De'Onte Brewer at the 2022 Purdue Fort Wayne commencement.