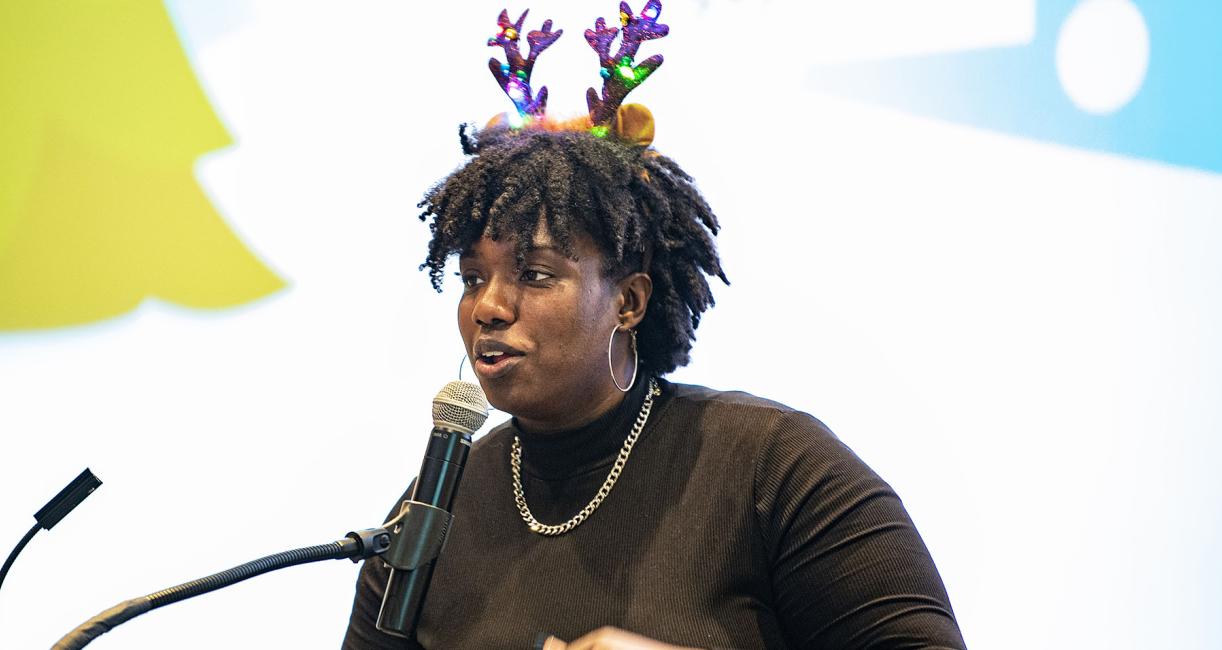 Close window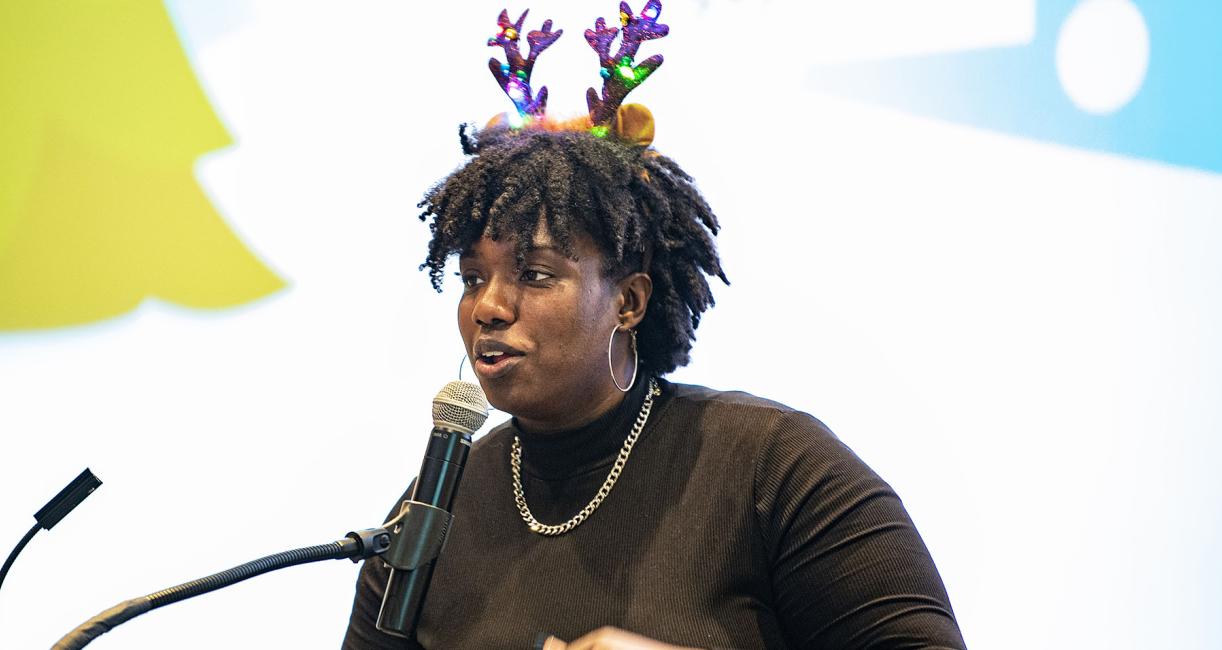 Cicelle Beemon, program assistant at The Women's Center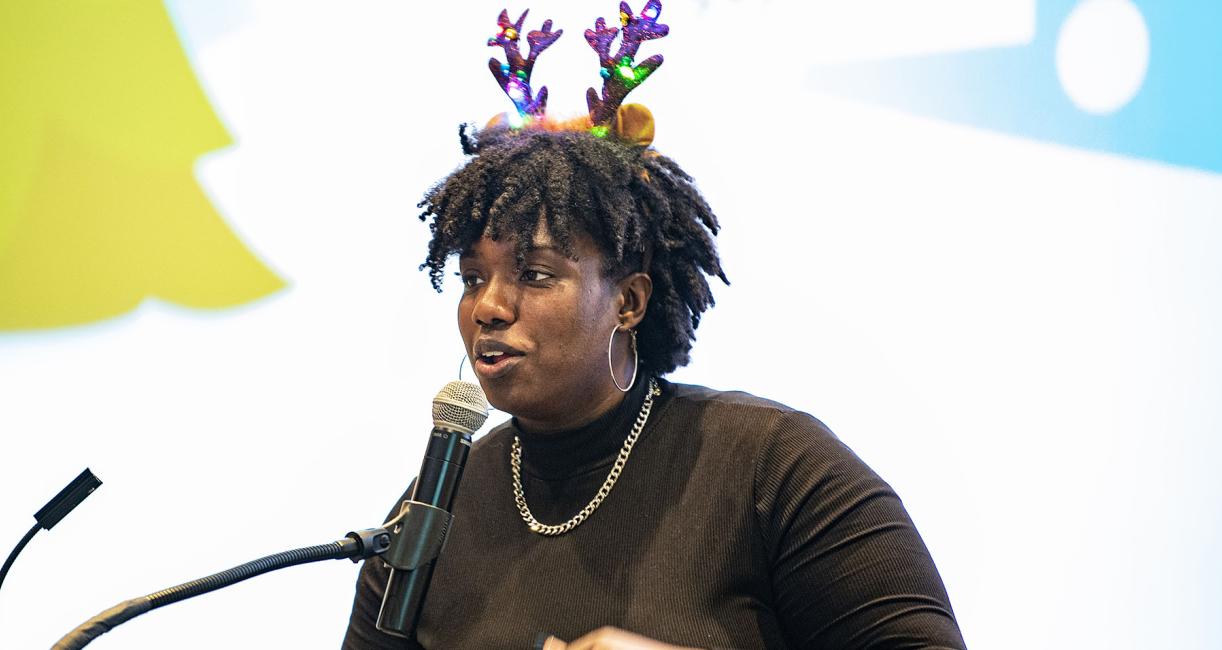 Adopt-a-Don participation grows
By Blake Sebring
November 16, 2023
Thanks to donations from staff, faculty, and student organizations, the Purdue University Fort Wayne Adopt-A-Don program continues to give generously.
The third-year program organized through The Women's Center will give Christmas presents to 39 families during the Jingle Jubilee and Adopt-A-Don Dinner on Dec. 2 from 4-7 p.m. in the Classic Ballroom at Walb Student Union. That's a record number of students with children receiving gifts, including bags from the FRIENDS of the University Food Pantry.
After raising an estimated $6,000 in gifts the first year and $7,500 in 2022, this year's total will likely exceed $10,000.
"I tend to get a bit emotional each time we have adopters jump in to take on families because seeing this support from our campus beyond the classroom impacts our students' experience," said Cicelle Beemon, B.S. '17, program assistant at The Women's Center. "It's a beautiful thing to see our faculty and staff come together and create bonds in doing such a charitable act."
Even with all the contributions, more students ask to take part than can be accommodated. Beemon said there are 197 on campus this semester who reported to have children. Many organizations and individuals giving have done so for all three years. Beemon's future goal is to reach out to more student organizations and alumni.
Adopters give a maximum contribution of $250 in toys, clothing, and gifts to a family, but many exceed the limit. Some adopters even take on two or more families.
"I personally have incorporated taking my children with me when shopping for our Don family," said Amy Jagger, benefits director for Human Resources and Office of Institutional Equity. "They enjoy picking out toys or clothing items for other children and knowing they're doing something to make this time of year brighter for someone else—I think that is what each of us in the department feel in doing this. It gives us all a warm feeling knowing that we are doing something to make the holiday season brighter and better for members of our own Mastodon family, and what is better than that?"
Beemon estimates between 200 and 250 students and family members will receive gifts this year. Every department receives a thank you note from their gifted family.
"The library loves giving back, and I am blessed to work with extremely generous people in this building," said Kris Frye, director of the Writing Center and library service desk at Helmke Library. "Before the Adopt-A-Don program started, there was always at least one employee who was involved with an organization collecting items for the holidays, and our folks would joyfully bring in items to donate. When the Adopt-A-Don program began, it was an easy choice to get involved and support our students! We voted at an all-staff meeting to support two families that first year and have continued the tradition each year since."
Curt Hosier, senior lecturer in sociology, came up with the idea for Adopt-A-Don and is co-chair of the program. He and Beemon love seeing the surprise on the faces of parents and children as the bags of gifts are brought into the ballroom. Usually, a cart is required to transport everything to vehicles for the trip home.
"You never know if you might be someone's only angel," Beemon said. "People come to us when they don't have anybody else."