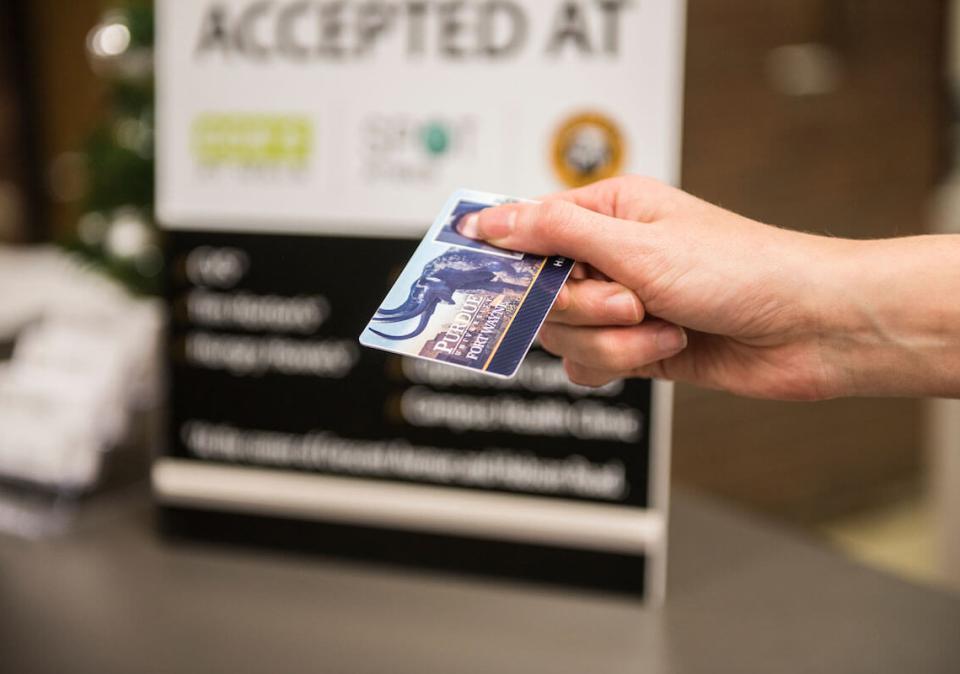 5% discount on food just one benefit of Don Dollars
While acquiring a Purdue University Fort Wayne ID card is optional, there are benefits available that encourage everyone on campus to get one. The cards can be used to check things out at Helmke Library, enter campus events including athletics, and take advantage of the workout facilities at Lutheran Health Fieldhouse.
Another way to use the ID is as a debit card for a Don Dollars account.
According to Brianna Kauffman, office manager for campus credentials and transportation, Don Dollars started around 2015.
"The university was growing, and we wanted to give students and parents an option to load money on their ID card, to make it easier for parents and also the student," Kauffman said. "The incentive is by using their Don Dollars, they receive a 5% discount on food options on campus."
There is no fee to acquire a card, and more details are available online. Kauffman said about 400 students are currently using their university IDs for Don Dollars.
"The Don Dollars and meal plan programs were started by the university to provide a better campus experience for students and parents," said Ashley Tash, director of building operations and former manager of Campus Credentials & Transportation. "With the changing times where students do not carry cash around as frequently, a Don Dollars program offered ease to parents to safely and securely transfer funds to their student and know they would be using it for food, toiletries, or bookstore items."
Campus officials have utilized the program as an incentive for students to fill out surveys, register with Student Housing before a deadline, and as an avenue to help disperse funding during the pandemic. 
Basic guidelines include only using Don Dollars in person, no cash withdrawals, and no cash refunds for returned merchandise. Staff and faculty, official retirees, and current students are the only people permitted to use Don Dollars
Creating an account takes a couple of minutes and one or two days waiting for it to be activated. Deposits of up to $999 can be made by cash at one of the campus's Mastodon card stations on the ground floor of Kettler Hall, the first floor across from the Mastodon Campus Store in Walb Student Union, and on the first floor of Helmke Library next to the elevators.
Deposits can also be made with credit or debit cards through eAccounts, though there is a $1 fee for each transaction and a maximum deposit of $998.
Don Dollars can be used on campus at Einstein Bros. Bagels in the ground floor of Kettler Hall, Don's at Walb, and Java Spot on the main floor of Walb. They are also available to use at the Mastodon Campus Store and the copiers on campus.
Off-campus, Don Dollars can be used at the CVS pharmacy, 4225 Hobson Road, and Hungry Howie's, 4214 Crescent Ave. 
"As we continue to move forward with the technological advances, we hope to continue improving the student experience with the Mastodon ID Card and the functions that come with it," Tash said. "We are currently looking at moving towards a mobile credential, as we are finding more students not leaving their houses without their cell phones, but oftentimes without their IDs or debit cards."