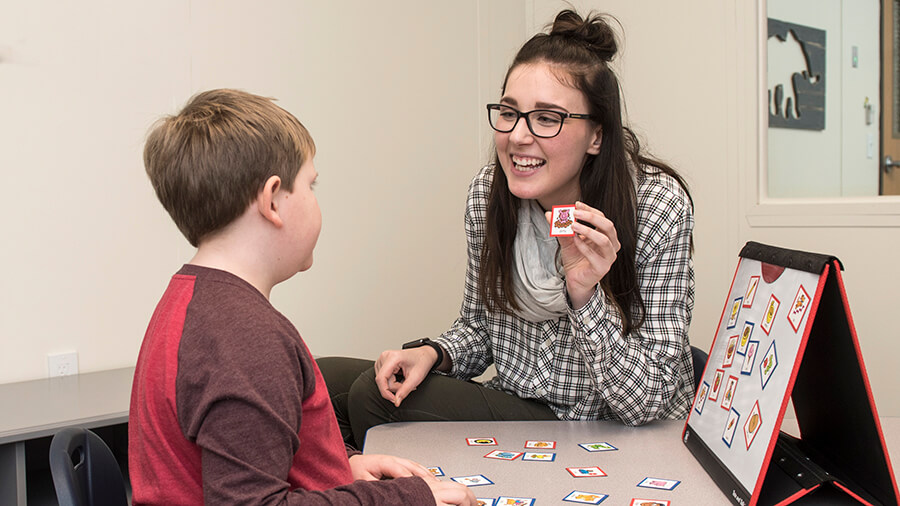 Pre-Speech-Language Pathology
Speech-language pathologists (SLPs) are healthcare professionals who assess and treat individuals with communication or swallowing disorders. This may include working with children who are born with autism or Down syndrome, as well as adults who have had a stroke or are afflicted with dementia. A career as an SLP is an attractive path for those desiring a healthcare profession working directly with patients but who do not want to complete medical school or earn a doctoral degree first. The person who most often makes an effective SLP has, in addition to knowledge and skills in communication disorders, a great deal of patience, understanding, and a desire to help others. It can be a truly satisfying and rewarding field to work in.
Career Opportunities

A career as a SLP begins with the completion of an undergraduate degree in communication sciences and disorders (CSD), followed by a graduate degree accredited by the Council on Academic Accreditation in Audiology and Speech-Language Pathology. A doctoral degree is not required. Once these undergraduate and graduate degrees have been awarded, it is necessary to complete a postgraduate fellowship, which commonly takes 36 weeks depending on the state, and earn a passing score on the Educational Testing Service Praxis exam for SLP before applying for the required state license. Once a state license has been issued, there are resources to help new SLPs find their first job, including an online career center maintained by the American Speech-Language-Hearing Association. In recent years the demand for licensed SLPs has continued to grow steadily, due, in part, to an aging population and advancements in medical technology. In addition, the variety of working environments for SLPs has also expanded from primarily clinics and hospitals to include public schools, nursing homes, research facilities, and private practices. These developments have helped to expand the job opportunities for newly licensed SLPs.
Advising and Preparation

Pre-speech-language pathology (Pre-SLP) students are primarily students who are working toward a bachelor of science degree in communication science and disorders with the intent to earn a master of arts degree, master of science degree, master of education degree, or other graduate degree in speech-language pathology from a professional school accredited by the Council on Academic Accreditation in Audiology and Speech-Language Pathology. Pre-SLP students at Purdue Fort Wayne benefit from a low student-to-faculty ratio in their department, which allows faculty to get to know students individually in a one-on-one advising partnership. In addition, this low ratio makes it possible for each pre-SLP student to have more opportunities to be engaged in faculty research and community-service projects. This can prove to be an asset when they apply to graduate programs.
Recommended and Required Coursework List
A bachelor of science in communication sciences and disorders prepares individuals with the skills, knowledge, and primary requirements necessary for application to a graduate program in speech-language pathology. Some graduate programs will admit applicants with bachelor's degrees in an area other than CSD. However, it is important to find a graduate program that is accredited by the Council on Academic Accreditation in Audiology and Speech-Language Pathology, and all applicants must complete the required prerequisites, which commonly include courses in biology, physical sciences, statistics, behavior sciences, or social sciences. Earning a bachelor's degree in CSD will fulfill these common requirements and provide a solid foundation in the field, which often makes it the best option for pre-SLP students to gain acceptance to a graduate program.
Recommended Experience Outside the Classroom
Purdue Fort Wayne provides a great deal of undergraduate clinical experiences for pre-SLP students working on a bachelor of science in communication sciences and disorders. This includes the opportunity to complete a semester-long clinical practicum in the on-campus Communication Disorders Clinic. In addition, there are opportunities to work with children and young adults who use augmentative and alternative communication (AAC) systems during the weekend AAC Poss-Abilities Theatre Camp. It is also recommended that pre-SLP students spend some additional time job-shadowing a licensed SLP to understand what the career is like and whether it is the ideal path for them. These opportunities outside the classroom not only enrich the learning experience for pre-SLP students, but they also set these students apart and help them stand out when applying to a graduate program.
Applying to Graduate or Professional School
Pre-SLP students who are exploring options for their graduate program should be sure to select a program accredited by the Council on Academic Accreditation in Audiology and Speech-Language Pathology. The Department of Communication Sciences and Disorders offers several student workshops each fall semester for students who intend to pursue a master's degree. These workshops provide help in the selection of a professional program that will be the best fit for each individual student. In addition, they offer help in navigating the graduate application process. Since most pre-SLP students intend to begin a graduate program the first fall after earning their bachelor's degree, the selection of a graduate program should begin as early as their sophomore year. In addition, most graduate schools require applicants to submit Graduate Record Examination scores, so it is important for pre-SLP students to talk to their preprofessional advisor about practicing and preparing to take this exam early in their junior year.
Resources
Here are some resources to aid in the process:
Contact Information
Schedule an appointment to take the next steps toward a career in speech-language pathology:
Marietta Frye
Academic Advisor for Preprofessional Studies
260-481-6749
[email protected]
Christopher M. Grindrod
Clinical Assistant Professor, Department of Communication Sciences and Disorders
260-481-6455
[email protected]