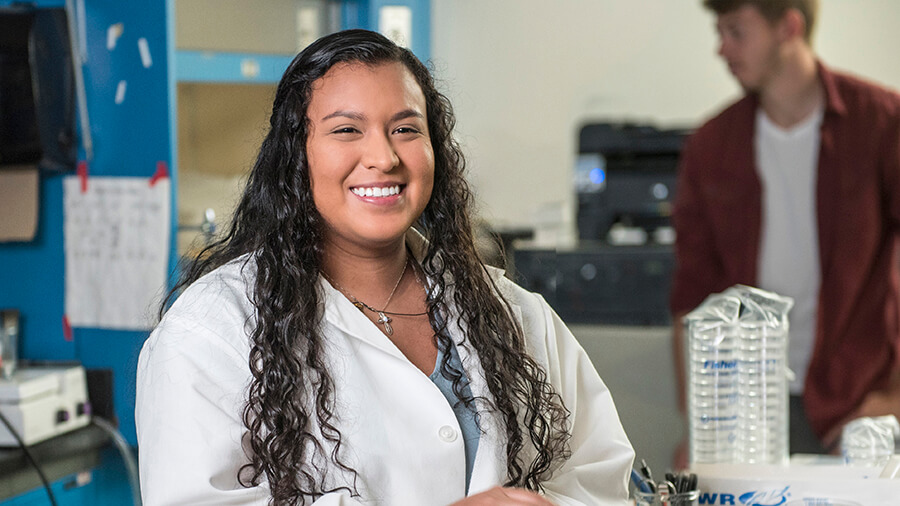 Premedicine
A professional degree in medicine is an admirable goal for any student, and, although it can be seen as a long process, it can also lead to an extremely satisfying career. Being a premed student, as part of Preprofessional Studies at Purdue Fort Wayne, refers to a student's desire to practice medicine one day and their preparation to attend medical school after earning an undergraduate degree. Premed students can be in any program on campus, as there is no premed major. It is important for premed students to find a major that fits them and that they feel passionate about, while also taking the time to understand what it is to be a doctor and whether it is the best path for them to take.
Career Opportunities
Most medical schools will confer to their graduates a doctor of medicine degree or a doctor of osteopathic medicine degree. Medical schools' curricula usually consist of two years of coursework in classroom and lab settings, followed by two years of clinical work in an actual hospital setting. Graduates must then complete a medical residency and, for some programs, a fellowship to perfect a specialty.
There are many ways in which to practice medicine. Specialties include family medicine, surgery, pediatrics, cardiology, and obstetrics/gynecology. In addition, a professional medical degree can also lead to other careers, such as public health worker, health journalist, medical researcher, medical-legal advisor, or even pharmaceutical sales. Opportunities in the medical field are abundant in the Fort Wayne area, with even more opportunities in Indianapolis and Chicago. The IU School of Medicine, with campuses across the state, is the largest medical school in the United States and accommodates global outreach programs to in-state residencies. Purdue University also provides opportunities for medical careers through its School of Health Sciences in the College of Health and Human Sciences, including the Health Physics Program, Medical Physics Program, Imaging Sciences Program, Occupational and Environmental Health Science Program, and Toxicology Program.
Advising and Preparation

Being a premed student does not refer to your chosen undergraduate major. Rather, it indicates that, regardless of your major, you are preparing now to be ready to apply to medical school in the future. There is no specific major that is required for premed students. However, there are specific courses, or prerequisites, to be completed prior to medical school, as well as courses recommended as preparation for taking the Medical College Admission Test (MCAT). It is important for premed students, or any student considering a professional degree, to meet with the preprofessional advisor as early as possible in their academic career to discuss medical school prerequisites, their undergraduate major, and an individualized academic plan. Once the premed student has finalized their major and academic plan with their program advisor and the preprofessional advisor, a discipline-specific faculty member will be also assigned as a premed mentor and guide.
Recommended and Required Coursework List
The following list includes some of the most common prerequisites for many of the medical schools in the United States (since each program is unique, this is not a guaranteed or exhaustive list):
Biology with lab (at least two semesters)
Chemistry with lab (at least two semesters)
Organic chemistry with lab (at least two semesters)
Physics with lab (at least two semesters)
Biochemistry
Anatomy and physiology (at least two semesters)
Psychology
Sociology
Composition
Premed students with advanced placement credit or community college credit for a medical school prerequisite are encouraged to retake the class at Purdue Fort Wayne. Some medical schools will accept these credits, but many will not. In addition, a repeat of the subject matter at the college level can assist in elevating MCAT scores.
Recommended Experience Outside the Classroom
It is important for premed students to gain experience in healthcare outside the classroom and to seek out these opportunities from the start. Volunteering at a hospital or job-shadowing a physician are great ways to begin, and can even be done while in high school. Throughout their time in undergrad studies, premed students should continue to gain clinical experiences through employment, internships, volunteering, and job-shadowing a physician. Student experiences beyond the norm, even outside medicine, can serve to set one medical school application apart from the others and make that applicant memorable. This can include such things as study abroad, student government, research, and even performance, which can all look good on a medical school application.
Applying to Professional School
Applications to medical school should be done early in the application cycle, so it is important to start preparing long before. Research into medical schools should begin during freshman year, with a short list of school options developed by the end of a student's sophomore year. Junior year should open with a heavy focus on preparing for the MCAT. This intense, eight-hour examination, administered by the Association of American Medical Colleges, is required for admission to any medical school in the United States. The MCAT is usually taken between March and May of a student's junior year, after months of studying and practice. In addition to GPA and MCAT scores, medical schools put a lot of emphasis on an applicant's personal statement and letters of recommendation. The primary application process can begin as early as April and into July before the applicant's senior year. A premed student's final undergraduate year can be filled with secondary application essays, interviews, and waiting for decision results while completing their academic requirements. It can be a long process just to get accepted into medical school, so it is important to consistently work with your preprofessional advisors and mentors.
Resources
Here are some resources to aid in the process:
Contact Information
Schedule an appointment to take the next steps toward a career in medicine:
Marietta Frye
Academic Advisor for Preprofessional Studies
260-481-6749
[email protected]