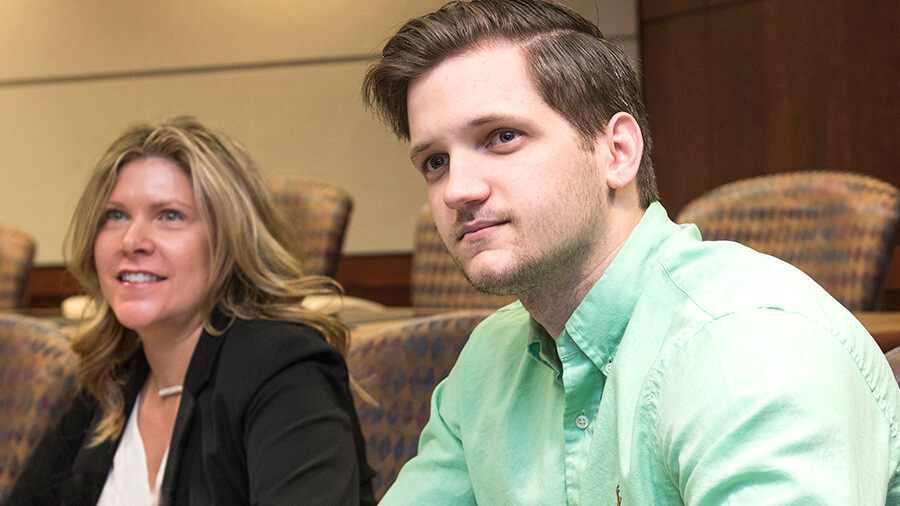 Prelaw
There are many good reasons to go to law school, but prelaw students often have difficulty expressing their own, personal reasons. A career in law can certainly be prestigious, financially rewarding, and exciting—and those are valid reasons for taking on the arduous task of becoming a lawyer—however, there are also reasons of social justice, a desire to effect change, or a drive to help others. Being a prelaw student, as part of Preprofessional Studies at Purdue Fort Wayne, refers to a student's desire to practice law one day and their preparation to attend law school in the future. It is also a valuable time in your academic career to begin thinking about who you are and why you want to be a lawyer. Knowing the answer, at least in part, will be a tremendous asset if you choose to move on to law school after graduation.
Career Opportunities
There are several hurdles to cross before becoming a practicing lawyer. After earning a bachelor's degree, you must gain acceptance to an accredited law school and earn a juris doctor degree. Law school typically takes three years. During this time, students should try to acquire training on their own through volunteering at nonprofit organizations or attending law school clinics where they can have hands-on experience. Once a degree is awarded, you must pass the bar examination for the state you plan to practice in. Passing the bar is not a simple process, and it is not unusual to need more than one attempt. After passing the bar, new lawyers usually begin applying at established law firms to gain experience and give credence to their abilities. However, there is also the option of beginning your own private practice if you have the contacts and the means.
Advising and Preparation
Being a prelaw student does not refer to your chosen undergraduate major. It is an indication that you are preparing now for application to a law school in the future. Law schools do not typically look for applicants with a major in prelaw, but rather for students who are academically strong and well-rounded. It is generally more important to law schools that their students think and write well than what they know about laws and procedure from their undergraduate coursework. This is evident by the Law School Admission Council's latest survey that indicated prelaw majors were accepted to law schools at a much lower rate than applicants with undergraduate majors in a social sciences and humanities, physical sciences, or business. It is important for prelaw students, or any student considering a professional degree, to meet with the preprofessional advisor as early as possible in their academic career to discuss law school prerequisites, their undergraduate major, and an individualized academic plan.
Recommended and Required Coursework List
Prelaw students need to be concerned with taking a well-rounded selection of courses and performing well in the courses, instead of following a prescribed list of specific prerequisite requirements. However, with consideration of their chosen major and the recommendations of the prelaw advisor, prelaw students should strive to take courses that at least cover the following subject areas:
History (preferably American)
Political science (especially American politics)
Ethics
Economics
Math and/or finance
Human behavior (psychology and/or sociology)
International politics, culture, and diversity courses
In addition, the study of a foreign language, while not a requirement, can be extremely valuable for a prelaw student and to add to a law school application.
Recommended Experience Outside the Classroom
Law schools have consistently shown interest in admitting students with well-rounded backgrounds. Prelaw students should consider their personal passions when selecting out-of-classroom activities; they should also consider stepping outside their comfort zone in order to stretch and grow. Student leadership, study abroad, volunteer work, and even participating in campus sports can all be used to diversify your undergraduate experience. Activities that strengthen your writing and problem-solving skills, such as debate or improv, are also valuable. In addition, it is helpful for prelaw students to job-shadow or work with a lawyer or in a law office to learn more about the field and know whether it is the career they ultimately want.
Applying to Graduate or Professional School
Completing law school applications is a detailed and lengthy process that you should begin as early as your sophomore year—and with the guidance of the prelaw advisor. The first step for a prelaw student is to research the numerous types of law and narrow down the list of law schools they wish to apply to. Next, it is important to begin studying for the Law School Admission Test (LSAT) by your junior year, and to study about 200–300 hours from at least two or three sources. It is also highly recommended that prelaw students utilize practice LSAT tests, as your score has a heavy influence on your acceptance to law school. Constructing a flawless personal statement and acquiring the best letters of recommendation will also have a huge impact on your applications and should be done with the assistance of the prelaw advisor.
Resources
Here are some resources to aid in the process:
Contact Information
Schedule an appointment to take the next steps toward a career in law:
Georgia Wralstad Ulmschneider
Campus Prelaw Advisor
260-481-6687
[email protected]
Teri Luce
Administrative Assistant
260-481-6686

Hayley King
Administrative Assistant
260-481-6711