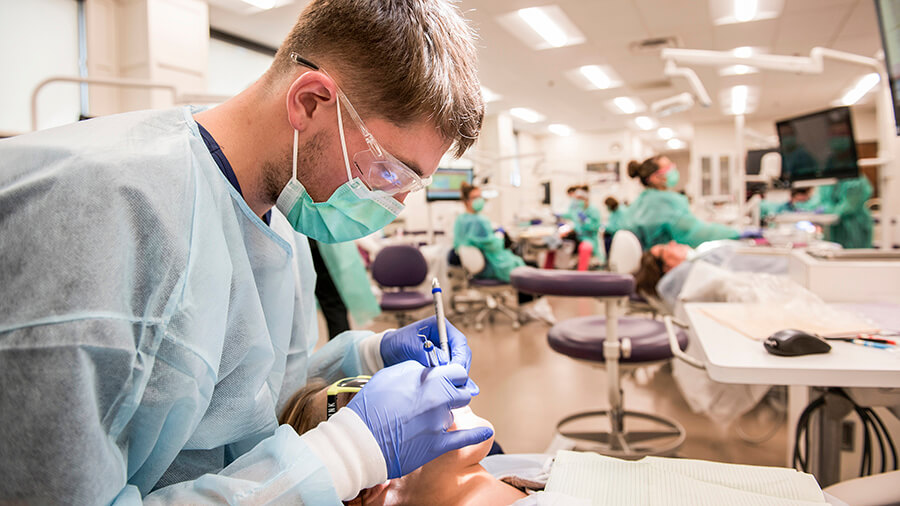 Predental
A professional degree in dentistry is an admirable goal for any student, and, although it can be seen as a long process, it can also lead to a stable, lucrative, and satisfying career. Being a predental student, as part of Preprofessional Studies at Purdue Fort Wayne, refers to a student's desire to become a licensed dentist one day and their preparation to attend dental school after earning an undergraduate degree. Predental students can be in any program on campus, as there is no predental major. It is important for predental students to find a major that fits them and that they feel passionate about, while also taking the time to understand what it is to have a career as a dentist and whether it is the right path for them.
Career Opportunities
Dental schools will confer to their graduates a doctor of dental surgery degree or a doctor of medical dentistry degree. Once either of these degrees has been awarded, a licensing examination must be passed before being allowed to practice dentistry. Depending on the sort of career desired, there can be opportunities to join an established dental practice or to be an entrepreneur and open your own practice. Further education can also lead to a career as a specialist in oral surgery, orthodontics, or endodontics. There are also career opportunities for dentists working in public health, research, and academics.
Advising and Preparation

Being a predental student at Purdue Fort Wayne does not refer to your chosen undergraduate major. It is an indication that, regardless of your major, you are preparing now to be ready to apply to dental school in the future. There is no specific major that is required for predental students. However, there are specific courses, or prerequisites, to be completed prior to dental school that need to be woven into your undergraduate degree plan. It is important for predental students, or any student considering a professional degree, to meet with the preprofessional advisor as early as possible in their academic career to discuss dental school prerequisites, their undergraduate major, and an individualized academic plan. Once the predental student has finalized their major and academic plan with their program advisor and preprofessional advisor, a discipline-specific faculty member may be also assigned as a predental mentor and guide.
Recommended and Required Coursework List
The following list includes some of the most common prerequisites for many of the dental schools in the United States (since each program is unique, this is not a guaranteed or exhaustive list for all schools):
General biology with labs (at least two semesters)
Anatomy and physiology with labs (at least two semesters)
Microbiology and/or biochemistry
General chemistry with labs (at least two semesters)
Organic chemistry with labs (at least two semesters)
General physics with labs (at least two semesters)
Psychology
Composition
Communication
Predental students with advanced placement credit or community college credit for a dental school prerequisite are encouraged to retake those classes at Purdue Fort Wayne, as some dental schools may not accept them.
Recommended Experience Outside the Classroom
It is important that predental students spend time observing practicing dentists early on to be certain dentistry is the right field for them. Also, most dental schools require about 100 hours of observation before applying, and it is a good idea to space those hours throughout undergrad. It is also recommended that predental students begin to develop their fine motor skills. This can be done in a variety of ways, which may also be fun. Many hobbies involve hand dexterity, such as building models, painting, stitching, or playing the guitar. In addition, experience in undergraduate research and campus leadership positions are also favorable on dental school applications.
Applying to Graduate or Professional School
Applications to dental school should be submitted early in the application cycle, so it is important to start preparing long before the deadlines. Research into dental schools should begin as early as freshman year. A good resource to start this search is the Official Guide to Dental Schools, which is published by the American Dental Education Association. By their junior year, predental students should be preparing for the Dental Admission Test. This required, online exam is generally taken in the spring or summer before senior year. The American Association of Dental Schools Application Services is a common application utilized by most dental schools that, along with personal essays, letters of recommendation, and interviews, is the main portion of the application process. It can be a long, complex journey to achieve admission to a good dental school, so it is important to consistently work with your preprofessional advisor and mentor.
Resources
Here are some resources to aid in the process:
Contact Information
Schedule an appointment to take the next steps toward a career in dentistry:
Marietta Frye
Academic Advisor for Preprofessional Studies
260-481-6749
[email protected]