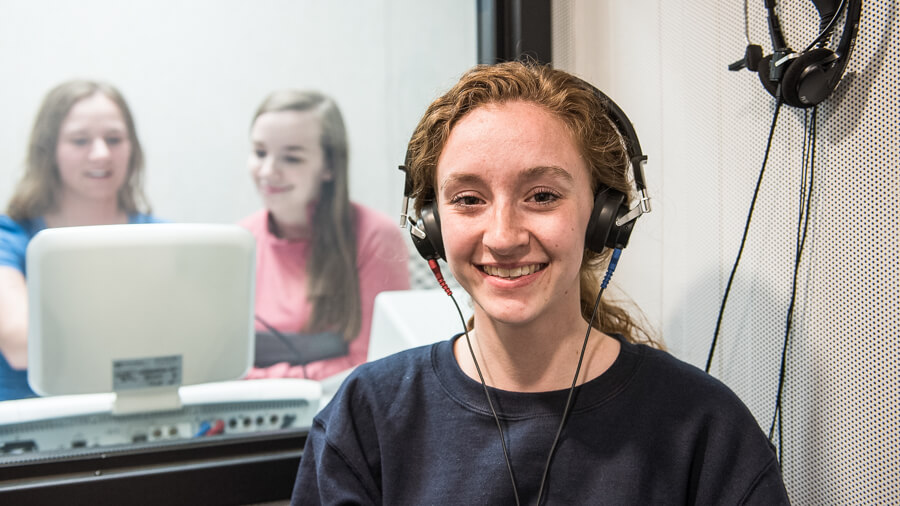 Preaudiology
Audiologists are healthcare professionals who specialize in hearing, auditory processing, and balance issues. They work with both children and adults to measure hearing abilities, identify hearing disorders, help with rehabilitation, and train others in speech reading. In addition, they may also serve as consultants on public health issues concerning noise-induced hearing loss in the environment.
Audiology is an exciting and growing field, with both clinical and research needs continuing to expand. Although it takes additional years of education and training to become a licensed audiologist, it can lead to a stable and rewarding career that will continue to offer new challenges as time goes on.
Career Opportunities
A career in audiology requires a doctoral degree in audiology (Au.D.) from a school accredited by the Council on Academic Accreditation in Audiology and Speech-Language Pathology (CAA) and a license from the state in which you are practicing. Most Au.D. degree programs take an additional four years of education after completing a bachelor's degree. This will usually consist of two years focusing on classroom and observational learning, often followed by two years of more hands-on experience. In addition, it is necessary to complete postgraduate clinical hours and to pass a national exam before becoming a licensed audiologist.
Audiologists have a variety of places and situations in which to work. Primarily, audiologists work in a healthcare environment such as a clinic, rehabilitation facility, or private practice. Unlike some medical professionals, audiologists tend to work regular hours. There are also audiology careers in public health, consulting, and research for the purpose of fighting environmental conditions that can cause hearing damage. According the US Bureau of Labor and Statistics, the need for licensed audiologists is continuing to grow and expand each year.
Advising and Preparation
Although there is no specific undergraduate major required to apply to most Au.D. degree programs, there are required prerequisites, and it is often helpful for preaudiology students to earn a bachelor of science in communication sciences and disorders. Also, it is important for a preaudiology student to investigate professional programs offering an Au.D. degree that is accredited by the Council on Academic Accreditation in Audiology and Speech-Language Pathology.
Preaudiology students within the Department of Communication Sciences and Disorders at Purdue Fort Wayne have the added benefit of a low student-to-faculty ratio. This allows faculty to get to know students in a one-on-one advising partnership, and enables students to have more opportunities to be engaged in faculty research and community-service projects. These opportunities can provide experience and observation hours that may be application requirements for some Au.D. degree programs. Many professional programs also require applicants to submit scores for the Graduate Record Examination (GRE), so it is important for preaudiology students to talk to their preprofessional advisor about preparing for and practicing to take this exam early in their junior year.
Recommended and Required Coursework List
Application to an Au.D. degree program requires courses in biology, physics, chemistry, and mathematics. In addition, it is often required that preaudiology students have hours of experience job-shadowing and observing the work of a licensed audiologist prior to beginning a professional program.
A bachelor of science in communication sciences and disorders prepares individuals with the primary requirements, skills, and knowledge needed to advance to an Au.D. degree program that may lead to a career as an audiologist.
Recommended Experience Outside the Classroom
Purdue Fort Wayne provides a great deal of undergraduate clinical experiences for preaudiology students. This includes the opportunity to conduct hearing screenings on campus and off campus, and a chance to complete a semester-long clinical practicum in the on-campus Communication Disorders Clinic.
There are opportunities to work with children and young adults who use augmentative and alternative communication (AAC) systems during the weekend AAC Poss-Abilities Theatre Camp. In addition, it is important for preaudiology students to spend time job-shadowing a practicing audiologist, both for application requirements for an Au.D. degree program and for the preaudiology student's own confirmation that this is the field they want to pursue.
Applying to Graduate or Professional School
Acceptance to an Au.D. degree program is very competitive, and it is important to select a professional program that is accredited by the CAA. However, there are many ways in which preprofessional studies at Purdue Fort Wayne and the Department of Communication Sciences and Disorders can prepare preaudiology students for this challenge. Multiple workshops are offered each fall semester for students who intend to pursue a professional degree in audiology. These workshops provide help in navigating the application process for various Au.D. programs, starting with selecting a program that will be a best fit for each individual student.
For preaudiology students who wish to remain in Indiana, Purdue University's Department of Speech, Language, and Hearing Sciences offers a CAA-accredited Au.D. degree, as do Indiana University and Ball State University. Many Au.D. programs require application materials to be sent through the CSDCAS Application, an online process established by the Council of Academic Programs in Communication Sciences and Disorders. This includes transcripts, letters of recommendation, GRE test scores, and essays or written requirements. There may also be additional requirements to be submitted directly to the chosen graduate or professional school(s).
Contact Information
Schedule an appointment to take the next steps toward a career in audiology:
Marietta Frye
Academic Advisor for Preprofessional Studies
260-481-6749
[email protected]
Christopher M. Grindrod, Ph.D.
Clinical Assistant Professor of the Department of Communication Sciences & Disorders
Program Director M.S. in Speech-Language Pathology
Program Director Gerontology Certificate
260-481-6455
[email protected]