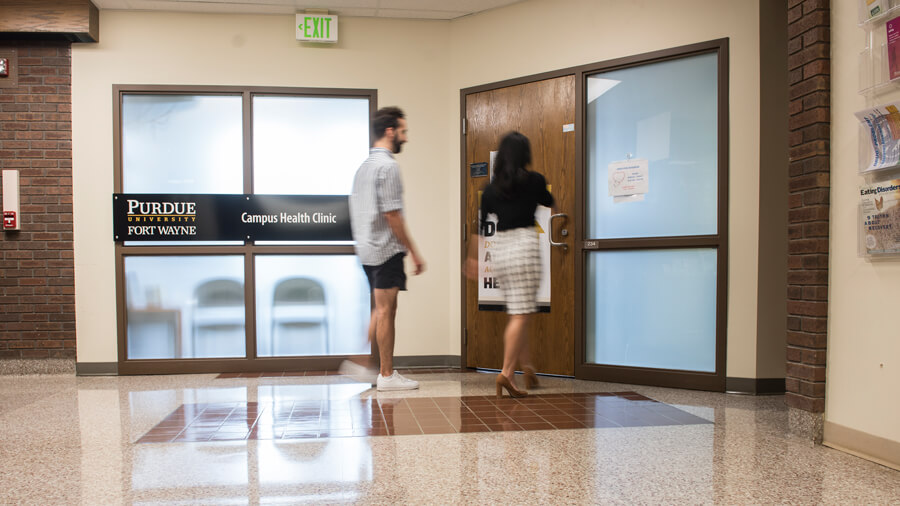 Campus Health Clinic Fall Semester Hours
Hours:
Monday - Friday: 8:30 a.m. to 4:30 p.m. The clinic is closed from 12 to 12:30 p.m. daily
Per the Coronavirus Aid, Relief, and Economic Security Act (CARES), COVID-19 testing is free for faculty, staff, and students. Office visits will remain subject to insurance co-pays and deductibles. Patients who are experiencing symptoms that coincide with strep throat, flu, or COVID-19 should schedule a telehealth visit with the Campus Health Clinic. The clinic will refer appropriate patients for a scheduled drive-through COVID-19 test. Drive-through testing (which is done by appointments only) will take place at the Walb Union Circle
COVID-19 Procedures
We want to make sure your healthcare needs are met during the COVID-19 pandemic and have provided additional measures to ensure that you receive care in a safe environment.
Until further notice, all patients of the Campus Health Clinic are required to wear masks when they come in. Homemade masks or face coverings are fine. If you do not have a mask, contact the clinic before your appointment and we may be able to provide one to you.
The clinic is limiting the number of patients in the facility to those needing services. Please call the clinic for current visitor restrictions.
The office has implemented additional cleaning measures in patient contact areas to ensure the safety and wellbeing of patients.
If you need to be seen due to an illness, please call the clinic at 260-481-5748.
Telemedicine visits are now available to Purdue Fort Wayne students, faculty, and staff. To schedule an appointment, contact the Campus Health Clinic at 260-481-5748 to be screened; clinic staff will determine whether an in-person or virtual visit is needed.
The Campus Health Clinic receives regular updates from the Allen County Department of Health and follows COVID-19 guidelines set by the CDC.
Lutheran Health, which manages the clinic, has established a dedicated phone number for patients to call 24 hours a day, seven days a week if they believe they have symptoms consistent with COVID-19 or have come in contact with anyone with a confirmed or suspected case of COVID-19. Contact the Lutheran Health Network COVID-19 line at 260-435-5050.
Schedule a Time to Visit Us
You can schedule an appointment by contacting us at 260-481-5748.
Same-Day/Walk-In Appointments
For your convenience, we do offer a limited number of same-day appointments. We cannot, however, guarantee the availability of these appointments. We strongly suggest that you contact us at 260-481-5748 to check the availability for the day.
Please note that walk-in visits are taken as time permits between scheduled appointments. We encourage you to call ahead of time to ensure that you have a spot for an appointment.
Cancelations
We understand that life happens and that sometimes you may not be able to keep your scheduled appointment. If this occurs, please contact us at 260-481-5748. You may call at any time to cancel your appointment. If you call after-hours, please leave a voicemail with your full name, your scheduled appointment time you would like to cancel, and your phone number.
We ask that you please contact us with your cancellation 24 hours in advance. If you miss an appointment without canceling with us, a cancellation fee may be added to your billing statement.