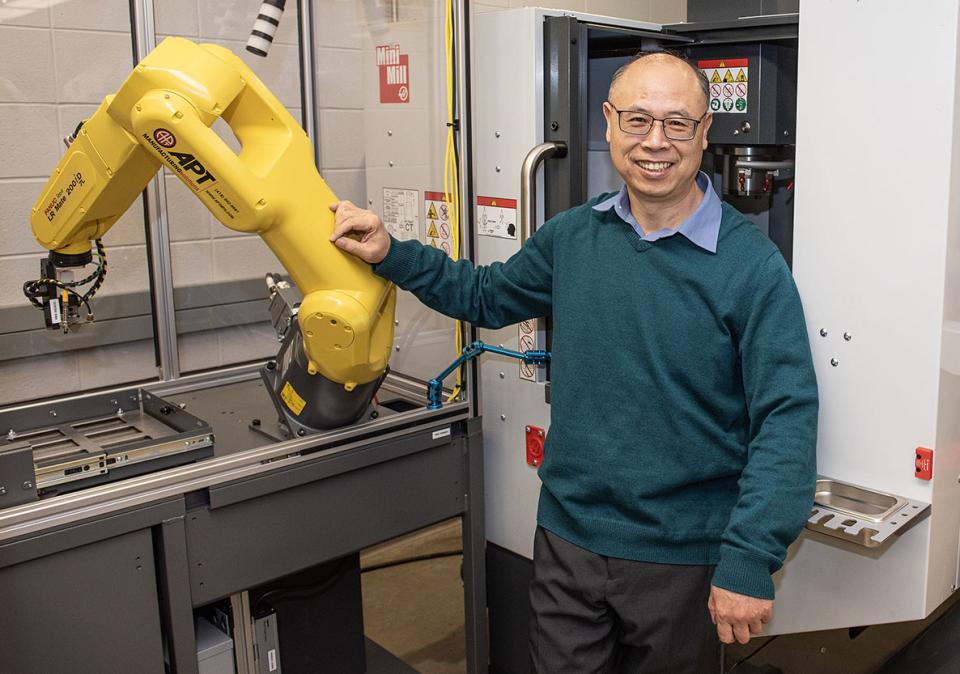 News Release
Zhuming Bi first Purdue Fort Wayne faculty member to be awarded Fulbright-Nokia Distinguished Chair
Zhuming Bi, a professor of mechanical engineering at Purdue University Fort Wayne, has been awarded a Fulbright-Nokia Distinguished Chair in Information and Communications Technologies for the 2023-24 academic year. Bi, who teaches in the Department of Civil and Mechanical Engineering in Purdue Fort Wayne's College of Engineering, Technology, and Computer Science, is the first PFW faculty member to have earned this appointment. As part of the grant program, he will conduct research on sustainable manufacturing at the Lappeenranta University of Technology in Finland from September to December.
"I am very excited to use this opportunity to participate in a number of ongoing research projects in digital twin technology, 4D printing, and Industry 5.0," Bi said. "Some of the benefits of this experience for my teaching and the university will be developing international collaborations in digital manufacturing, serving as an ambassador to promote cultural and educational values of the U.S., and networking with international scholars in information and communication technologies for manufacturing applications in the future."  
According to Fulbright, a Distinguished Chair position is viewed among the most prestigious in its scholar program. Fulbright alumni include 63 Nobel Prize laureates, 89 Pulitzer Prize winners, 78 MacArthur Fellows, and thousands of leaders across the private, public, and nonprofit sectors.
Bi is also the Harris Chair of Wireless Communication and Applied Research at PFW.
The Fulbright-Nokia Distinguished Chair, which was introduced prior to the 2010-11 academic year, is jointly funded by the Nokia Foundation and the Fulbright Finland Foundation. The Fulbright Finland Foundation promotes a wider exchange of knowledge and professional talents through educational contacts between Finland and the United States.
It's a bittersweet coincidence that Carlos Pomalaza-Raez, a PFW professor of radio frequency communications who Bi describes as his "respectful mentor," received a Fulbright designation of U.S. Scholar for work involving distributed wireless communication networks and wireless communication systems for the 2003-04 academic year. He had previously recommended Bi's application to Fulbright. Pomalaza-Raez died in March 2022 at the age of 69.   
The PFW university community has also had five students receive a Fulbright student scholarship, the most recent being Chelsea Bihlmeyer in 2021.
For additional information, contact Geoff Thomas at [email protected] or 260-437-7657 (mobile).