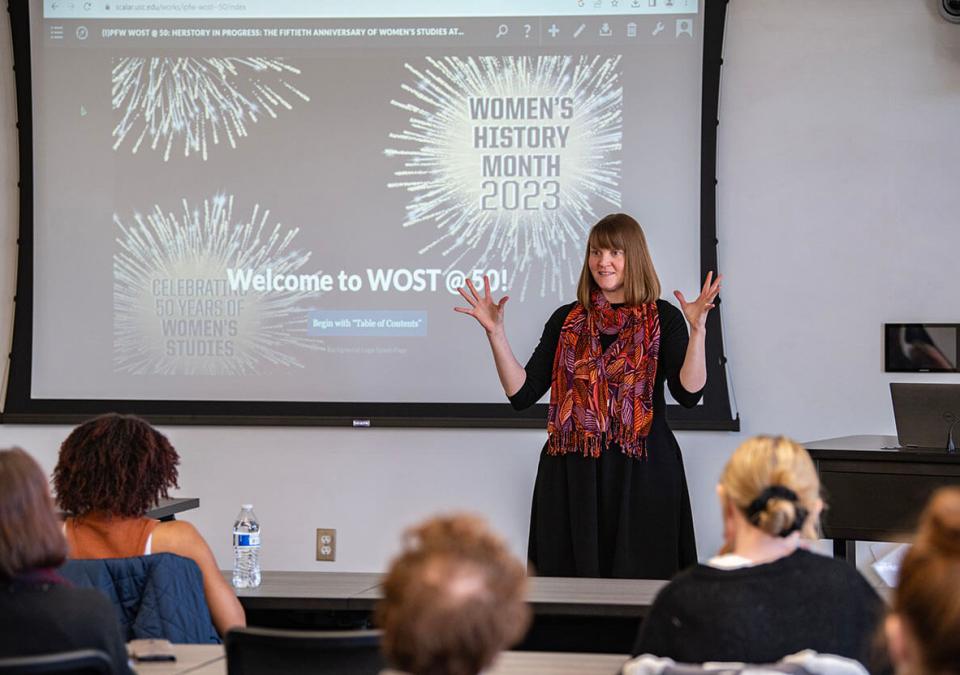 PFW Story
Women's studies celebrating 50 years at PFW
When thinking of pioneers, most historians look back hundreds of years to people long passed. What if it was possible to talk with people still alive whose society-changing work continues to inspire?
That's the beauty and the benefit of Purdue University Fort Wayne's celebration of the 50th anniversary of the College of Liberal Arts women's studies program. Coinciding with Women's History Month in March, the program is hosting events such as a panel discussion with founders on March 21 in the IDEASpace at Helmke Library, and a gala on March 30 at The History Center in Fort Wayne.
Downtown is an appropriate spot for the gala because women's studies started as a community project. With many professors helping facilitate, the city's initial class was at First Wayne Street United Methodist Church in 1971.
Cathryn Adamsky taught the first class on campus in 1972, and a group of women started meeting and identifying themselves as a program in the spring of 1973. The program appeared initially in the university catalog in 1976, offering a 15-credit minor. In 1992, the university became the first public Indiana institution to offer a women's studies major.
"One of the advantages to being a regional campus is that most of our community is here, to be able to connect with the women who founded it and who are still living here," said Janet Badia, dean of the College of Liberal Arts and former women's studies program director. "It's a collective history of making women's studies happen, reflective of solidarity and collective action. It's a great reason to celebrate in a grand way, to respect and recognize that history and honor people."
That monthlong recognition started on March 1 with the introduction of a digital exhibit documenting the women's studies archive. Deanna Wooley, adjunct history professor and the public history program coordinator, and Stevie Scheurich, visiting assistant professor of women's studies, organized the women's studies program archive into a historical timeline. They hope it is a seed for a living archive where everyone can share their oral histories and memorabilia. There are lots of options available.
"When you work in public history, you kind of see everything as an opportunity, especially with this particular community because it is so multi-faceted," Wooley said.
They'd like the archive to expand into decade-by-decade depictions that will provide greater perspective. Wooley will teach a class about the archive starting in the fall 2023 semester.
Looking at the archive, the growth of women's studies in society has expanded so rapidly that the beginning seems almost mythological, like the start of the computer age.
"It's humbling to see all that, look through all the archives, and understand how cool it is to be part of all the amazing things that have been accomplished," said Suzanne LaVere, the program's interim chair.
LaVere credits executive committee members Noor Borbieva, Ann Livschiz, Kitty Luo, Michelle Kelsey, and Chris Erickson for their continued committee work in helping organize the anniversary celebration. About 20 affiliated faculty members are helping with this program, LaVere said. Members of Community Friends of Women's Studies, Inc., a non-profit organization created nearly two decades ago to support the women's studies program, has been instrumental in the planning for the celebrations as well.
In her second year as interim director, LaVere believes the anniversary can reemphasize the program's efforts.
"It's a way for community outreach and recruiting because it shows just how much the program has accomplished and how integrated we are not just in the PFW community, but in the Fort Wayne community," LaVere said. "I think it can be a really useful tool for communicating that and getting people excited about the program as well. It can serve as a reminder of how much the program has already accomplished, but also tell that the next 50 years is going to be even better."
Some of it is a complicated history. As part of a restructuring, the program ended in 2016 despite graduating 15 majors the previous May, but Badia, faculty, students and community members rallied for its reinstatement in 2018.
Badia, Cicelle Beemon, director of The Women's Center, Kelley Hartley Hutton, director of athletics, and Ashley Malone, assistant director of athletics, were among those recently honored by Purdue University as recipients of the 2022 Title IX Distinguished Service Award. Each gave short presentations at a Feb. 28 reception.
"One of the recurring messages was that progress is slow, but we hold each other up so we can continue to do the work," Badia said. "Even when there are setbacks, we pull together and keep pushing forward. Everybody had the same message."