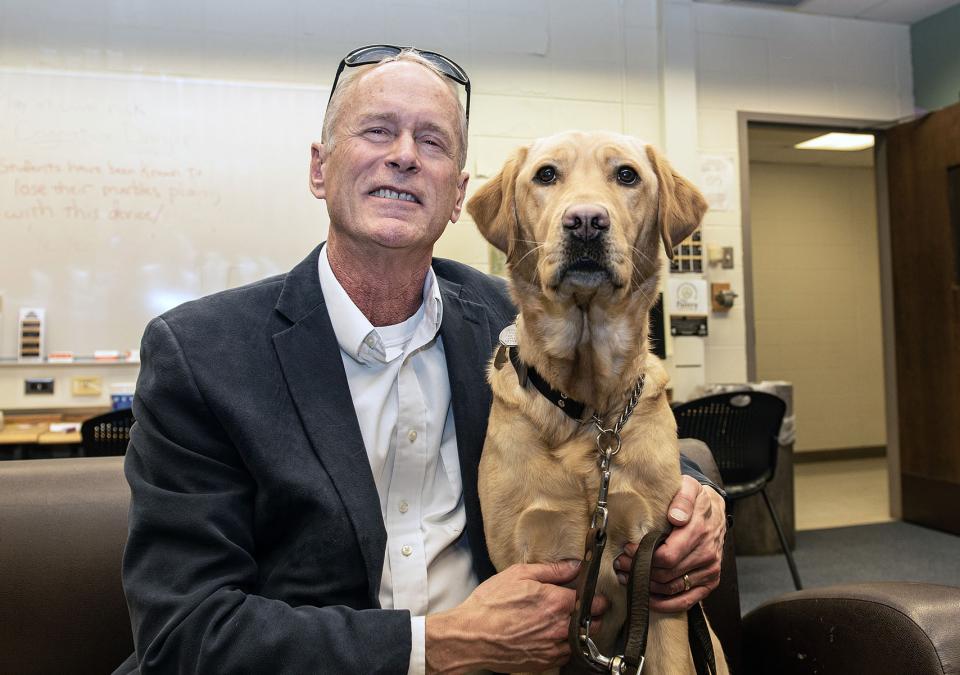 While dealing with blindness, Platzer finds and delivers new inspiration at PFW
Though he began to lose a significant amount of his eyesight during his 30s to retinitis pigmentosa, Jim Platzer, M.S. '21, built an amazing business career, becoming president and general manager of a Fortune 200 company. When forced into early retirement due to blindness, he found a second career as a motivational speaker for companies nationwide.
What else could he do? Or rather, what couldn't he do?
Platzer realized there was still more to learn and enrolled at Purdue University Fort Wayne to earn his master's degree in organizational leadership. He earned a spot among the school's 2021 Top 50 recipients.
After graduating, he stayed home to become an adjunct professor teaching an organizational leadership class, and then advanced to become a full-time professor. Platzer praises PFW for the assistance and support he's received, and the smooth transition into the department.
Platzer has help from his leader dog Maggie, an almost 3-year-old mix of golden retriever and yellow Labrador who guides him everywhere. Though a huge hit with students, and an incredibly loving animal, Maggie wears a sign on her harness that says, "Please don't pet me, I'm working." But when asked, Platzer will remove Maggie's harness so she can delightfully meet students with kisses and a constantly wagging tail.
With Maggie's help, he loves working with students and learning from them, and has found the third wind of his professional career. He's got plenty more to contribute and to experience in the university setting, saying there were three significant factors to his return to college,  specifically organizational leadership.
"After more than two decades in management, I clearly understood the highest value and return on investment was with the people side of the business, including employees, customers, and the community served," Platzer said with Maggie curled up at his feet. "What highlighted that principle was my time spent as a corporate keynote motivational speaker. I spent an enormous amount of time with top executives prior to each engagement. The No. 1 message they asked me to convey revolved around motivating their people and advancing a positive culture within their organizations."
Lastly, Platzer wanted to continue to learn more about organizational effectiveness and increase his knowledge of leading employees and organizations to reach their fullest potential. Those goals fascinate him, and the Department of Organizational Leadership takes advantage of his gifts and résumé.
"Jim has an incredible professional background, and he brings his real-world experiences into the classroom," said Kim O'Connor, organizational leadership department chair. "Students find his classes very engaging. It is wonderful to have had him as a student and now as a colleague. Personally, I appreciate how extraordinarily creative Jim is – I learn things from him all the time."
Walking the hallways with Maggie, Platzer is an incredible example of endless potential and possibilities. He says they have a miracle relationship, and although they've only been together for about a year, their partnership is strong and will continue to evolve. Watching how they work together, they are obviously devoted to each other.
"I'm proud of PFW for providing me the opportunity to do this," Platzer said. "That says a lot about PFW and their mission to embrace diversity, equity, and inclusion. I feel like a blessed guy to work and be here."
Platzer's difficulty seeing his students turns into a positive. He works smarter to establish a relationship by facilitating interaction, and says the key is consistently asking students for opinions, allowing deeper digging into the material, which moves the classroom dynamic from passive to interactive. 
Along with serving on the board at Parkview YMCA and being a board trustee with Leader Dogs for the Blind, Jim and his wife Janice founded the Fort Wayne chapter of Foundation Fighting Blindness, which will host the 17th Annual Fort Wayne VisionWalk in June in conjunction with Germanfest.
From his time in the classroom Platzer feels recharged and committed, with no plans to retire soon. While many might see him as handicapped, Platzer says that's not an option for him because life always requires adjustments. Everyone has to learn to overcome challenges, especially in business, and Platzer can talk and teach about that.
"In the classroom, I'll go straight to the heart and talk about my personal experience with discrimination," Platzer said. "Hey, discrimination is awful, and we need to be better than that. Fortunately, I have a platform to teach students how to work with people from all backgrounds so they can help them reach their full potential. As students become supervisors, managers, and leaders, they'll all be doing the right things to advance people in an equitable way. They will help to create societal change."
They'll have an excellent example to follow.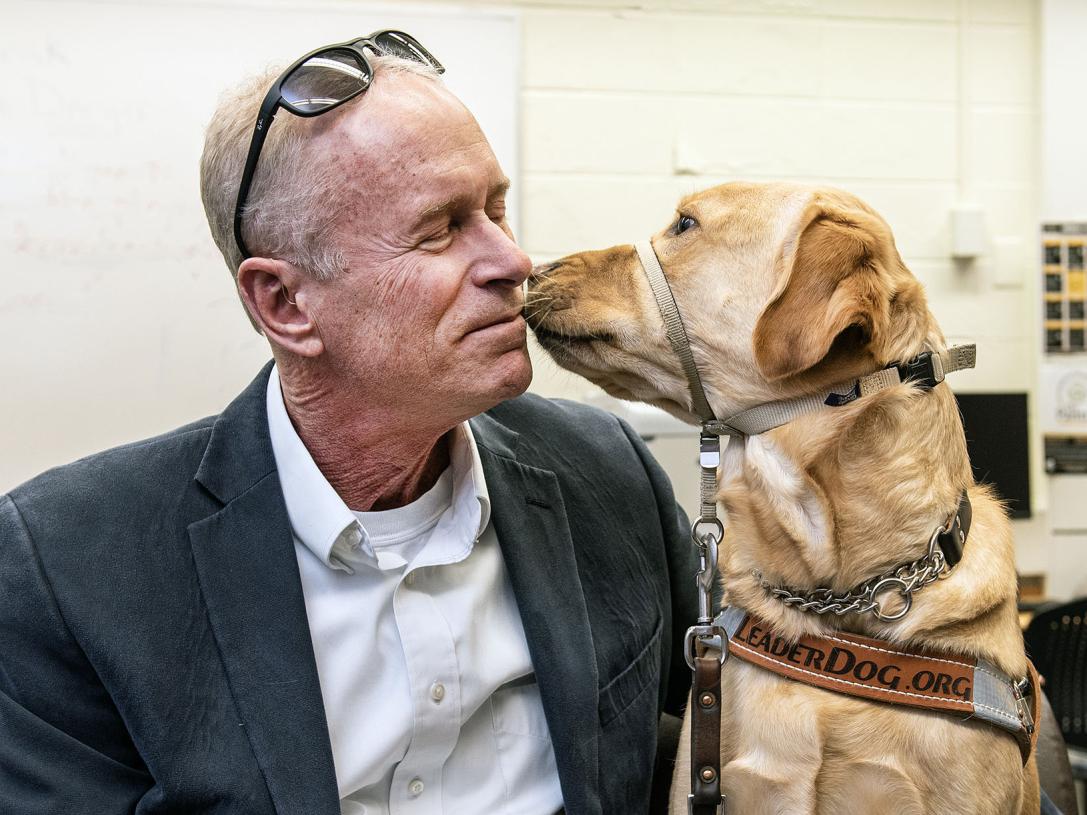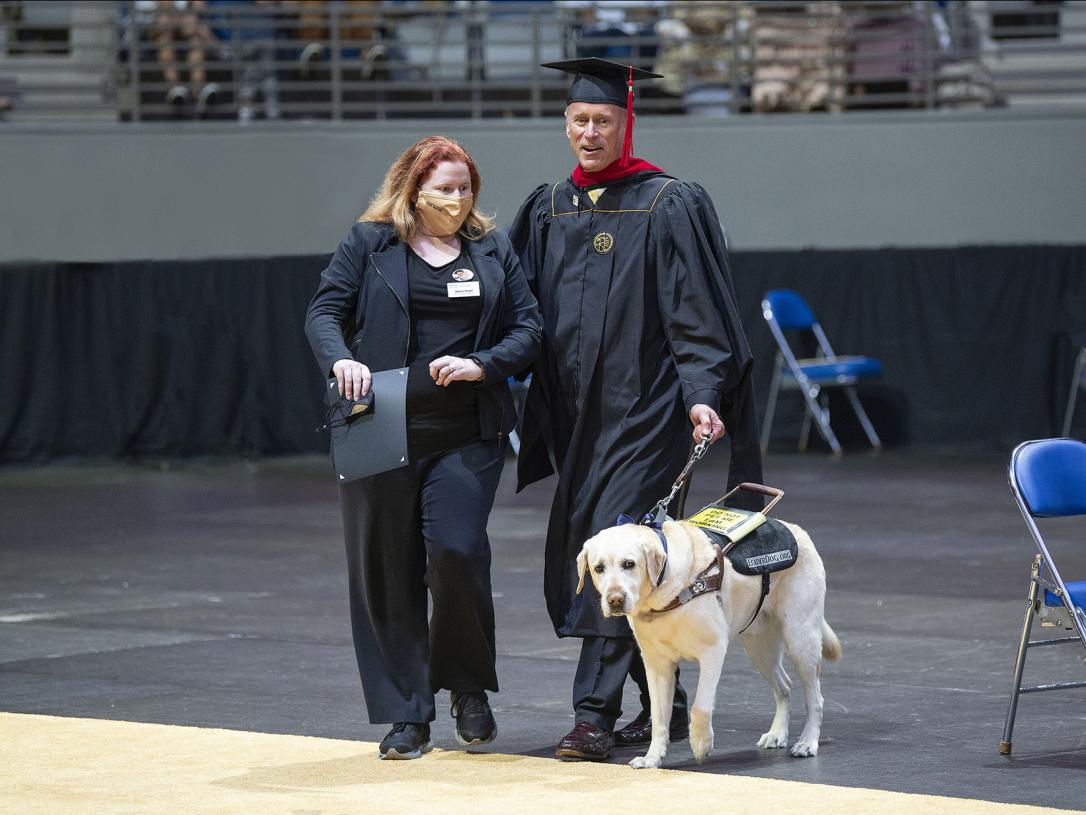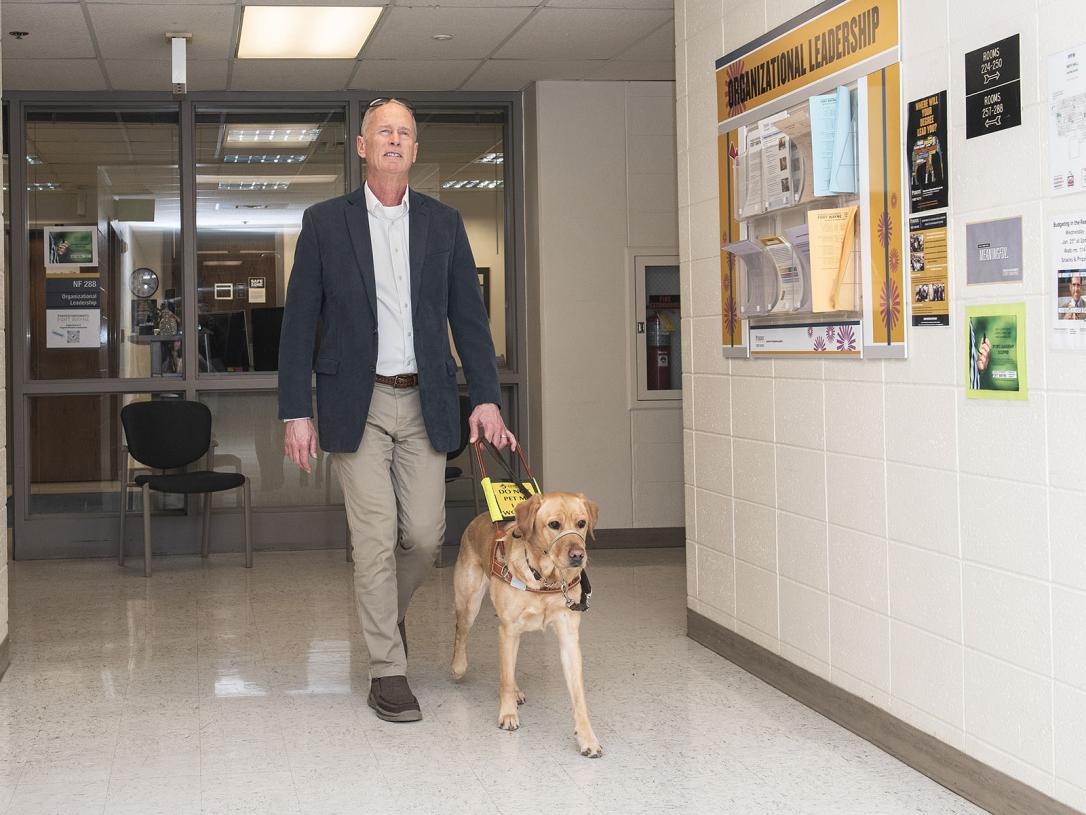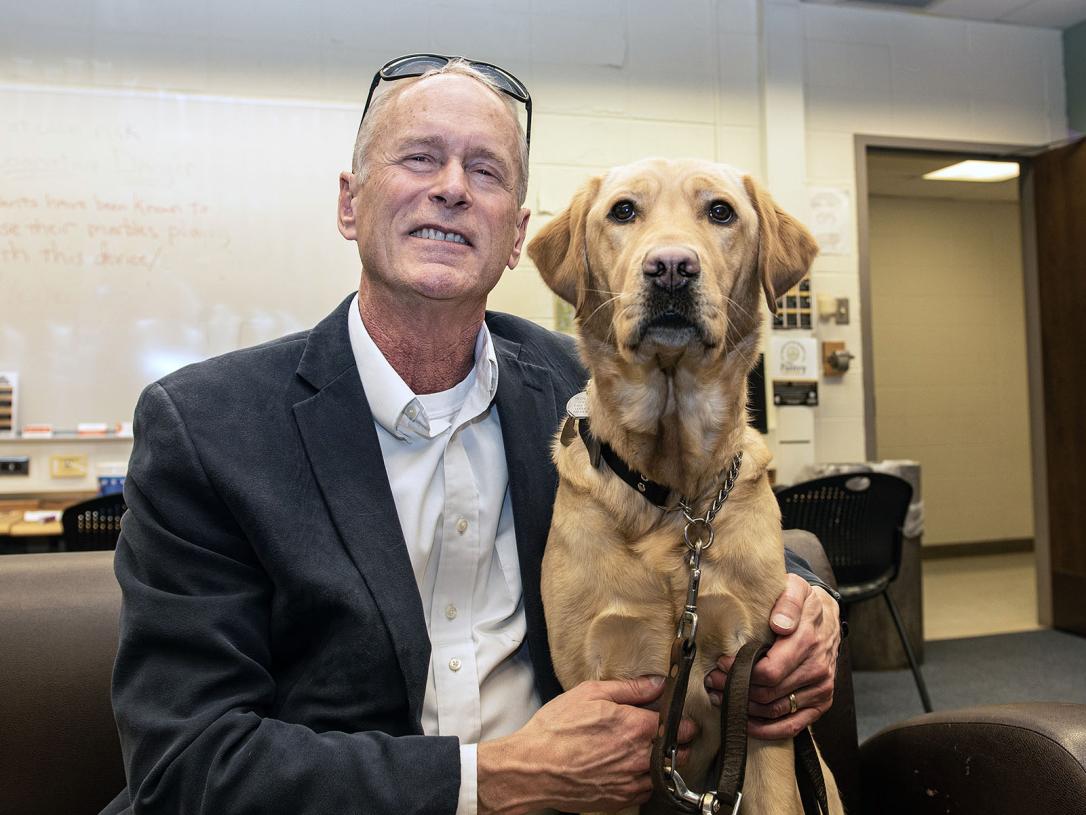 Jim Platzer and his leader dog, Maggie.
Jim Platzer and his leader dog, Maggie, at commencement.
Jim Platzer and his leader dog, Maggie.
Jim Platzer and his leader dog, Maggie.