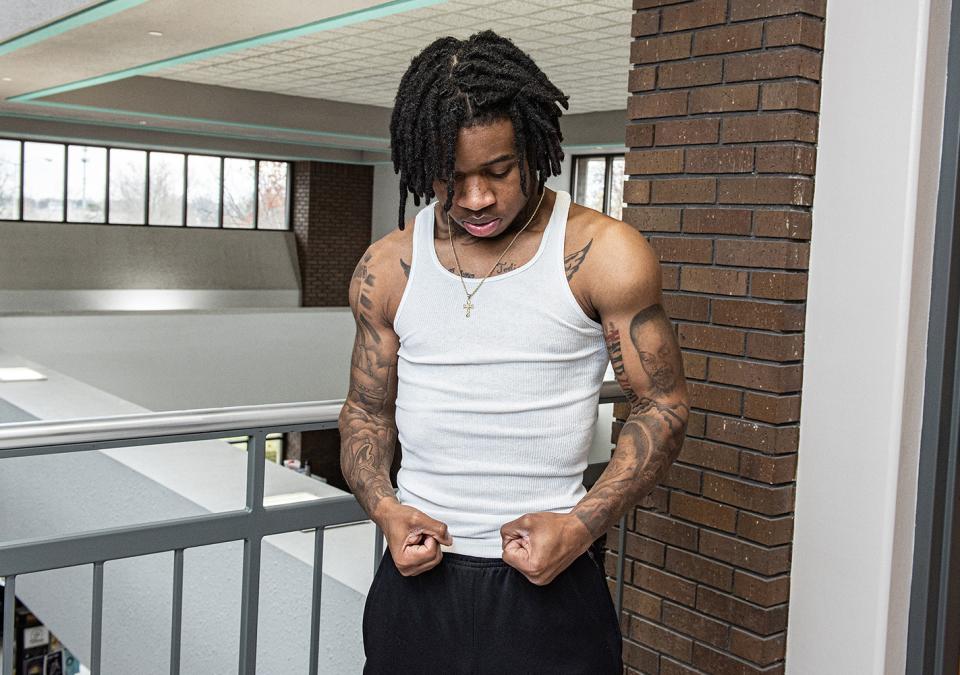 Tattoos tell a different story than many presume for PFW freshman
Tattoos cover Triston Stevens from his feet to the top of his neck, with sleeves on both arms and more on his back. He sat for his first one when he was 14 while running around inner-city Atlanta. Some people lean back when they see his tattoos, but Stevens leans into them because they give him strength and tell a different story than many others suspect.
"My tattoos are everything to me," Stevens said, pulling off his hoodie and pointing as they are revealed on his arms. "That's my grandma's face, and next to it is 'Fear God.' Then there's, 'Let your faith be bigger than your fear,' which she used to tell me all the time."
A picture of his father's face sits near Stevens' left shoulder, saying that's who has been most influential in his life.
Switching to his right arm, he points to the bricks and area code of his Atlanta neighborhood, following up his forearm and bicep for a bridge to heaven, and finally, a plane shows his flight to Indiana near his shoulder.
Looking only skin-deep, Stevens understands he's certainly not a typical northeastern Indiana college student. As he said, he started with zero here and didn't know anything about college life, academics, or culture. He will let you imagine the things he's experienced, but would rather not talk about them. He's building past that, though it's hard for him to fit in.
"It would be easier for him to go out and fit into the club scene, to live day-by-day, not really having a path forward," said Ranesha Smith, academic advisor in the College of Engineering, Technology, and Computer Science at Purdue University Fort Wayne. "What makes him unique is that life is very accessible to him and might be easier and more comfortable, but he's pushing himself to be uncomfortable so he can have something that maybe he didn't imagine for himself or see as a possibility because he encountered so many barriers."
Many students come to college in fulfillment of a trajectory they've grown up with, but higher education was never in Stevens' thinking. His mother said he had to live with his father in South Bend to finish high school and later insisted he was moving on to college. He enrolled at PFW for the spring 2022 semester, and several people, including faculty members, asked if he belonged here, including during his first class. There are plenty who look at him with skepticism.
"I'm always walking on eggshells because I feel like if I do one thing wrong, I'm right where they say I am," Stevens said. "There's a lot of self-control, and that's what it really is. I know what I'm here for and what I can do."
That higher degree of self-confidence wasn't always there. But with hard work, Stevens has built a nearly perfect grade point average and was shocked to receive The National Society of Leadership and Success notification over the summer.
"I didn't know what it was at first," he said. "Now, I'm more proud than surprised, but it's only the beginning, and I have to stay humble. The best part of getting good grades was making my mama proud, but I'm still grounded. Mama's smile on her face was priceless."
With Smith's help, Stevens has made good friends, but realizes it will always be challenging to fit into a standard — often inaccurate — definition of culture. He's not sure he'll ever feel totally comfortable, and is sure some will never feel comfortable with him.
The thing is, Stevens says, all the things he's been through have helped him succeed in college. He was born for the pressure, he says, because he's survived worse and already made the choice to live or die. As he says, he does college, but he doesn't let college do him. He's lived one life, and now is the time to start a new one.
"I know who I am, and I'm figuring out who I can be," Stevens said. "I want the university to use me as an example to make change and make it the new standard. If someone is here, they deserve to be here. I want to show the university about themselves because they don't know because you don't see somebody like me having a high GPA. People here like the idea of me, but they never thought I would be here.
"I know I have a purpose and what I'm supposed to do. At first, I felt forced to be here, but now I know what I have to do; to finish this. I want to make my mark on the world, and 20 years from now, they are going to be living differently in some way because of me."