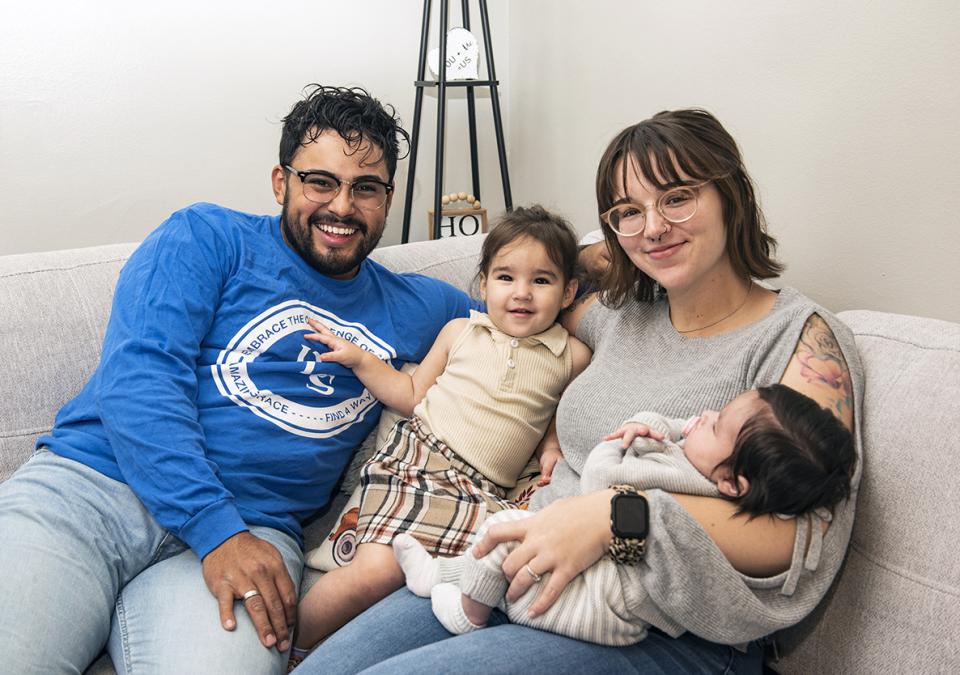 Student mom hustling to set academic example for two daughters
As she was sitting in Spanish class a few weeks ago, one of Hailey Moreno's classmates leaned over and asked, "How do you even do it? What else can you do?"
But Moreno, a senior sociology major, doesn't look at trying to raise 2-year-old and 2-month-old daughters while also planning a recent wedding, and staying on course for graduation, as all that noteworthy. This is what happened in her life, and she's determined to make the best of it by not letting the circumstances become a crisis. 
"When she asked me that, I was like, 'I really don't know,'" Moreno said. "I just said it takes time, patience, planning, and basically no sleep."
She says that with a smile, because she can't imagine what her life would be like if she didn't have her husband or two daughters. It would indeed be completely different, but also so much worse.
To simply answer her classmate's question, Moreno's adopted to a routine of getting through every day. Her husband Manny works so she can stay home and take care of the children. She studies when and if the kids are napping, or when he gets home.
Hailey attends three of her classes remotely, and her Spanish class in-person. That takes obsessive planning every day, and even then, she's also homeschooling 2-year-old Lovelynn. It's all a bigger challenge because 2-month-old Lorelei already avoids napping. 
Manny fulfills his parenting assignments, too, and seems to show infinite patience with their energetic toddler, but deflects most of the plaudits to his wife. He also wants a big family, and probably needs to convince his wife how it can work (but really, not too hard).
"I find it really amazing what she's doing, not only because I'm in love with her, but because of everything she's been through and we both have been through," Manny said. "It makes me really happy to see her succeeding in life the way she wants to."
Looking back in 20 years, they'll both wonder how in the world it all worked out, but now during the middle of it, this is simply just what they have to do. Someday, they'll laugh and talk about the great memories. Today, it's a challenge to build them.
But somehow, it's all worth it when a complimented Lovelynn says the world's most adorable, "Thank you."
Hailey and Manny met during their first class at PFW. The couple recalls it was a 9 a.m. on a Monday, and the course was psychology. She looked at him and told everyone beside her that he was going to be her boyfriend. He was somewhat oblivious, but said she was very attractive. Then she went home and "stalked" him on Facebook before asking him out on a study date.
She was from Delphos, Ohio, and he came from the South Side of Chicago. A short time later, they were expecting.
There were lots of twists and turns along the way, but the couple worked together to be together. Hailey took a semester off after Lovelynn was born, but found out she was a natural mother, and followed everyone else's advice and returned to school, while Manny started working.
"Hailey came to see me scared, excited, and confused with her pregnancy news," said Curt Hosier, senior lecturer in sociology who is also Hailey's advisor. 
He talked to her about the joys of parenthood, online course availability, and reaching inside herself to manage everything; promising her the challenge would be worth it. He also encouraged her to use him more to assist in all phases.
She listened to Hosier and others like Cicelle Beemon from The Women's Center who's been through a similar experience and said there are more than 300 students currently on campus who are parents. Hailey returned to class the following semester. Not surprisingly, she started this semester 10 days after Lorelei was born. 
"Her time-management skills are phenomenal," Hosier said. "She is always the first student to submit a required assignment, yet is humbled by her academic success. Hailey may be the most appreciative student in my long academic career."
Hailey also maintains a high grade-point average, though life has changed her goals. Pre-babies, she wanted to become a social worker, but now wants to stay home and teach her girls before transitioning to work in a rehabilitation center for people who have problems.
"I actually don't think it was hard for school because I was so motivated," she said. "I always wanted to do school, especially when people were telling me I couldn't do it. It's like I want to because, 'Yes, I can.'"
There have been many times when she's been exhausted and considered quitting, but there's another more-critical motivating factor.
"I think the biggest thing I'm focusing on is showing my girls that things in life happen that you don't expect, but they don't stop you from achieving certain goals," she said. "I also want to show my kids that they didn't stop me from doing what I wanted to do. I want them to have that motivation when they are older, too."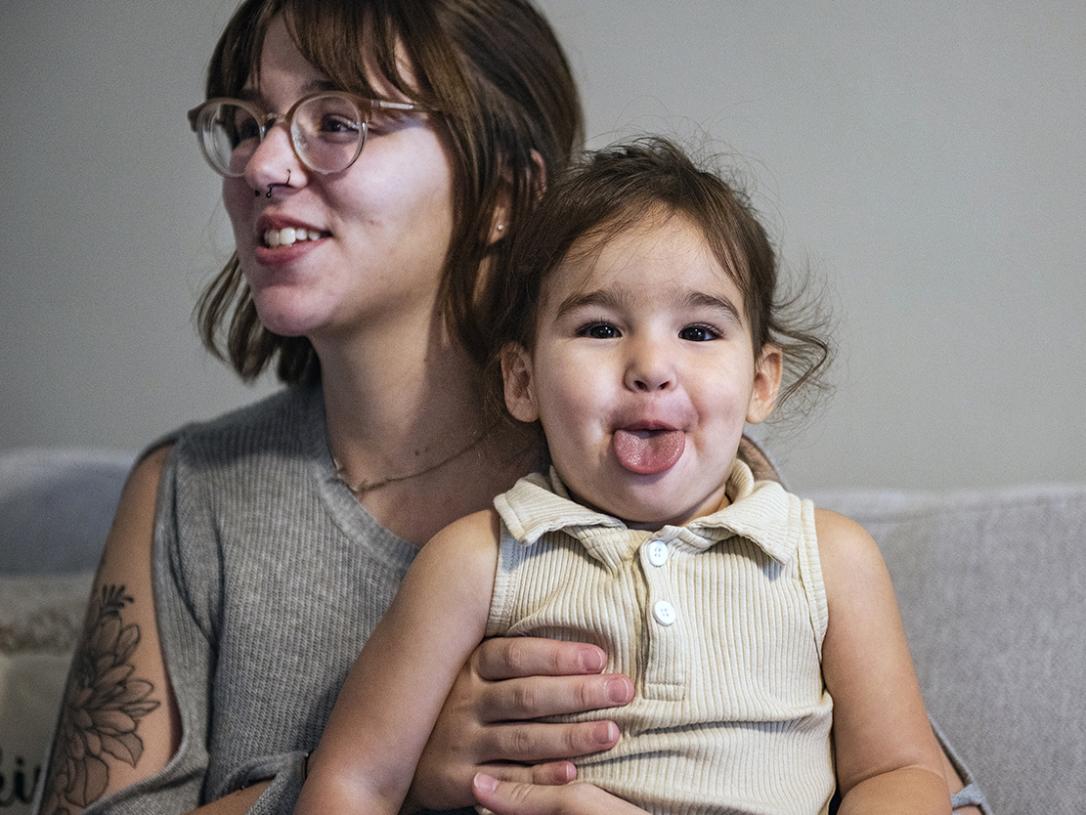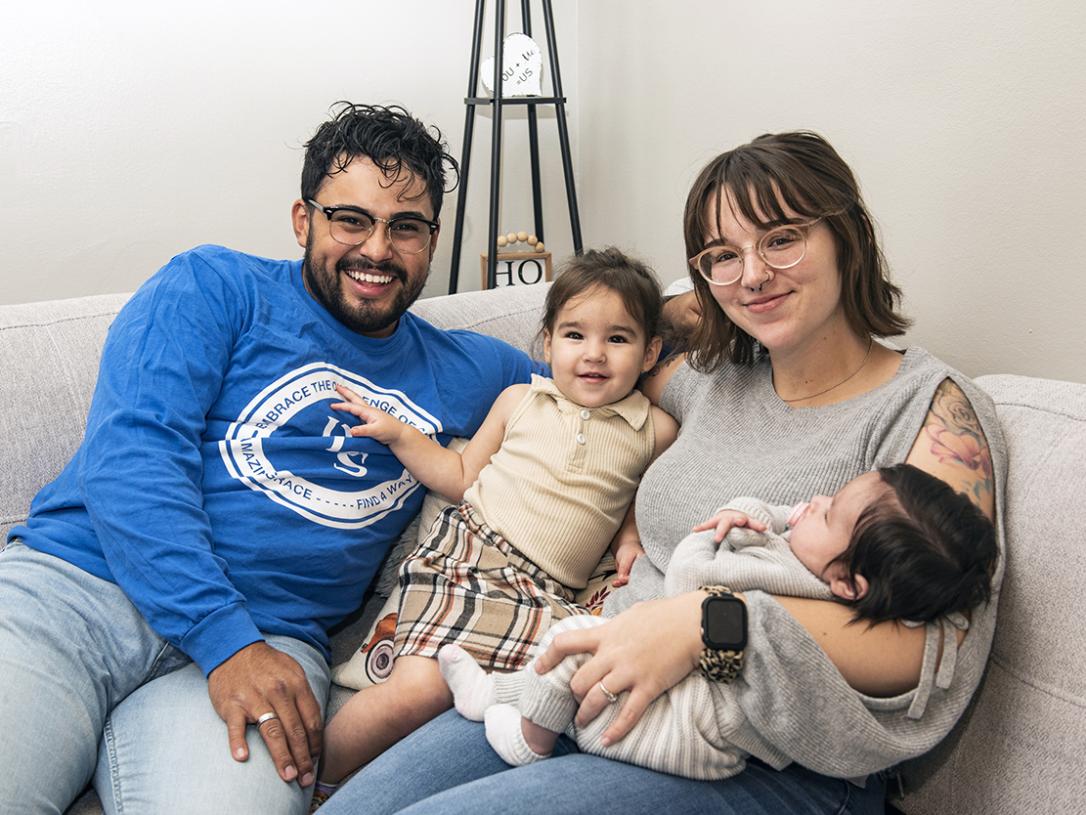 Hailey Moreno
Hailey Moreno and her daughter Lovelynn.
Manny, Lovelynn, Hailey, and Lorelei Moreno