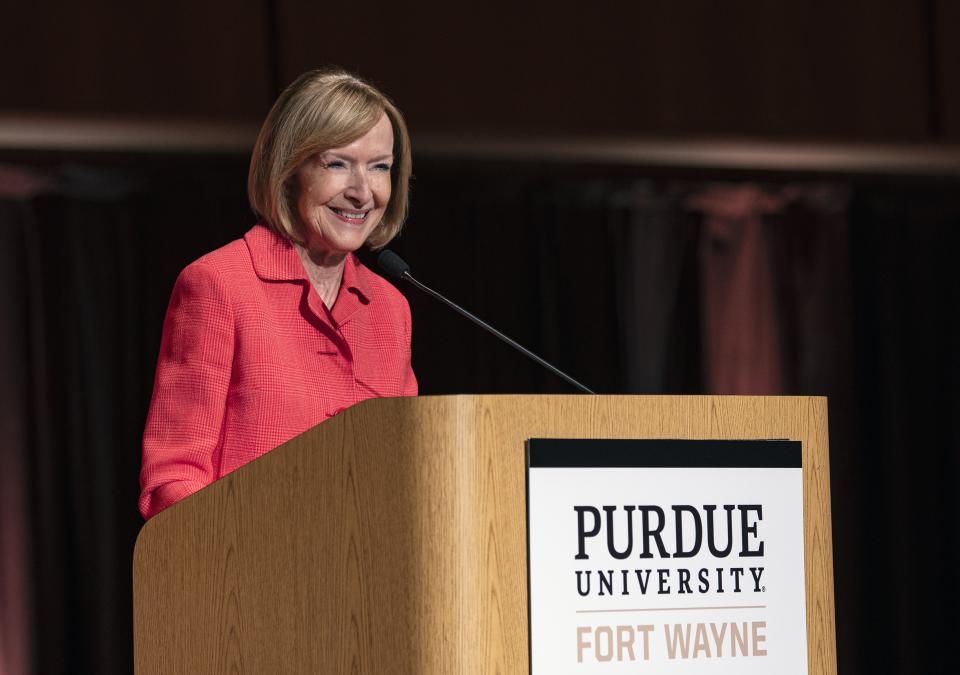 PFW Story
Staying engaged and informed key themes of Judy Woodruff lecture at PFW
Originally, veteran journalist Judy Woodruff was supposed to speak at Purdue University Fort Wayne two years ago to commemorate the 45th anniversary of PBS Fort Wayne in 2020. COVID-19 forced two postponements, but Woodruff's visit was worth the wait Wednesday night in the Auer Performance Hall of the Rhinehart Music Center.
After an introduction by PFW Chancellor Ron Elsenbaumer, the main focuses of Woodruff's presentation were how Americans are dealing with the pandemic, the importance of the news media, and the need for the public to stay engaged and informed. The PBS NewsHour anchor spoke from the lectern for about 20 minutes before sitting for a 30-minute conversation with PBS Fort Wayne President and General Manager Bruce Haines.
"I haven't done more than a handful of events in public since the pandemic started," Woodruff said to start. "I spent so much time at home, I almost packed my sweatpants and my fuzzy slippers in the suitcase when I was rushing to get ready this morning."
Despite any supposed rustiness, her presentation was as polished and as professional as expected.
"What a time we have been through, and we've been through it together," Woodruff said. "We will continue to go through it because even though we are ready to move on, COVID isn't quite finished with us yet. We are still in that time of caution with the pandemic."
Woodruff said the pandemic taught those in television news that they are resilient and flexible. She anchored the NewsHour from her home while most of her staff worked from their homes. Like the citizens they were reporting to, they learned to adjust and find ways to gather the news and to talk to people, she said, while dealing with technical issues and problems within their personal lives.
She said Americans will need all of that resiliency to deal with what lies ahead for the country, citing problems such as political division, the cost of education, poverty, racial injustice, and worries about inflation.
"We need to take that strength and resiliency we showed, that we proved that we had during the pandemic, and hang on to it and know that we will get through all of this as well," Woodruff said.
Turning to the news media, Woodruff said the business model has completely changed and even collapsed for many news entities, causing tens of thousands of reporters to be laid off and for hundreds of newspapers to go out of business.
"Without a robust news media, we are less well-informed as American people, and our democracy is weakening," she said. "If we don't have the information that we need to make informed decisions when we vote, when we think about what is going on in our world, and in our country, and in our state, and in our community, and even in our neighborhood, then we can't make the kind of decisions that are best for our children and generations to come. We must have a robust media."
Woodruff said a strong media is especially important as a way for citizens to stay engaged despite the divisions, the lawsuits, and the investigations that dominate the government.
"Our democracy is literally at stake if we have losing candidates for president who can't accept the idea that they lost and refuse to move on to work toward the future," Woodruff said, "when judges from one end of the country to the other, including judges appointed by the former president, threw out every single legal challenge that was made against the results that alleged fraud and corruption."
Woodruff stressed the need for Americans to pay close attention to what is happening to the election system.
"Is it something we can trust?" she asked. "In my view, absolutely. I look at the people who work for elections, and they are some of the most steadfast people our country has. But we need to make sure that it remains out of partisan politics and make sure it doesn't come under the influence of any side with a political agenda."
Later, Woodruff said part of the division in the country is caused by hyper-partisan media and stressed it's more important than ever for consumers to be more responsible in vetting the reporting and making sure it is trustworthy.
"The stakes are enormous," Woodruff said. "We have to stand up for a free and honest and fact-based press, and we have to stand up for a fact-based, non-partisan election system—and we certainly have to stand up for our democracy."
In response to a student's question, Woodruff said the American people cannot allow the political divide to obscure the facts of what is going on in the country.
"There is no evidence anywhere that stands up that the [2020] election was fraudulent, and yet that belief is still being put forward by so many politicians," she said. "We need to be able to stand up to that."
Woodruff said she will retire from the NewsHour anchor desk by the end of the year but will remain with PBS for two years to work on longer reporting projects.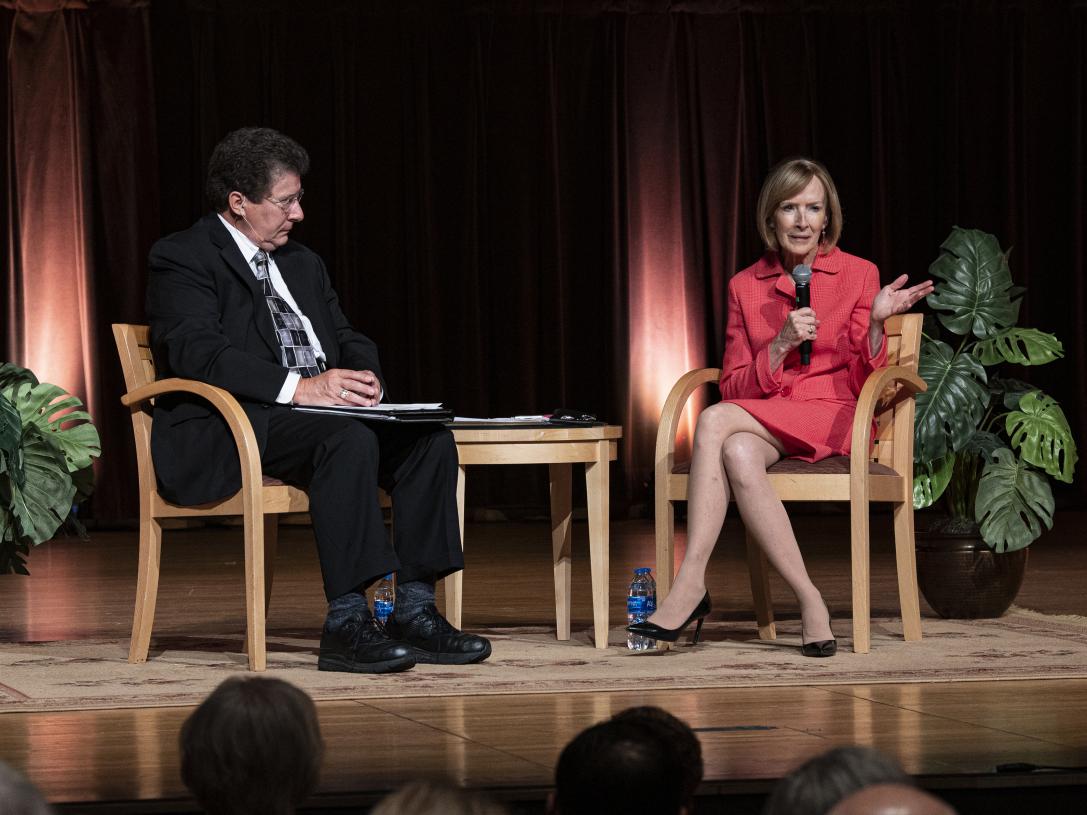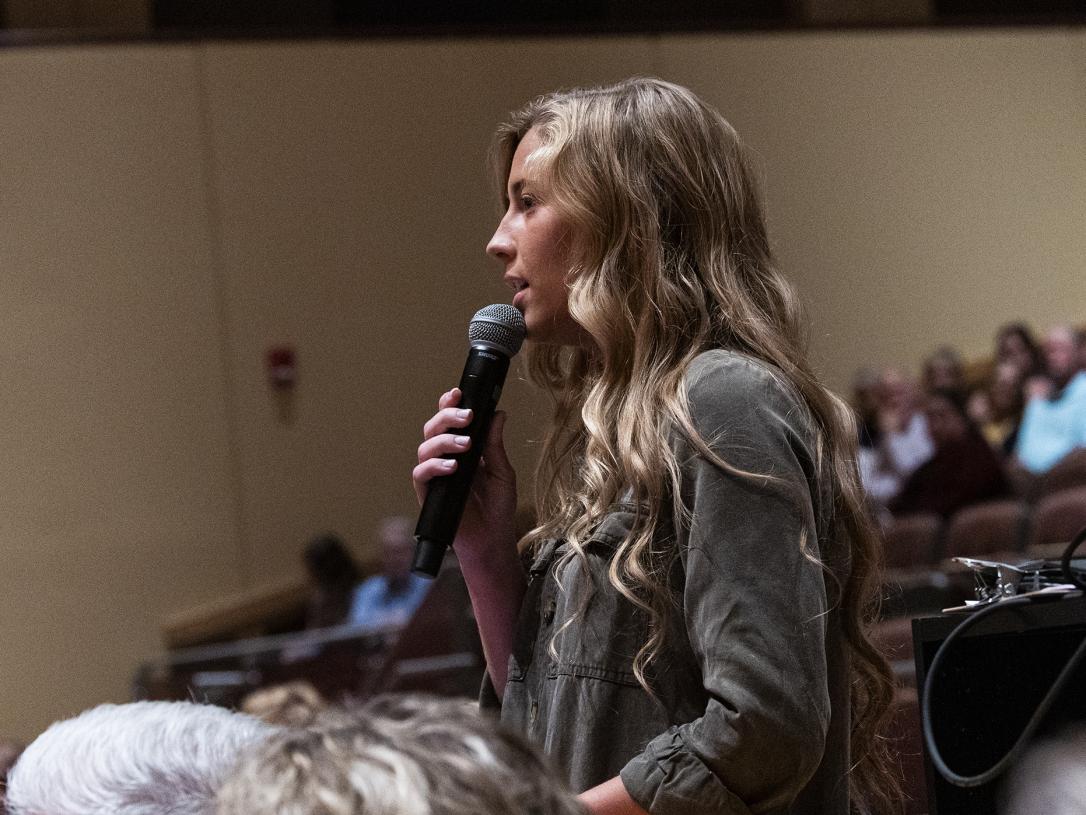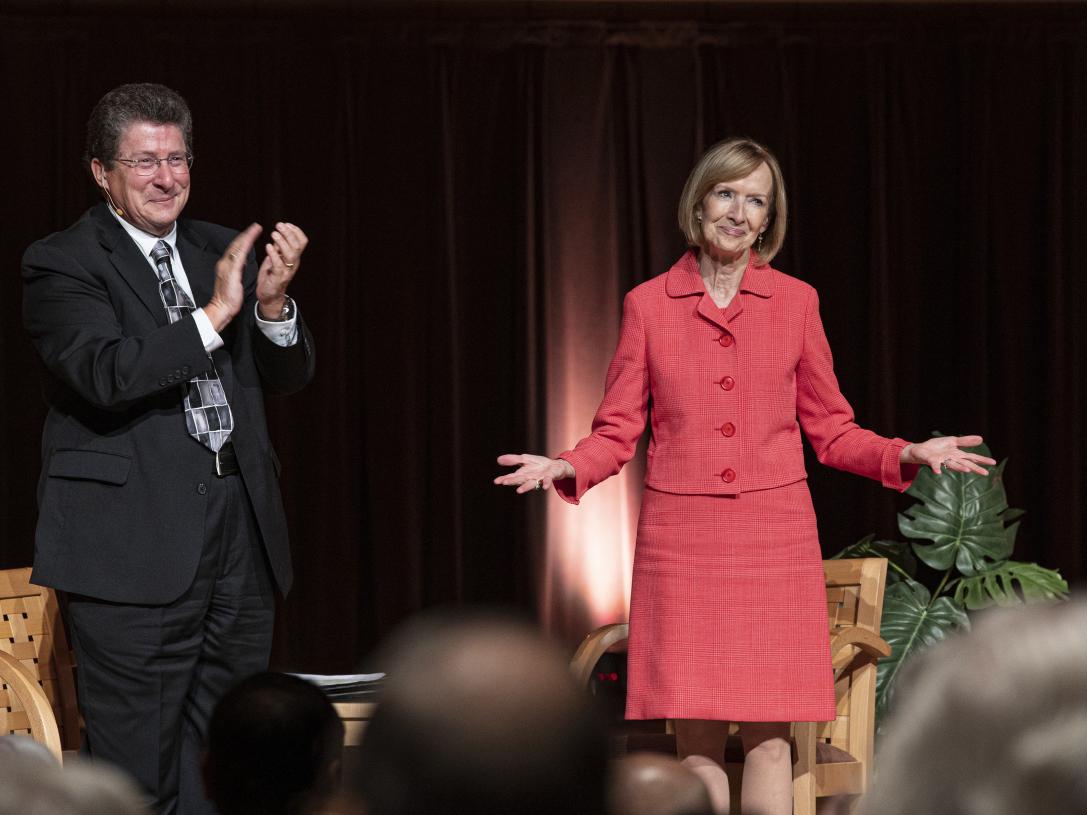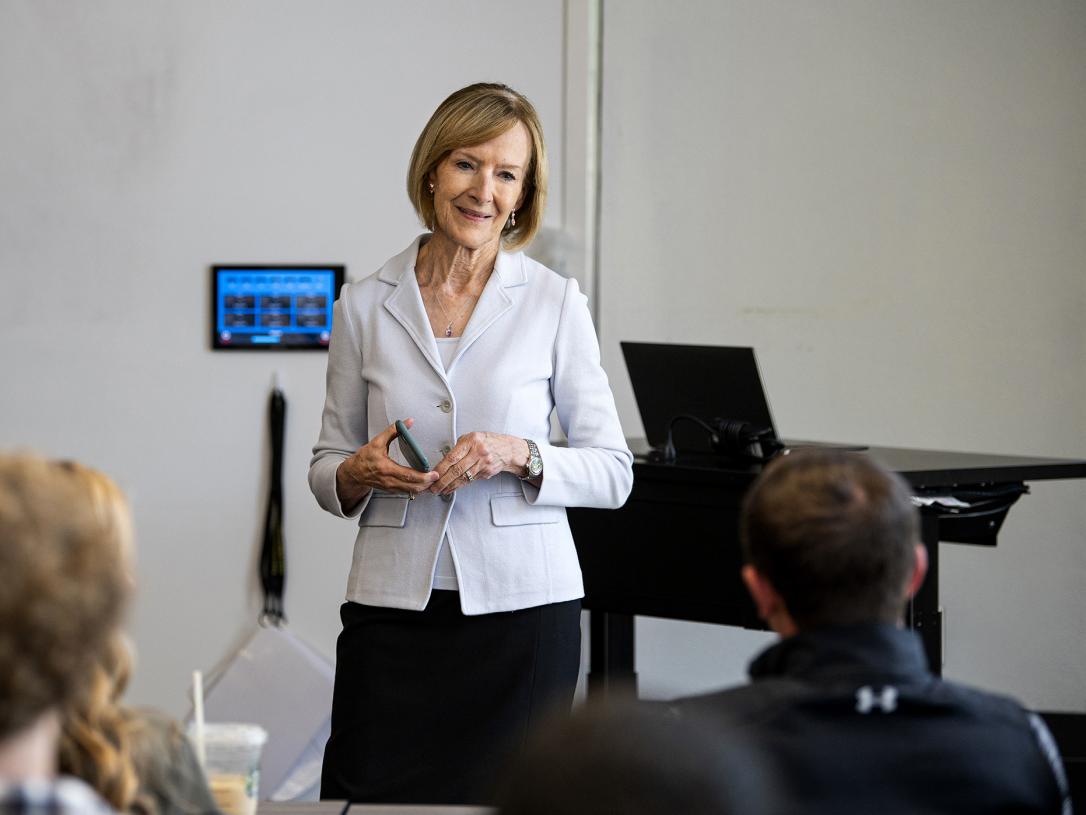 PBS Fort Wayne General Manager Bruce Haines moderates a conversation on stage with trailblazing journalist Judy Woodruff at Purdue Fort Wayne on Sept. 14
PFW Honors Program member and political science student Caymbria Brown asks a question during a Q&A session with Judy Woodruff at Auer Performance Hall on Sept. 14.
Members of the audience led by PBS Fort Wayne General Manager Bruce Haines deliver a warm greeting to Judy Woodruff during her lecture at Purdue Fort Wayne on Sept. 14.
Trailblazing journalist Judy Woodruff meets with students during a special classroom experience at Purdue Fort Wayne on Sept. 14. The exclusive interaction was hosted by the Honors Program at PFW.