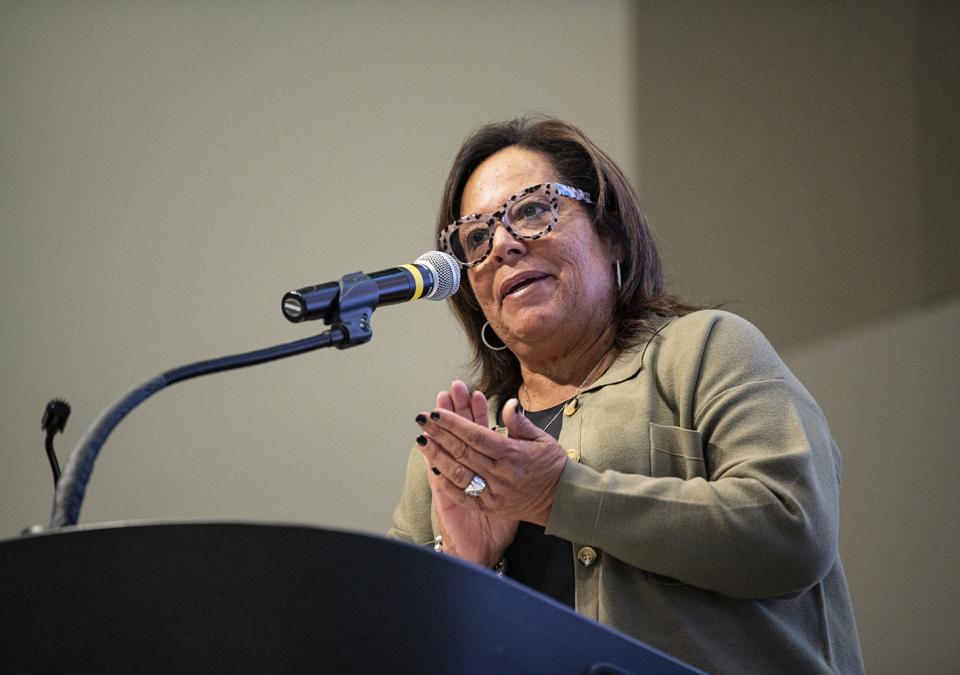 PFW instructor helping Fort Wayne Latino community address mental health issues
The examples are horrific. 
One involved a woman who somehow survived three generations of family members being executed by a drug cartel. She played dead, escaped the country, was raped by a smuggler of immigrants and settled in Fort Wayne to be near a family friend.
In another example, a different woman was sold into sex trafficking at age 11, became pregnant twice before falling for a man who promised to take care of her — and then nearly beat her to death. She had four children by the time she was 21.
"It wakes me up at night," Alice Jordan-Miles said. "You talk about being hopeless."
Except Jordan-Miles provides a hint of lasting hope, taking what she teaches in the classroom directly into the community to help others. Jordan-Miles, Purdue University Fort Wayne's director of Behavioral Health and Family Studies Institute, also serves as director of Bienestar sin Fronteras, which gives free mental health services to northeast Indiana's uninsured Latino population.
Entering its third year, the organization's nine licensed therapists have already worked with more than 1,400 patients in their native language. Those are people who likely never would have received any kind of treatment.
These are often individuals undocumented by the government, meaning federal grants are not an option for funding, and their jobs often lack sufficient health benefits. It also means getting them information about the clinic is severely limited, though El Mexicano News Publisher Fernando Zapari has been a huge help. 
"What we're finding out is that the trauma of the Latinos we are serving is like peeling away the layers of an onion," Jordan-Miles said. "We're peeling away trauma that has been suppressed for so long."
It's a remarkable undertaking, considering there is no other Fort Wayne Latino-based organization that could even attempt something similar, the tremendous dedication required to build trust within the community, and the persistence to communicate the worthiness of treatment.
"The School of Education is so proud of Alice and the incredible contributions she makes to our region and our state," said Isabel Nunez, dean of the School of Education. "We are lucky to have her. Not only is she out in the community making a difference in people's lives every single day, but she is also exactly as generous and compassionate with her students and colleagues right here. She is the first to volunteer at a campus event or for a person in need, even though she may well have the least time to spare."
That's partly because Jordan-Miles is also the director of the Indiana Suicide Prevention Coalition, along with spending extra hours each week at the 201 E. Rudisill Blvd. clinic. Jordan-Miles recently attended the National Latino Behavioral Health Association event in Las Vegas, where she learned there is no other program like Bienestar sin Fronteras in the country. 
The clinic survives on grants from the Lutheran Foundation and the St. Joseph Community Health Foundation, but Jordan-Miles knows more help will always be needed. An urgent need is for Latino male therapists. Her only male therapist drives in from Elkhart every weekend to hold nine sessions.
"It's a big learning curve because no one has ever done this before," Jordan-Miles said. "One of the biggest lessons I've had to learn is to stay in my lane because I'm not a therapist. We're doing what we can when we can. I'm having to change things, policies, protocols, procedures all the time because this is a pilot program."
One person who helps keep Jordan-Miles going in a straight line is clinical navigator/therapist Emily Bayer.
"Alice has taken a long-time need/dream of the community to reduce stigma in seeking mental health services and increase access to mental health services for Latinx folks," Bayer said. "She has created a program that reduces all financial and language barriers to mental health services."
One of 14 children in a Puerto Rican family, Jordan-Miles said she's survived her own depression issues and a suicide attempt, and she understands the cultural issues as well. She also understands Fort Wayne and challenges everyone to be the voice of change, because everyone has mental health challenges.
"Whether as Latinos, whites, Burmese, whatever, we as a society, as a community of Fort Wayne, need to start championing mental health like we do any other socially accepted illness," she said. "Look at all the great things that are happening in Fort Wayne. It's all going to be for naught if we are not healthy as a community."