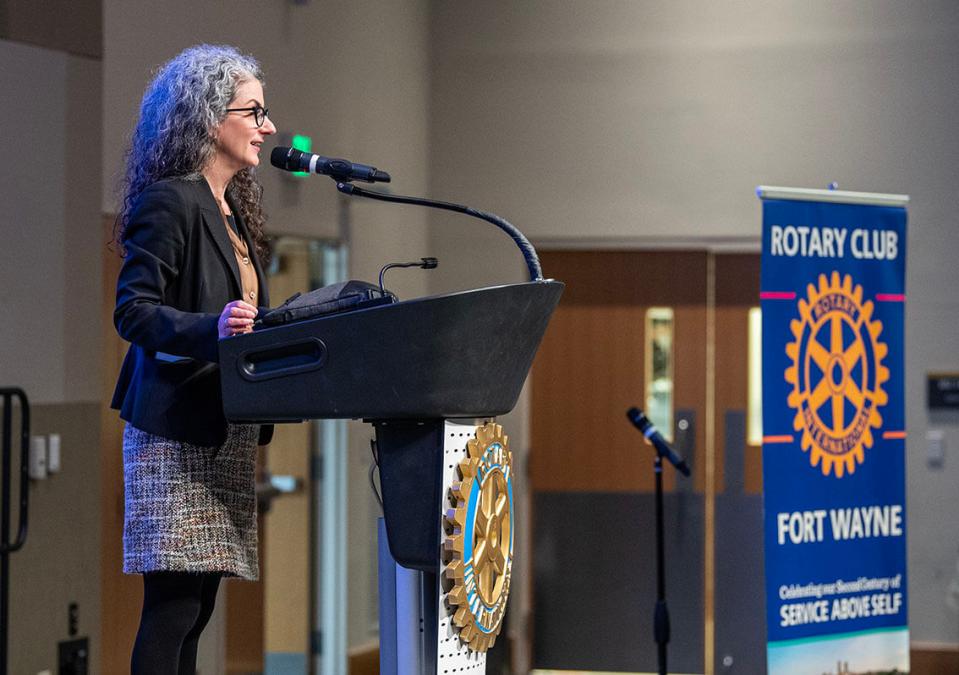 PFW Story
PFW hosts Rotary's Conflict Resolution event for high school students
Purdue University Fort Wayne's role as northeast Indiana's leading institution of higher education includes providing on-campus opportunities for influential conferences and gatherings. The latest happened Wednesday as the Fort Wayne Rotary Club hosted its world affairs conference "Peace and Conflict Resolution" in the International Ballroom of the Walb Student Union.
A group of 133 students representing seven Fort Wayne high schools attended the day-long event featuring remote and in-person international speakers and discussions.
Janet Badia, dean of the College of Liberal Arts, welcomed the students and highlighted PFW's relevant programs.
"Any time as a university, and particularly as the College of Liberal Arts, we get to reach out to high school students, it's a fabulous opportunity," Badia said, "not only to get them here and let them experience how beautiful our campus is, but also to give them a taste of what we offer. In this particular case, so many of our programs tie in so perfectly with what they are here to be thinking about, the issues they are considering, and what the speakers are talking about. It's a great opportunity for us to showcase what we do around similar considerations."
Badia introduced Michael Wolf, chair of the Department of Political Science; Lachlan Whalen, director of international studies; Stephen Buttes, chair of the Department of International Language and Cultural Studies; and Farah Combs, director of the Honors Program to give brief remarks.
"With the peace and conflict program as part of Political Science, our goal is to support peace efforts that great internationally focused groups like Rotary Club do," Wolf said. "Anything we can do, as well as letting the students know there are great programs to support these kinds of efforts here that they might be interested enough to find out about. They can take what they learn today, come here and become great practitioners."
Chancellor Ron Elsenbaumer and Kimberly Grannan, chief of staff to the chancellor and community relations officer, and Karen VanGorder, executive director of the Division of Continuing Studies, facilitated the local Rotary Club of Fort Wayne bringing the event to PFW.