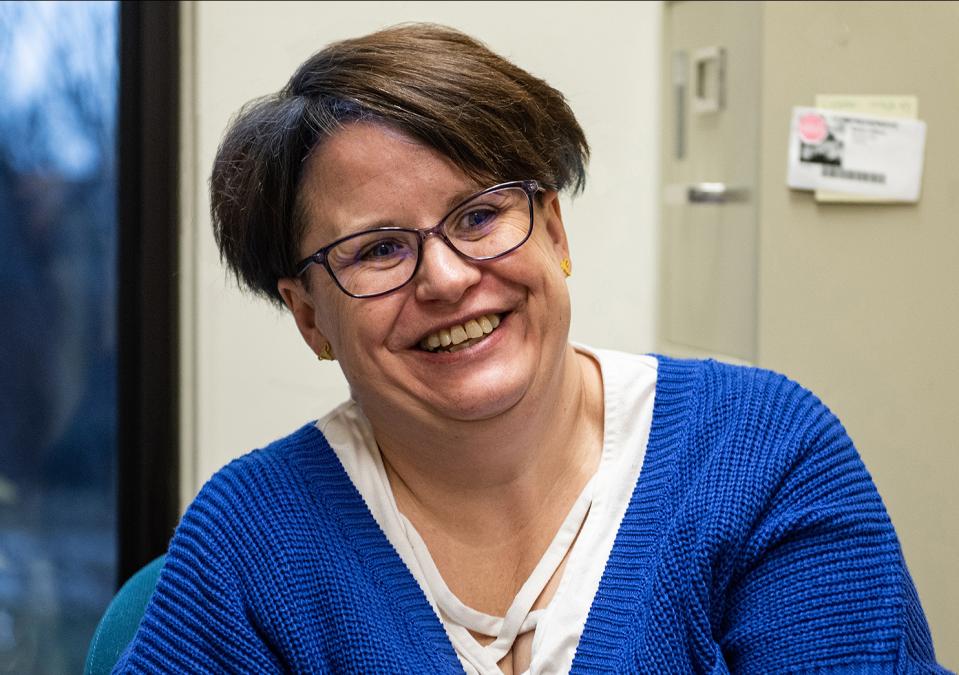 Personal story encourages PFW prof to address 'period poverty' in Fort Wayne schools
About two years ago, Sarah LeBlanc was reading an article from her alma mater George Mason University about "period poverty." Like many, she had never heard of the phrase or realized there was a problem.
"It made me feel bad that I wasn't more aware, and that I could not help my fellow GMU classmates at the time," LeBlanc said. "I decided I can't go back and fix it, but I can help address it now."
Period poverty is a lack of access to menstrual products, education, hygiene facilities, or waste management. It affects an estimated 500 million people worldwide, according to a 2021 study published by BioMed Central Women's Health.
The Purdue University Fort Wayne Department of Communication assistant professor's passion to help recently received a big boost from a St. Joseph Community Health Foundation grant to start placing 13,000 pads and 10,000 tampons in Fort Wayne Community Schools facilities where there's the greatest need.
LeBlanc would like to expand the program to encompass the other three Allen County school districts and look for other area organizations willing to participate by providing supplies.
Though it affects more than half the American population, menstruation is usually not a subject most people are comfortable talking about, but LeBlanc believes that can change. She suggests considering it as a topic that can inform and help daughters.
"I would like to see the community of Allen County and Fort Wayne take menstruation communication seriously," LeBlanc said. "I tried to hold public events, and then no one showed up because they are afraid of the word. I'd like to take the fear out of the word menstruation."
Eventually, she'd like to host a website and possibly start a nonprofit organization.
"In my 20 years in higher education, this is the first time that I have found a topic that doesn't seem like work," LeBlanc said. "If it works out academic-wise, yay! If it works out in the community, yay! I'm not depending on one hand feeding the other. Whatever I have to do, I will do this."
Addressing menstrual stigma and period poverty ties into LeBlanc's teaching and research at PFW. This semester, her interpersonal class students are redesigning newspaper boxes which will be placed next to Forward Indiana food pantries and contain hygiene supplies. Additionally, students in Communication 313 are preparing materials to hand out to junior and senior high school students attending the 2023 Cinderella Dress Day, an event sponsored by the Fort Wayne Medical Society Alliance that provides prom dresses and accessories to nearly 600 young ladies.
The St. Joe Foundation grant only addresses half of LeBlanc's FWCS project. Pending approval from the institutional review board at PFW, an office that oversees human participation within research, additional funding could be secured for her to interview school nurses across the area and use that data for scholarship and an in-district campaign communicating how nurses are available to help menstruating students.
"Receiving the SJCHF grant and then another from the National Communication Association means I can get out of my holding pattern and begin getting the data I need to make differences on so many levels," LeBlanc said.
She is working on five related projects and is continually coming up with more ideas. Those include studying subject communications between daughters and parents and finding new ways to inform the public.
As LeBlanc points out, the topic is becoming a larger political focus, though progress is slow because most politicians are male. A point of emphasis for her remains helping others understand that this is a global women's health problem with mental health ramifications that can be solved—as long as people start to feel comfortable talking about it.
"This is going to be my research agenda until I retire," LeBlanc said. "Even if it just helps one girl, that's one girl who wouldn't have gotten help anywhere else."