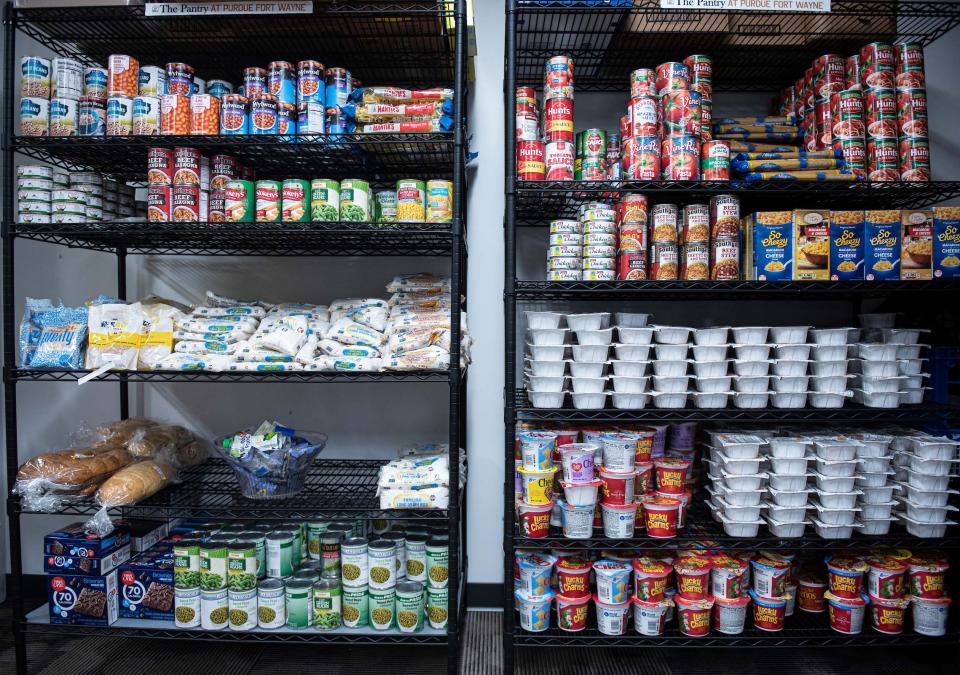 Pantry provides a helping hand to PFW students, others
The best way to describe what it's like to receive support from a food bank is to share a personal account from someone who's been served in this fashion.
"Most people who come in the first time are incredibly self-conscious and think someone is keeping a list," one visitor to the FRIENDS of the University Pantry at Purdue Fort Wayne said. "The most important thing is to get over that and realize it's a service, and you probably need it."
This particular individual has utilized many Fort Wayne food banks. 
"Anyone who has never been in a food bank before is going to feel defensive. It will take you half a year until you can get to the place where you walk in, just pick up the food, and not feel like someone is following you or documenting what you are taking. You will be shaking, and the sooner you get over it the better off you will be."
And everyone who walks into the two pantry locations at PFW has a story. There's an older lady who comes in every Thursday who gets supplies to cook for a neighbor because he can't afford food; the student who doesn't have a job or the family resources to shop at the grocery; and many others who are figuring out expenses for the first time and realize they can't afford rent, utilities, school, and food.
"We also hear a lot of stories of people coming in and maybe their husband or wife is out of work," said Well-being and Recreation Director Eric Manor, who is in charge of the pantry. "They always express a desire to give back once they get back on their feet."
Which is exactly the pantry's purpose, to provide and help when there may be no other options—even for something as necessary as food. Started in the fall of 2017, the pantry served 4,192 individuals during 2021, slightly lower than the more than 4,500 people served in 2020. The early numbers predict 2022 will set a new record.
One location at the Student Housing Clubhouse is open Mondays and Tuesdays from 4 to 7 p.m. and serves students exclusively. The other is located in the basement of Walb Student Union. It's open Thursdays from 10 a.m. to 2 p.m. for anyone. 
According to demographic statistics, Manor estimates 80% of visitors are students. 
"I'm not surprised," he said. "We hear all the time from students who say they wish they knew this was here before they went to the store. I understand the financial situation a lot of them are in. I love the idea of being able to serve in that way."
The pantry is stocked with a variety of packaged, refrigerated, frozen, and canned goods, mostly ordered and delivered through Community Harvest Food Bank. Donations are also accepted from a variety of sources. Many faculty and staff and some university departments make donations, along with the School of Education Urban Garden and master gardeners from the Purdue Extension.
The pantry has a list of preferred donations, including canned goods, staples, and hygiene products. Clients are offered up to 15 items per visit with no proof of need required. 
There are also several events on campus to support the pantry's efforts, such as an Oct. 6 open house, the Oct. 24 to Nov. 11 U Can Crush Hunger Challenge, and the Nov. 17 Skating for the Good canned food drive at Roller Dome North, an event sponsored by The Multicultural Center.
The pantry is not supported with funding from the university, and the budget varies from year-to-year. PFW employees can contribute financially through payroll deduction or drop-offs. Any person or department interested in donating items can email [email protected] for more information.
The pantry's 10 employees are almost all students.
"Students serving students can be pretty powerful," Manor said. "That was something I didn't think about going into this, for them to hear the stories from those who walk through the door who might be a little embarrassed. This is giving students a real-life experience of what it's really like out there, and getting to serve in that way is much different than just volunteering or serving on a clean-up day for your organization. You get to see it, hear it, smell it, everything."
And their most important contribution is compassion.
"When you go to a food bank, probably the most important thing that can occur is someone treats you like a human being," said the client from the start of this story. "Though you might be challenged at this moment, you don't want a superior attitude from whomever is giving you food. You want them to handle it just like any human transaction."