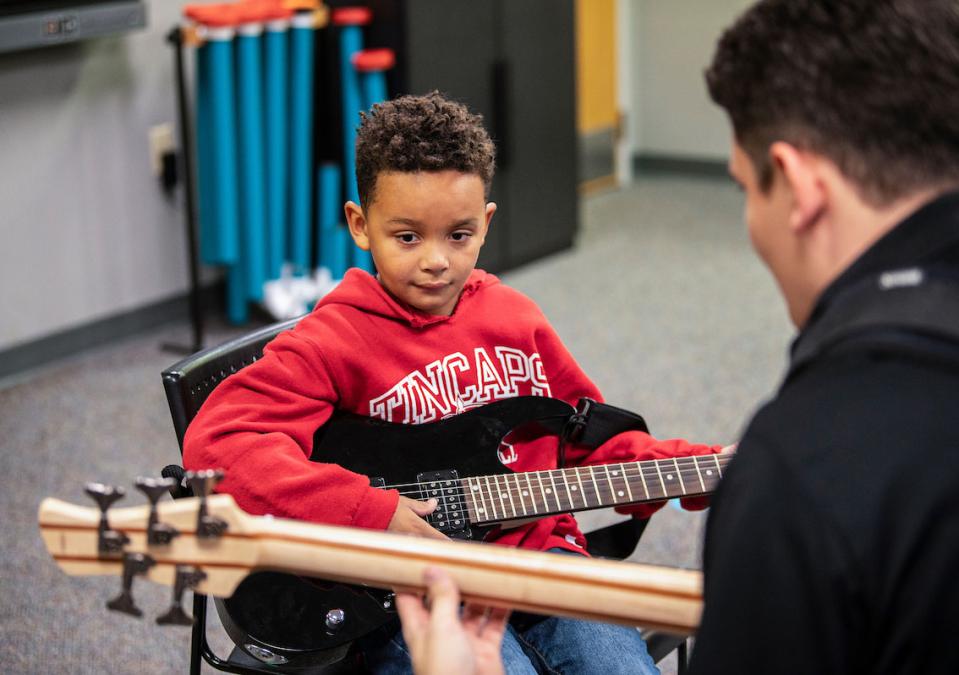 Music therapy is a unique form of treatment, degree
The first time a layperson observes music therapy, it can be confusing. Maybe it involves someone slipping into the room to play and sing to a patient they're visiting. But what's happening is more about connection and relationship than performance. 
According to Nancy Jackson, professor and director of music therapy in the School of Music at Purdue University Fort Wayne, music therapy doesn't fit into preconceived categories because there are hundreds of variations and effective uses in treatment, including hospice care, stress, pain relief, or helping children with emotional or developmental issues. It's usually a healthcare professional referral for therapeutic action taking place in schools, nursing homes, hospitals, homes, or hospice facilities.
"Most people seldom understand what music therapy is until they witness it or experience it because it is so often ill-described," Jackson said. "Most folks don't seem able to wrap their heads around it until they see it in action. Then it's `Oh, this is so much more than just somebody playing or singing.'"
Purdue Fort Wayne has offered degrees in music therapy since the mid-70s, and Jackson has been director of music therapy since 2005. She's now a full professor of music. There are about 14,000 professionals practicing internationally, including about 100 in Indiana.
"People don't know what it is," said program graduate and PFW limited-term lecturer Emily Borkholder, who primarily works with hospice patients. "Sometimes with hospice, I've offered my services and people think, `We're not here for music.' They really question it, but once they are experiencing it, we are often invited back."
A degree in the field is unlike most because it allows no electives and requires more credits — and that's before an internship requiring 1,040 hours, or six months of full-time work. The timing for the internships is also at the discretion of the companies accepting the students, who often don't graduate with their incoming class.
And music therapists quickly learn that the more involved they are as professionals, the more educational tools they need because there's too much to cover during a four-year degree. Board certification requires at least 100 continuing education units in every five-year cycle, but many work toward master's degrees. Seven Indiana schools offer music therapy degrees, and PFW recently became one of three with a master's program.
Over the last three years, PFW has graduated 26 music therapists, but there are more jobs every year than there are graduates.
"We work with anybody who has some sort of problem that keeps them from functioning at their best in their daily life," Jackson said. "That can be anything health-related, physical, physiological, social, cognitive, psychological, spiritual — all of those domains of health are touched by music, and sometimes multiple domains are touched at the same time in the same process.
"That's because we are social creatures, and music comes from our humanity and is a way to connect in a very personal and deep way that they may not be able to do through everyday means and relationships."
Once experienced, patients understand music therapy's effectiveness, as do bystanders. 
"Using music as a means to help others, what could be better?" Borkholder said. "It is a dream job to be able to connect and form relationships, through music experiences, with my patients and families. It is an honor to be welcomed in during such an intimate and special time."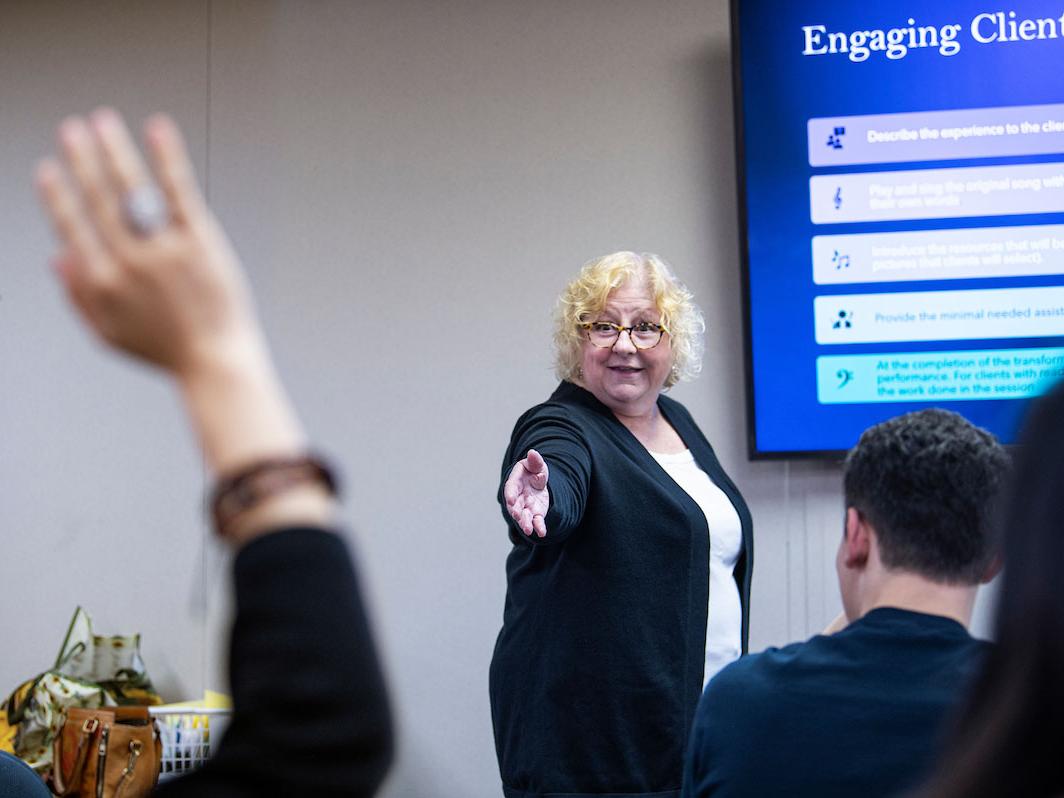 Professor Nancy Jackson teaches music therapy students in a classroom setting.
Music therapy students work with young clients.
A music therapy student plays guitar with a young client.