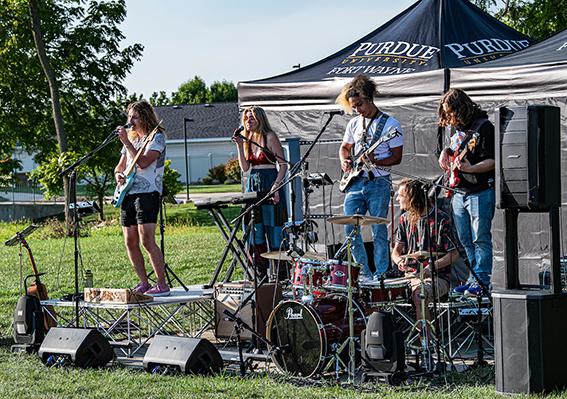 PFW Story
Left high and dry before first gig, Man of the Flood musicians thriving at PFW
As 15-year-olds, the first time Quinn Heiking and Clayton Beehler showed up with their new band to play before an audience there were a few complications. The high school friends were set to appear at an open mic night in Indianapolis when the guy who was supposed to be their lead singer forgot his guitar and left. 
"I was like, 'I'll do it,'" Heiking said. "I started the band about a month after I picked up the guitar for the first time, and I had never been a singer before. I had no idea whether it was going to be something I liked, or if we'd do it once or twice and decide to kill it."
Most would be considering an immediate career change, but Heiking and Beehler somehow made that appearance work. They were too young to know what they didn't know, so they just kept going and soon started a band called Shiver and the Shakes. 
"Once we wrote our first song, we had so much fun and enjoyed playing it so much, we just kept doing it more and more," Beehler said. "That just became a habit."
Fast-forward a few years and they still have that optimism. Beehler and Heiking are now Purdue University Fort Wayne seniors, and their current band Man of the Flood is headlining Goldstock on Nov. 29 at the Sweetwater Performance Theater. The event is free and starts at 7 p.m. Also on the bill are the groups Loud Division, The Eleven Sevens, Private Education, Natalie & Crew, and other special guests. 
Man of the Flood includes fellow PFW students Brad Steinley and Jess Grant, along with Saber Agnew, who grew up with Beehler and Heiking in Fishers.
The band name relates to the tale of the ancient Sumerian king Gilgamesh and the hero Utnapishtim who survived a great flood. The band has been playing together for about two years, but after extended play efforts "Where it's Warm" and "VESSEL," Man of the Flood recently produced its debut album "Crystal Bawl" to positive reviews. As soon as that album came out, they started writing new songs, which Beehler believes are even better.
In 2021, Man of the Flood signed with the PFW's Gold Top Music Group, a student-managed record label.  
"We signed Man of the Flood because the first time we watched them perform we heard their raw potential and saw their captivating stage presence," said John Buteyn, PFW School of Music assistant professor and Gold Top director. "We knew there was immense talent that we'd be able to work with and wanted to help give them the opportunity to take their productions to the next level and build their audience."
    
Heiking is still the lead vocalist with backup from Grant and Agnew. Grant also plays keyboards, Beehler is the percussionist, Steinley plays bass guitar, Heiking on guitar, and Agnew plays guitar and saxophone.
"Man of the Flood wowed us with their energy both on the stage and in the studio," said Jason Lundgren, clinical assistant professor. "They have an incredible ability to connect with their fans and create a following of 'super' fans. Behind the scenes, they have one of the hardest work ethics I have seen in a band. They work tirelessly to engage with their fans and constantly improve on their music. MOTF is exciting for us because they just get better and better. We're very lucky to have such talent at Purdue Fort Wayne."
The group members say friendships stabilize everything as they keep stretching musically and building stage presence. Because four of them are full-time students and Agnew lives two hours away, they practice once a week for four hours. Then they try to perform two shows on weekends, usually in Fort Wayne or Cincinnati.
"The best part is growing and watching each other grow," Heiking said. "Especially more recently, we've been doing pretty well, so we think that deserves more attending and being a little bit more serious about it, so we're holding each other a little more accountable to get better."
As Agnew said, instead of pushing each other, it feels like they are pulling each other up the ladder to improvement. They are building communication lines, and because they like each other, the hard parts are easier to handle.
"We still want to hang out afterward," Heiking said. "It's a good dynamic. Bad times with good people are still good times. It only makes you like each other better."
Maybe the hardest part is playing until 2 or 3 a.m. on Sundays and then getting up in time for Monday morning classes. The goal after three members graduate this spring is to try to play as many as three shows in a weekend. 
But right now, there is no better kind of job than the one you get to do with friends who make it seem less like work. 
And as for that first lead singer who didn't show up?
"That guy missed out for sure," Beehler said.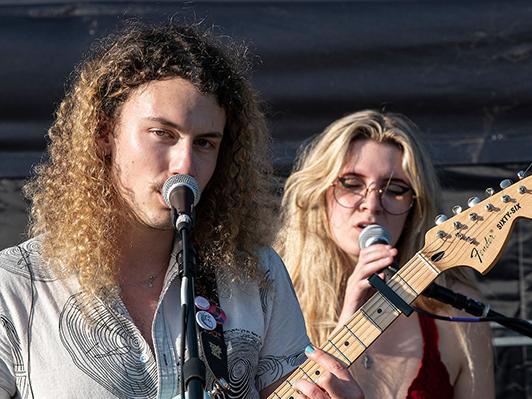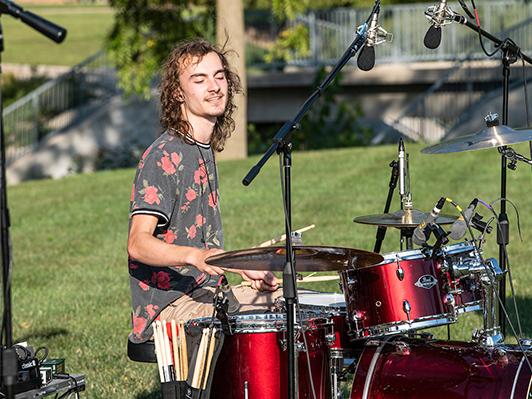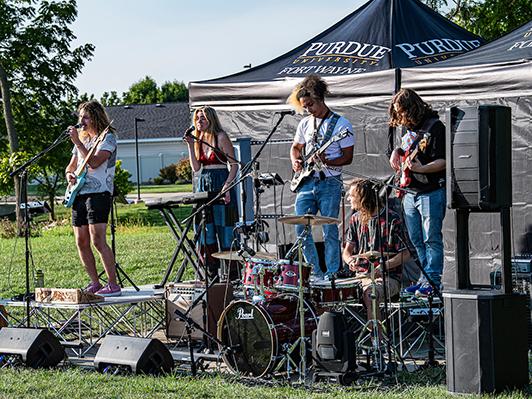 Two members of the band man of the Flood are singing. One is playing guitar.
Photo of the drummer for the band Man of the Flood.
A member of the band Man of the Flood is singing into a mic.
The band Man of the Flood is performs for an audience.