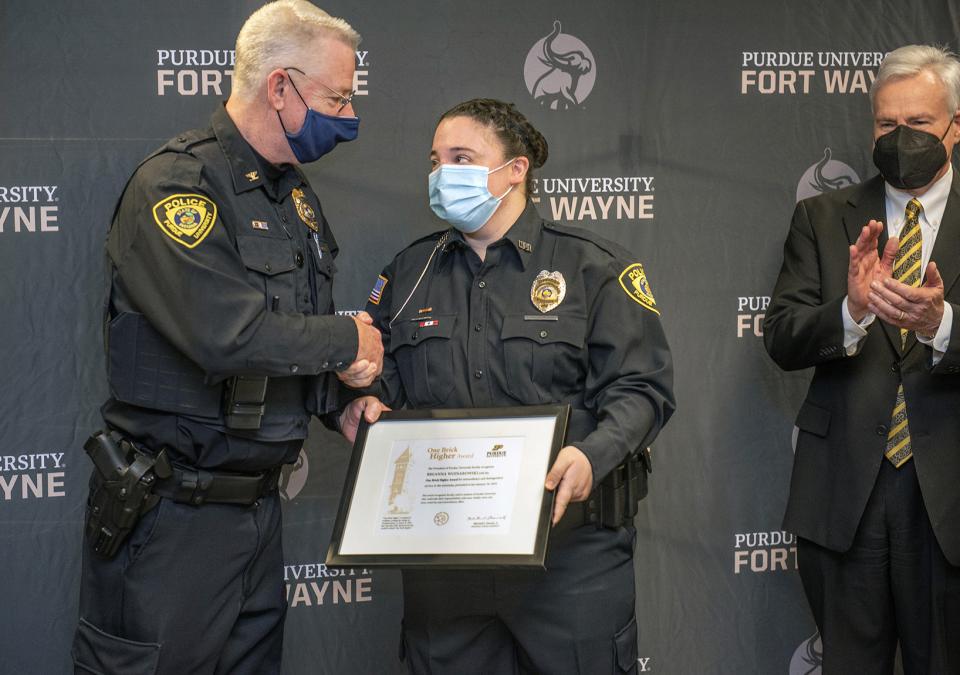 Hero Of River Rescue At PFW Receives Special One Brick Higher Award From Purdue University
In recognition of her immediate and life-saving actions, Officer BreAnna Wojnarowski of the Purdue Fort Wayne Police Department was presented with the prestigious One Brick Higher Award from Purdue University on Monday. Officer Bre, as she's known on campus, was honored for her rescue of a child who had become trapped in the icy waters of the St. Joseph River on January 18.
Endorsed by, and bestowed on behalf of, Purdue University President Mitch Daniels, Chief John Cox of the Purdue University Police Department traveled from West Lafayette to Fort Wayne to present Wojnarowski with the award during a brief ceremony at Kettler Hall. 
 
The One Brick Higher Award is given to Purdue faculty, staff, and students who go beyond the requirements of their role and through extraordinary effort improve the lives of those around them, increase the effectiveness of the workplace, or prevent or solve problems. This is only the second time a member of the Purdue Fort Wayne campus community has earned the honor.
"Officer Wojnarowski's selfless act of heroism—punctuated by her own heartfelt account of actions that likely saved the life of a child in total distress—is the reason why we gathered today to celebrate this historic and much deserved recognition," said Purdue University Fort Wayne Chancellor Ron Elsenbaumer. "This rescue, which took place in the dark of the night among various obstacles, shines a bright light on the exceptional training of our university's police officers and their total commitment to the safety and well-being of everyone they serve."       
Members of Wojnarowki's family were present at the ceremony, as well as Chief Tim Potts of the Purdue Fort Wayne Police Department, fellow officers, and other members of the campus community. She was also presented with a Lifesaving Award from Purdue at the event.  
Wojnarowski was dispatched on the night of the rescue at approximately 8:30 to investigate reports of a child dressed in dark clothing riding a bicycle along Coliseum Boulevard near the Purdue Fort Wayne campus. Upon arrival to the area, she heard screams coming from the river. With some difficultly, Wojnarowski traveled an estimated 45 to 60 yards through chunks of ice, tree branches, and other debris to reach the child and assist him back to shore. Both were assessed by medical personnel on site and deemed to be in good health. After going home to warm up, clean up, and change into a dry uniform, Wojnarowski returned to campus around 11:30 p.m. to complete her 12-hour shift.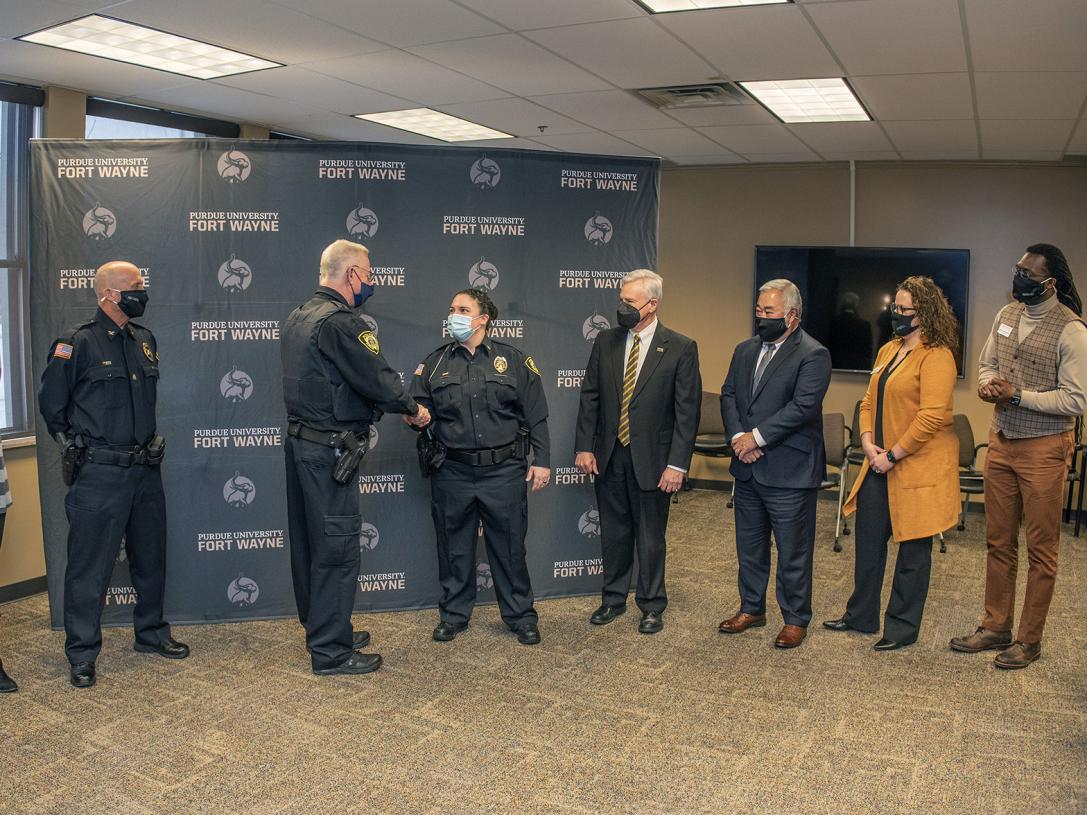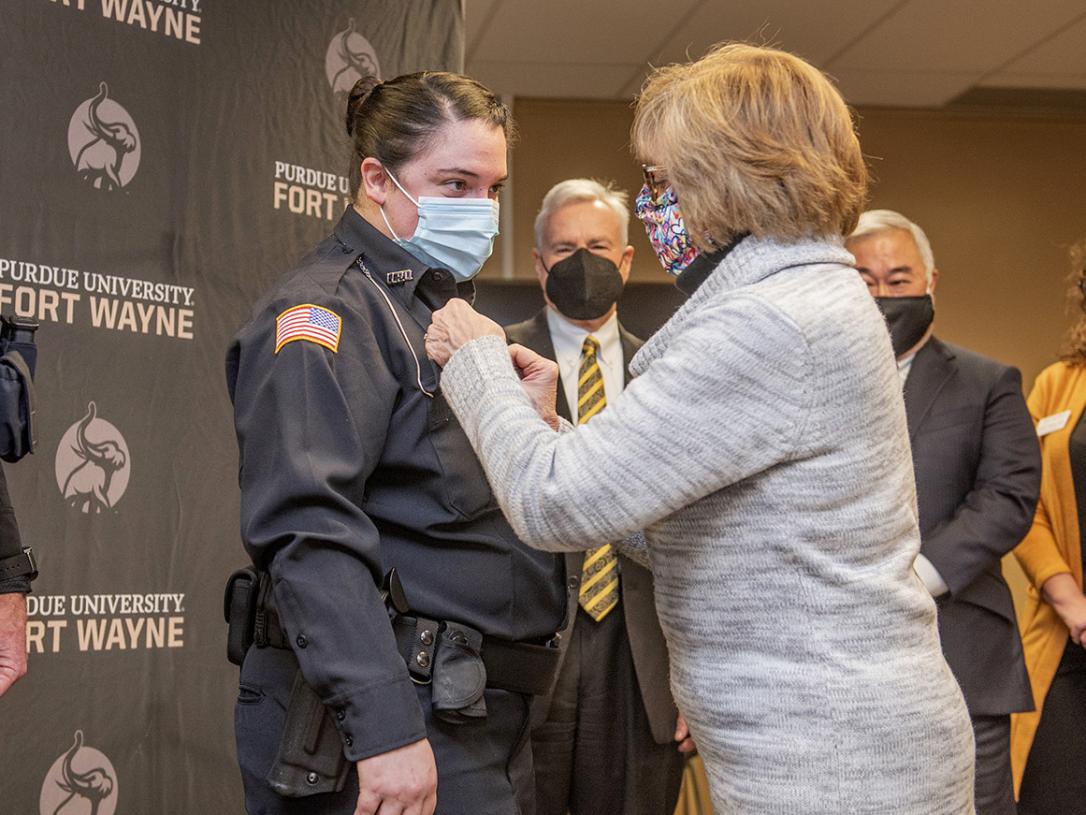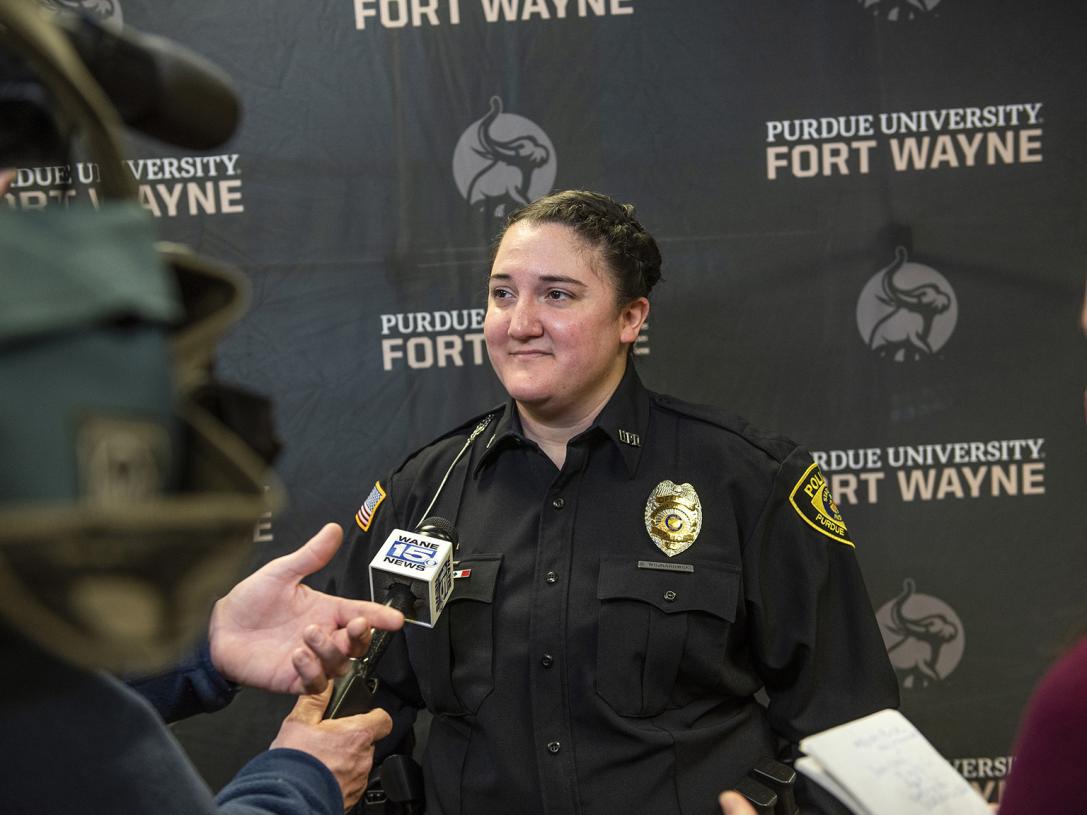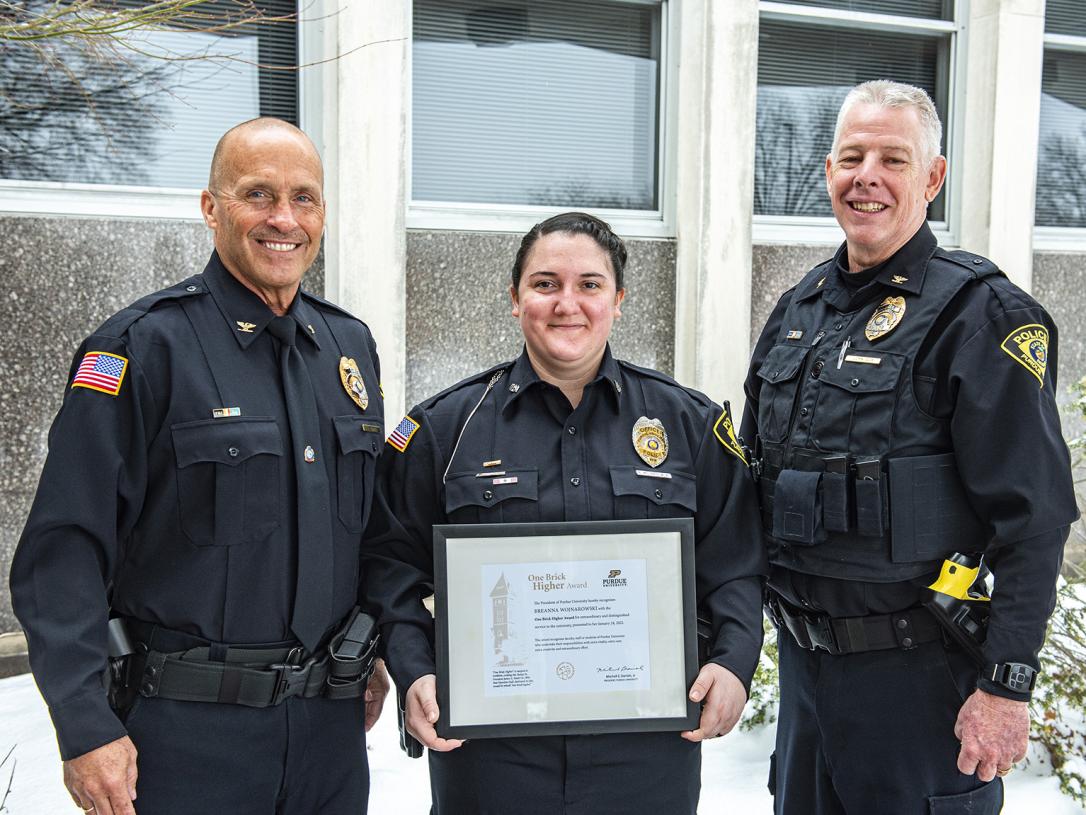 Officer BreAnne Wojnarowski is presented with the One Brick Higher Award by Chief John Cox
Officer BreAnna Wojnarowski (center) is joined from left to right by Chief Tim Potts, Chief John Cox, Chancellor Ron Elsenbaumer, Vice Chancellor Glen Nakata, Vice Chancellor Krissy Creager, and Chief Diversity Officer MarTeze Hammonds as she receives the One Brick Higher Award
Officer Wojnarowski's mother, Valerie, pins a Lifesaving Award from Purdue University to her uniform
Officer Wojnarowski being interviewed by members of the media
Chief Tim Potts, Officer Breanna Wojnarowski, and Chief John Cox outside of Kettler Hall