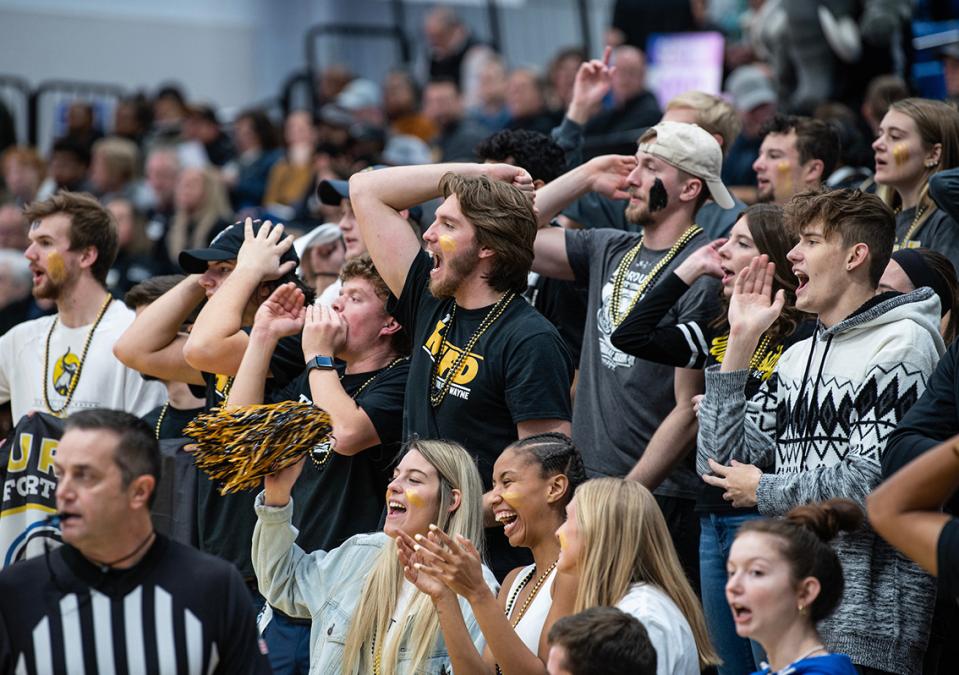 PFW Story
The Herd adding its enthusiasm and energy to Mastodon athletics
A few years ago, an organized student group cheering at basketball games was called "The Blue Crew." They added energy, rambunctiousness, and noise before fading into history.
Student Body President Sebastien Wilson was attending a recent reception when Director of Athletics Kelley Hartley Hutton encouraged him to take the lead in building a new Purdue University Fort Wayne fan group.
Wilson had found his true calling in life.
"I love this school," Wilson said. "I have a big friend group here on campus, the perfect group of rowdy guys. Our whole idea is that we're working on the Don identity."
Wilson gathered about 10 friends and formed "The Herd." So far, they've attended home games for men's and women's basketball and some soccer matches with plans for upcoming men's volleyball matches.
"They impact that game and the environment," Hartley Hutton said. "Our teams love it. And I've noticed other students and fans joining the fun. Some fans have noticed a certain volume and relentless cheering they were not used to." 
The Herd tailgates in front of Gates Sports Center before games and then catches the shuttle to the contests at Memorial Coliseum, recently growing to about 25 people – and looking for more. They've even received official certification as a Student Government Association club.
During games, The Herd coordinates with the new cheer squad, are looking to work with the pep band, and play off mascot Don's antics.
"We love feeding off his energy," Wilson said.
The group has become so boisterously successful that the athletics department threw them a pizza party before a recent game. Then men's basketball coach Jon Coffman arrived to fire them up during a pregame strategy session.
Sanctioned by the athletics department, The Herd has Fan Engagement and Marketing Coordinator Jacob Allard as its advisor. He draws the line on what's proper and improper, but mostly recommends that they stick to traditional college basketball chants and cheers. Members understand there's a responsibility involved in representing the student body and the university.
"We do our best not to go after physical appearances," Wilson said. "We do our best to acknowledge and respect the staff in the coliseum. We're not just a bunch of college kids going out to try and antagonize anybody. We're students who genuinely care about our school and want to support our athletics, and we're having fun doing it."
After all, the TV cameras are always focused on them.
"I don't think it is the cameras that causes them to act the way they do," Allard said. "They are genuinely interested in being a raucous group that can pour energy into our teams on the court respectfully and have a good understanding of where the line is drawn."
Arguably, the student who has the most fun is Josiah Beck, 21, known at the games as "The Shoe Guy" because he drinks a beer out of his size 13 Under Armour basketball shoe (black and gold, of course). He got the idea from watching the post-race celebration of F1 racecar driver Daniel Ricciardo.
Though Beck switches to a sports drink at Gates Sports Center where alcohol isn't served, he recently gulped a beer next to Hartley Hutton. He also dedicated one of his pours to Chancellor Ron Elsenbaumer who thanked him and signed one of Beck's shoes. 
But does Beck gulp them quickly because of the taste or the, um, aroma?
"The taste isn't as bad as you think, but it is a lot like shotgunning a beer, so it's messy and not exactly easy," Beck said. 
It's just another example of The Herd trying to establish new game traditions. During a recent week, the group attended games on four consecutive nights.
"We love it," Wilson said. "It takes a lot of time, but we enjoy it and want to be present. It's just about being proud of your school."
Well, another benefit is Wilson met his girlfriend, Macy Schwarzkopf, at a game as part of The Herd.
Anyone interested in joining the group can sign up here. With a four-game homestand coming up, more noise is needed.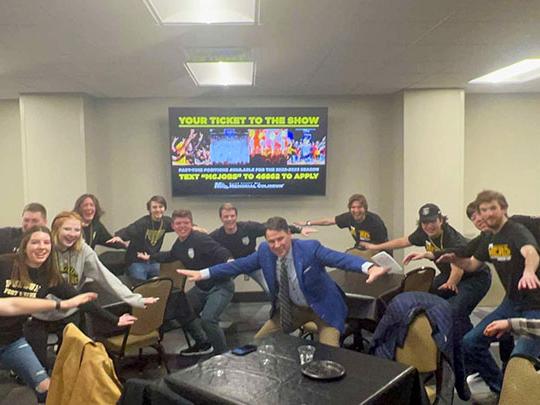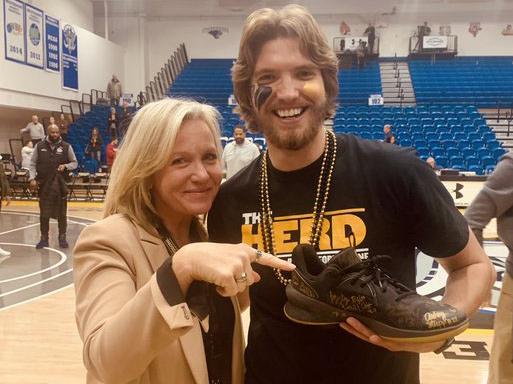 Coach Jon Coffman meets with members of The Herd before a men's basketball game in the Allen County War Memorial Coliseum.
Director of Athletics Kelley Hartley Hutton and Josiah Beck, "The Shoe Guy."