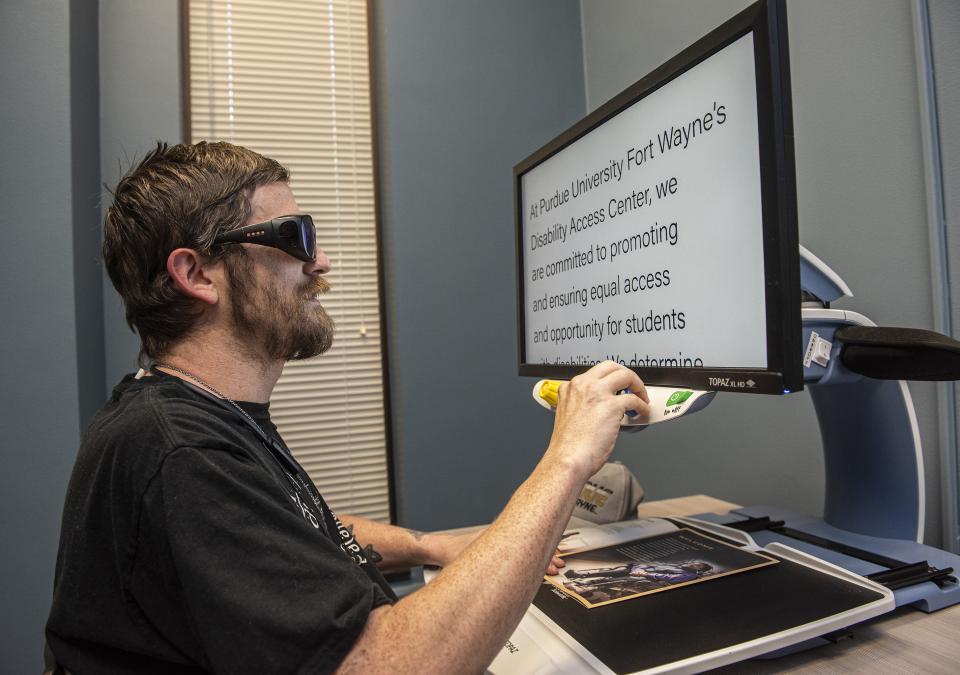 Grant allows Disability Access Center to better serve students
When Ryan McCombs became Purdue University Fort Wayne's Disability Access Center director in October 2020, the equipment on hand was limited and outdated. 
"There were a lot of changes that had to happen quickly to bring the office and university into compliance," McCombs said. 
Physics major Cully O'Meara has been able to benefit from some of those changes. O'Meara has retinal cone dystrophy, meaning he has significant blind spots. He enlarges texts and tests in the DAC office using MagniSight, which helps individuals with low vision.
"Without the MagniSight, even with larger printed text and stuff, I probably would not be able to parse through that material in the allotted time allowed," O'Meara said. 
The DAC promotes and ensures equal access and opportunities for students with disabilities and works with campus partners to create an inclusive experience. As an example, during a typical academic year, the DAC provides accommodations and proctors for approximately 900 mid-term and final exams.
In less than two years, the number of PFW students with disabilities has increased from 265 to more than 500 for this fall semester. Now the office has additional resources thanks to an $83,000 AWS Foundation grant. The AWS Foundation helps children and adults enduring intellectual, developmental, and physical disabilities live as independently as possible, be included in the community, and function at their highest potential.
Along with a planned redesign of the center's office to make it more accommodating with accessible doors, universally designed furniture, and other assistive technology, the grant allowed McCombs and Assistant Director Maeghan Mier to create an even bigger wish list.
"We sat down together and went through everything that we had and then did a lot of research and a deep dive into what was out there and what was accessible and sustainable," McCombs said. 
They ordered a new camera system to ensure the integrity of proctored tests, six computers, five iPads, 10 digital voice recorders, low-vision scientific calculators, 20 SmartPens that assist students with notetaking, six Reader Pens that read the text to students, and 35 noise-cancelling headphones. There is also more accessible furniture and a new low-sensory space.
"I think when a student at Purdue Fort Wayne chooses to disclose they have a disability — and that's their choice — they can go to the center and ask for accommodations and Ryan is there to help them," said AWS Foundation Chief Executive Officer Patti Hays. "When Ryan said he wished he had more that he could do, that's when he filled out the grant request to us."
McCombs recognized the support of Lori Norman, grant fund administrator from the Office of Development, in securing the financial resources. The proposal's primary objective was to make the center a more inclusive and accessible space for students.
"My job is to continue to push people to think outside the box and create universally accessible space, which is why we're renovating our office," McCombs said.
Everything is ready for the start of the semester.
"All of these new items are things I can use and almost certainly will make specific use of," O'Meara said. "I have a 3.46 grade point average, and that would be totally impossible if I didn't have access to these facilities and the department as a whole."
McCombs and his staff are striving to be more visible on campus at various events, reaching out to students, and meeting with and providing faculty training.
"We're trying all these new initiatives to change the way the office and the disabled experience is viewed on campus," McCombs said.