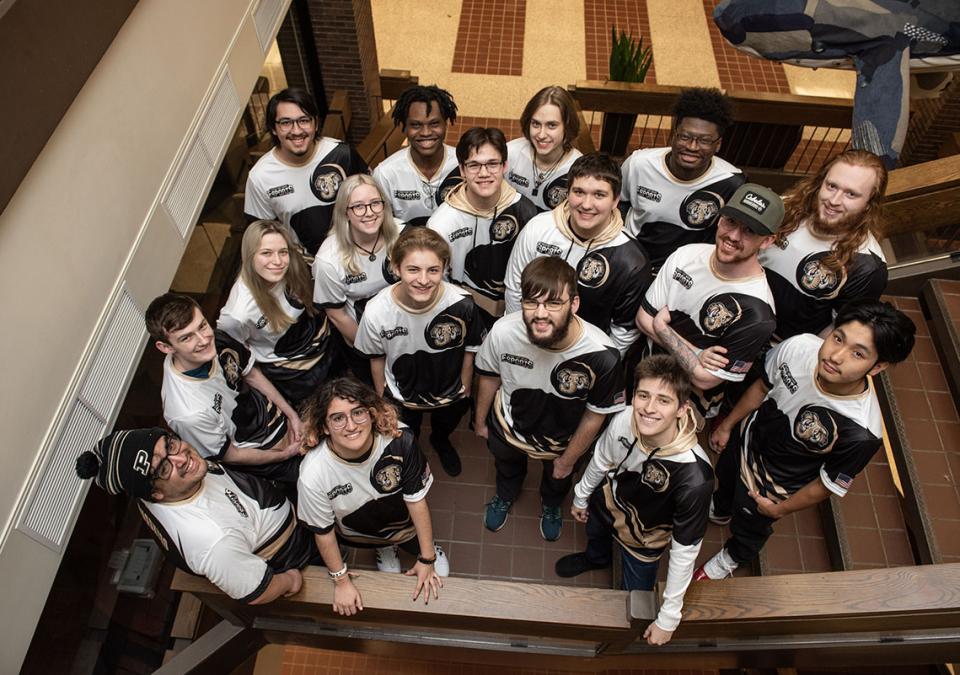 PFW Story
Esports program continuing rapid growth to acceptance
For years, frustrated parents told their kids that playing video games will never amount to anything. "You're wasting your time; go outside and play with your friends," is a familiar refrain. They might have been wrong, though, as university esports teams are now proving.
Because they play and understand the attraction of electronic games, Associate Vice Chancellor for Information Technology Services and Chief Information Officer Mitch Davidson and Assistant Director of Technology Support Brian Spaulding launched the Purdue University Fort Wayne esports program in March 2020. They drew 10 to 15 players on three teams to start.
Three years later, there are six teams, with varsity and junior varsity squads of around 45 total players. PFW plays universities like Kansas, Ole Miss, and all the Big Ten schools, beating some head-to-head. Some streaming Twitch matches draw more than 1,500 spectators, and there's also a dedicated campus message board of more than 300 recreational players.
As with professional sports, a culture of broadcasters, players, and big events draws national spectators. Esports is becoming big business for colleges, many offering scholarships to help recruit students who can develop high-paying professional careers. Spaulding said a recent PFW graduate became a millionaire playing professionally, and some current PFW players rank among the nation's top 500 in their games. During the spring 2021 semester, one of the PFW teams finished among the top 8 out of 72 teams nationally.
PFW sponsors competitive teams for games Overwatch, Valorant, League of Legends, Rocket League, Call of Duty, and Super Smash Bros. In the fall semester, the plan is to add Rainbow Six Siege. There are separate seasons with national tournaments for fall and spring semesters, and the quality and quantity of players have dramatically improved since the days of when the League of Legends club used to meet in the Classic Ballroom with everyone bringing their own laptops.
For many teenagers isolated by necessity during the early waves of the pandemic, esports became a primary form of entertainment and socialization because they could compete and talk with friends online.
A freshman graphic design major, Grace Smith joined the PFW esports teams as a Woodlan High School senior because her school didn't have a team—and tells everyone the esports program is the reason she's a Mastodon.
"This is where I want to go, this is what I want to do," Smith said. "I want to be part of this team and have this camaraderie around this thing that I really enjoy."
A high school soccer, track, and volleyball athlete, Smith said the bond with her current teammates is even closer.
"You are always talking with them, hanging out with them, cracking jokes, and having fun," she said. "For me, the team environment is so much better than playing a sport because it's a smaller group, and you get so much closer to everybody versus having a huge team and trying to get close to everybody."
It took Smith a while to build her skills and challenge for a position on the esports team, but PFW coach Rudi Hefer encourages competition against better players to foster improvement.
Smith said she didn't have a hard time convincing her parents about coming to PFW because they already understand how passionate she is about esports. They also know she's getting a quality academic education.
Junior Joey Irvin, an art and design major, helps run the esports program as a lab administrator. He constructs graphics to present the games and designed a program logo in collaboration with Communications and Marketing. Because the lab is usually busy, Smith was recently hired to assist him.
Traditionally, esports players are also very bright and dedicated students who tend to major in computer science, performing arts, engineering, and political science, Irvin said. PFW also hosts high school tournaments each semester to recruit new Dons.
"We really like what esports can do to help the students," Spaulding said. "Maybe they come to school, and they don't have any friends or they are having trouble meeting people. When they have a group of friends and they hang out in the lab every Tuesday and Thursday, I think that helps."
Unlike the majority of schools with esports programs, PFW's lab is free to use and open to all students during the day. The lab closes at 6 p.m. on weeknights to hold the varsity and junior varsity competitions, with players needing to earn roster spots each semester.