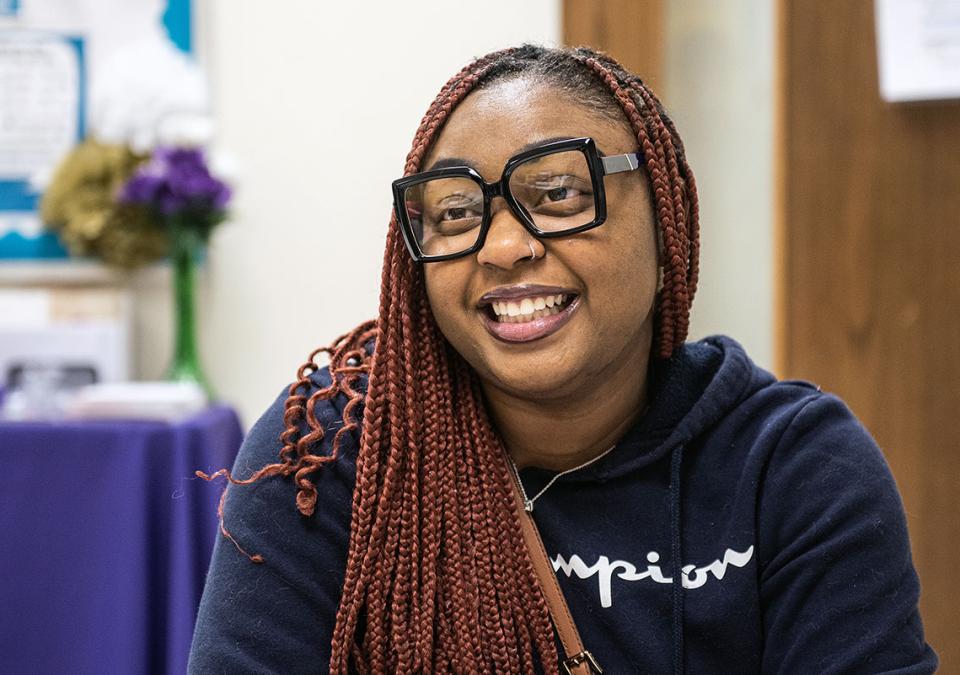 PFW Story
After a nudge, Jacobs found her calling in psychology
During the last few years, Antwanette Jacobs' academic pursuits presented a few options she tried without a clear-cut favorite. However, the senior's final decision on a major isn't one she picked. She says she was sort of drafted.
Originally from Gary and growing up in Michigan, Jacobs' first career dream was to join the FBI or become a police officer because she's always been investigative and intuitive. Then she thought about becoming a veterinarian until discovering she was allergic to animals.
Jacobs needed help narrowing her focus because she's pretty good at a lot of things. At the end of her sophomore year, when it was time to decide, her advisors looked at her grades—and knowing all the things she was doing outside the classroom—suggested she study psychology. 
"I went with it because it was a natural," Jacobs said. "People gravitate to me and I gravitate to people, but I'm also the kind of person who likes my space. I guess I have a good balance of knowing how to deal with people and knowing when to cut it off. I'm also a good listener. People like to come to me for advice or with their problems, and I just sit and listen. Supposedly, the advice I give also helps."
That's something she would not have felt comfortable sharing when she first came to PFW. It also shows her personal growth while at the university.
"I've always been an extrovert, but I was protective, close-minded; I was fearful," Jacobs said. "Because I was the first one in my family to go to college and because I'm the oldest, they had to put me through a lot like the guinea pig to see what the outcome was going to be for my other brothers and sisters. I was fine with that, but it was still scary."
It took a bit for Jacobs to come out of her shell culturally and socially, with help from Cicelle Beemon, director of The Women's Center, and Rhonda Meriwether, director of the Multicultural Center, who have seen her tremendous growth.
"Putting her in leadership positions has expanded her understanding of how to build community with people," Beemon said, "utilizing her education on how to work with people, especially when it comes to meeting with students who are of color and who don't have that place to feel comfortable. Her vibe helps students feel comfortable. I can't wait to see her in a few years."
Jacobs joined The Women's Center as a student worker in 2018. She also thrived in leadership roles with the Black Student Union where she is the vice president.
"I'm honest, so I know when to give my opinion and when not to," Jacobs said. "Usually when people come talk to me, I know not to give my opinion unless they ask. Sometimes people just need someone to talk to. It's more of a relief than holding it in, so I can just sit on the couch and listen. That's one of the best things I do."
Jacob's eventual goal is to use educational psychology in a hospital, hopefully working with children. Getting her master's degree is next, but she knows she'll never leave PFW behind.
"I just feel like psychology comes naturally to me," Jacobs said. "I am stamped to do this."