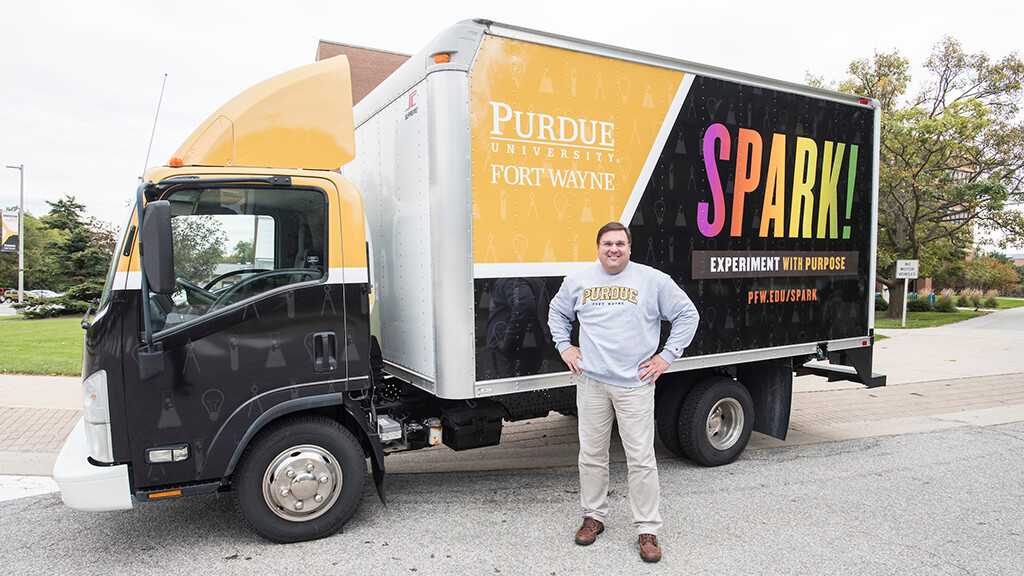 K–12 Educational Services
The NISTEM center offers a variety of educational services in order to help educators better their instruction and bring opportunities to the local community. We offer everything from consultations, workshops, and presentations to hands-on labs and demonstrations. If you are in need of STEM equipment, we've got you covered. We also love to travel to you in our SPARK! Truck for your class or event. If you need how-to lessons, then our Teacher Videos and Lessons Plans can surely help. You can even make a contribution if you have an idea you'd like to share. If you are a STEM/STEAM educator and would like assistance or want to share your ideas, consider partnering with us. Also, check out PFW's licensure program to get a STEM school certification while you're here. For more in-depth details, read below.
CONSULTATIONS, WORK SHOPS, AND PRESENTATIONS
Is there an area of STEM/STEAM education standards that have you scratching your head and asking, "How do I meet that?" Don't worry. STEM/STEAM educators in the Purdue Fort Wayne School of Education are here to help. You can request a consultation or an on-site or an on-campus workshop or presentation through our Northeast Indiana Science, Technology, Engineering, and Mathematics partners today.
HANDS-ON LABS AND DEMONSTRATIONS
Did you know NI-STEM has a box truck and van that brings STEM/STEAM labs and demonstrations directly to your school? A fee of $5 per student, per program with a minimum fee of $150 applies to each class being presented per day, up to 30 student. Transportation and materials fees may vary depending on the lab or demonstration. Contact us to let us know your specific needs we will be glad to help.
STEM EQUIPMENT
RENTAL TRUCK
Is there some STEM equipment you would like to borrow for a short time? Let NI-STEM know what you need. We may have the equipment available for you to borrow or rent, or we will add it to our get-this list. NI-STEM is always applying for grants to help us help you meet your teaching needs.
SPARK! TRUCK
NI-STEM has a 14-foot box truck that we love to load up and use for in-classroom or even mobile (parking lot, park, backyard party, etc.) STEM events. Have an idea for a STEM excursion and need some expert advice? Let us know what you are thinking, and we can make a purposeful experiment that meets the need. We want to help create that spark of curiosity.
TEACHER VIDEOS AND LESSON PLANS
NI-STEM has an ever evolving and growing series of standards-based lesson plans and ideas, many of which include how-to videos. Do you have ideas you would like to share? Consider sharing them on the NI-STEM online platform. All submissions are vetted by a university team of STEM/STEAM professors who are experts in the areas and/or topics addressed in each lesson. While not all submissions make it online, all lessons are properly reviewed and only uploaded after a careful vetting process. If you have a lesson that you believe would benefit other educators, especially if it embeds a neat discrepant event, please consider sharing it with us. We can better help and assist one another by working together.
The NI-STEM center housed within the Purdue Fort Wayne School of Education exists to help provide both on-campus and on-site professional development, course work, workshops, in-services, etc. that help educators educate. If you are a STEM/STEAM educator and would like assistance in any way or would like to share your ideas with others, partner in some capacity with us because education is our passion. Let us know how we can help.
STEM SCHOOL CERTIFICATION
Purdue Fort Wayne offers a licensure program for Elementary STEM. For more information about certification to teach Elementary STEM, please click here.
STEM FLIGHTS
STEM Flights is a national nonprofit organization that connects Middle and High School students with local Pilot Mentors to receive a free flight experience. They have partnered with Sweet Aviation to deliver flight experiences in the Ft Wayne area. This means there are licensed pilots ready and waiting to give students a free flight experience. Students can apply anytime, year-round! Find out more about this process here.