Art Educator's Exhibition

Oct. 23–Dec. 8, 2017
IPFW Visual Arts Gallery
Join IPFW as we celebrate our regional secondary school art educators and showcase these amazingly talented artists. A variety of mediums will be shown from the teachers who train young art students from around the region.
Artists' Reception and Open House
Friday, Oct. 27 6-8:00 p.m.
Awards Presentation 7:30 p.m.
Featuring the work of:
Trevor Campbell Concordia Lutheran High School
Nathan Fry Center Grove High School
Teri Fuller-O'Brien Huntington North High School
Scott Kilmer Carroll High School
Bobbi Miller Montpelier Exempted Village
Joy Noriega Jennings Local Schools
Don Swartzentruber Warsaw High School
Andrew Tomasik Warsaw High School
Tara Turner Carroll High School
Tania Wineglass-Graham Charles Tindley Accelerated School
Lloyd Woodard Mississinewa High School
Elisa Yonge Bishop Dwenger High School
_______________________________________________________________________________
Art of Italy 2017
Monday, Aug. 21 – Friday, Oct. 6, 2017
Artists' Reception – Wednesday, Aug. 23 5 - 7:00 p.m.
IPFW Visual Arts Gallery

Art of Italy 2017
The Art of Italy 2017 exhibition is a result of the Departments of Fine Arts and Visual Communication and Design commitment to international learning. The Art of Italy 2017 features drawings, photos, prints, and sculptures created by professors, teachers and students during their travels to Rome, Venice, and Florence. The work in the exhibition was inspired by their immersion into the art, culture, and history of Italy. The exhibition also will feature prints and drawings created by Associate Professor Christopher Ganz during his stay as a visiting artist at the Scuola Internazionale di Grafica Venezia over his recent sabbatical.
Featured faculty artists:
James Gabbard, continuing lecturer, photography
Christopher Ganz, associate professor, drawing and printmaking
Dana Goodman, professor, sculpture, drawings
Teri Fuller-O'Brien, Collegiate Connection faculty member, drawings, photographs
Featured student artists:
Robin DeLaughter, photography
Elizabeth Masson, photography
Alison Resac, photography
Eddie Rentschler, drawings
Students exhibiting various media:
Hailey Cook
Katherine Gaff
Miranda Hall
Emily Puckett
Elyina Spicer
Sydnee Strang
Monday, Aug. 21 – Friday, Oct. 6, 2017
Artists' Reception – Wednesday, Aug. 23 5 - 7:00 p.m.
IPFW Visual Arts Gallery
The exhibition is free and open to the public. Gallery hours are 8 a.m. – 9 p.m. weekdays and 10 a.m. – 5 p.m. weekends. For information call the Department of Fine Arts, 260-481-6705 or visit our Web site at www.ipfw.edu/fine-arts
Spring 2017 Exhibition - Allen Co. Library
BFA Visual Communication and Design
BS Interior Design
Artists' Reception - April 21



Fall 2016 BFA Students Exhibit at WunderKammer Gallery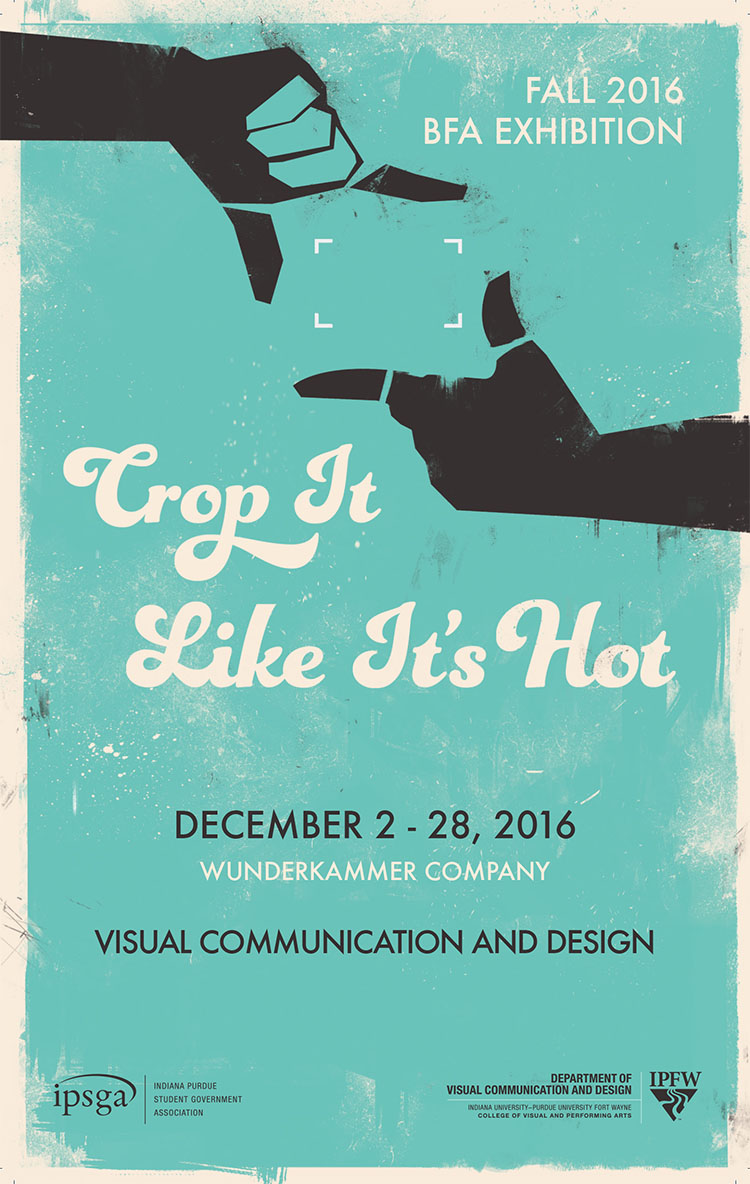 facebook.com/wunderkammercompany
For information call the Department of Visual Communication and Design at 260-481-6709 or visit www.ipfw.edu/vcd
VCD Alumna Brooke Francesi Explores Temporal Typography in Published MFA Book
VCD alumna Brooke Francesi (Class of 2009) has published Temporal Typography, a book on her MFA thesis completed at California College of the Arts (CCA) in San Francisco. Brooke describes temporal typography as the category of typography that escapes purely static or purely kinetic formal content. She states, "Unlike static typography, these forms are not bound by one iteration within a singular viewing experience. Similar to kinetic type, temporal typography carries the stamp of time but is not relegated movement or time-based media. Temporal letterforms have the ability to manifest themselves in both static and kinetic ways, as well as physical and digital ways, and therefore cannot be evaluated by the same functional factors of traditional typography: legibility and readability. Viewership and perception are elevated, and formal and experiential conditions are re-prioritized as the forms transition from one state to the next."
Commenting on Brooke's success, VCD Chair Dr. Haig David-West, who mentored her on her best-in-show BFA thesis project at IPFW, says, "Brooke's exploration of temporality is a logical progression of 'letterforms as physical structures in dynamic interrelationships' she investigated under my tutelage. Her nimble disposition, intellectual curiosity, and capacity for sophisticated design thinking were sure to locate her on the frontlines of new directions in design studies." Temporal Typography by Brooke Francesi is available at Amazon.com.

Brooke Francesi discussing her work at CCA in San Francisco.

Page spreads from Temporal Typography by Brooke Francesi