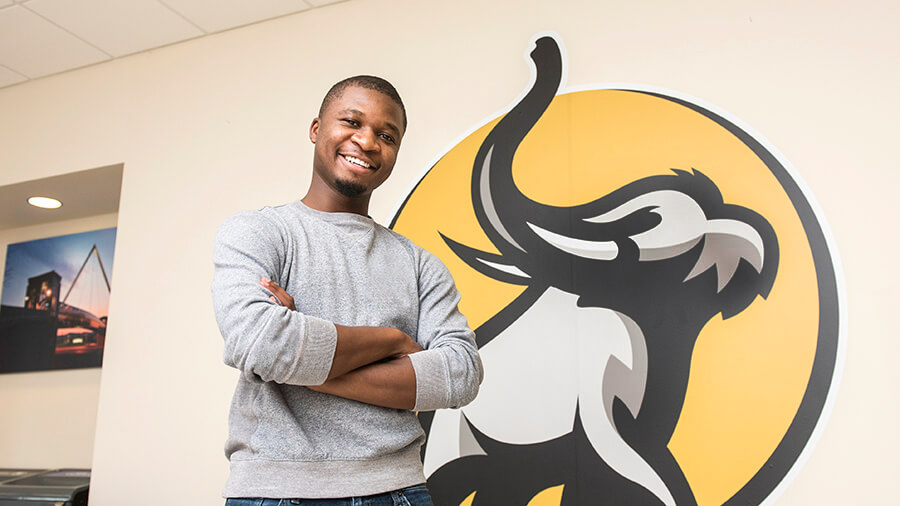 The Titan to Mastodon Connection Program—a Collaborative Approach to a Prestigious Purdue Degree
Your journey to academic and career success begins here, with the Titan to Mastodon Connection (T2M).
T2M was created to meet your unique educational needs and to assist you before you enroll as a full-time Purdue Fort Wayne student. Your T2M individually tailored academic plan will help you on your path to graduation by enabling you to take courses concurrently at Ivy Tech Community College and Purdue Fort Wayne.
As a degree-seeking student at Ivy Tech, you will choose an associate degree program that aligns with your educational goals. While pursuing this degree, you will take classes at both campuses and work toward the ultimate goal of earning a bachelor's degree from Purdue Fort Wayne.
You will enjoy all the benefits of this highly integrated enrollment pathway:
A personalized academic plan with classes at both Purdue Fort Wayne and Ivy Tech
Attending Titan to Mastodon New Student Orientation sessions presented jointly by Purdue Fort Wayne and Ivy Tech
Full access to resources, events, and facilities on both campuses
Ability to live in Purdue Fort Wayne Student Housing while taking courses at Ivy Tech
Ready to Start?
Yes, I want to enroll now at both Purdue Fort Wayne and Ivy Tech and be a participant in T2M.
Yes, but I would like to begin slowly and become a part-time student at Purdue Fort Wayne, with one to three classes, initially. I understand this choice may impact some types of financial aid.
No, thanks. I am no longer interested in Purdue Fort Wayne and would like to be removed from the application process.
Want to Live on Campus?
Please log in to your goPFW account and complete the information for Purdue Fort Wayne Student Housing.

We look forward to assisting you in all your next steps on the way to becoming both a Titan and a Mastodon. Once you make your selection, you will be guided through an enrollment process so that you can talk to admissions counselors, register for financial aid, sign up for New Student Orientation, and begin to enroll in your classes. We're here to help you every step of the way.
Need More Information or Help?
To learn more about this great opportunity, contact Amanda Seilheimer, unique student populations assistant director, at seilheia@pfw.edu or 260-481-0404, or send a message to T2MConnection@pfw.edu.