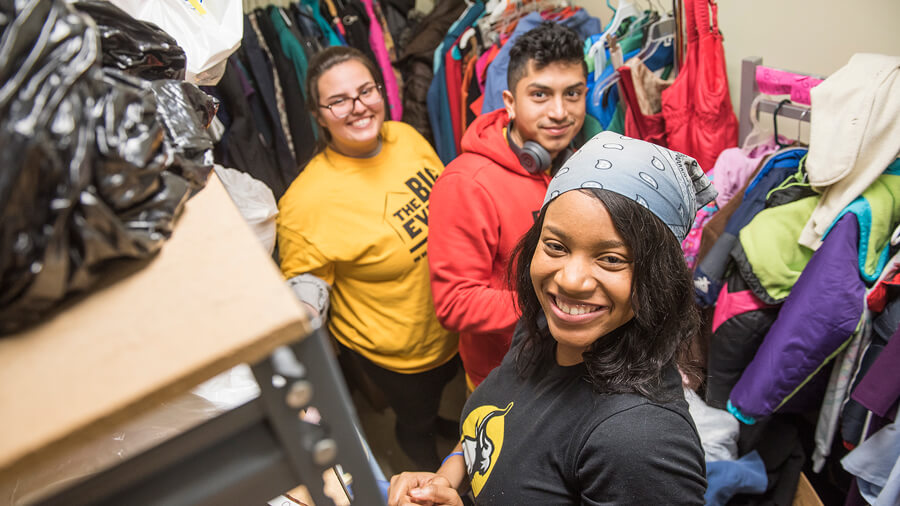 Help Make a Difference
Our Go Local campaign gives you the opportunity to work on service projects to help local organizations. Through these partnerships you can advance our community, network with local leaders, make friends, and, most importantly, have a positive impact on someone's life.
2019 Go Local Fair
August 26, 2019 from 9 a.m.–noon, Mastodon Way
Are you looking for a great way to connect with over 8,000 Purdue Fort Wayne students? The Go Local Fair on the first day of classes is the perfect opportunity to engage with students, faculty, and staff. Build connections with our campus that could last the entire year! Proceeds from the event will help to support Go Local Community Engagement such as The BIG Event, The Pantry, and other community projects.
Agencies and Businesses will receive:
One table with two chairs (with enough space to pop-up a 10'x10' tent, provided by the agency/business)
Access to thousands of Purdue Fort Wayne students, faculty, and staff
Registration
Registration is open now, all agencies/businesses must be registered by Monday, August 19, 2019.
No new registrations will be accepted on the day of the event
All businesses must adhere to the Purdue Fort Wayne Solicitation Policy
No sales of any kind may occur during the Go Local Fair event
Agencies are permitted to pass out free items and collect contact information provided by participants
Agencies are responsible for maintaining liability insurance while on Purdue University Fort Wayne property
Purdue University Fort Wayne reserves the right to refuse space to any agency
Purdue Fort Wayne does not endorse any agencies that participate in the Go Local Fair
Specific information regarding the Go Local Fair policies are available on the registration form.
For questions, please contact Will Dzuricsko from Student Life & Leadership at 260-481-6595 or studentlife@pfw.edu
Help Us Help the Community
We can't do everything we do without the wonderful support of our sponsors. These partnerships are vital to helping the community and northeast Indiana. Please join us.