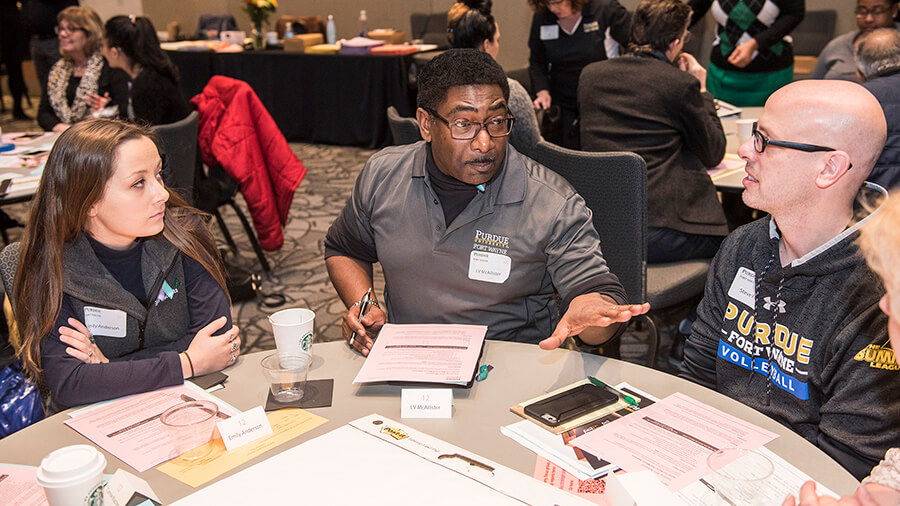 Stay Informed
It's one thing to promise transparency, but another to deliver it. We will make that happen through regular communication, both here and through other outlets like Inside Purdue Fort Wayne and messages from the Chancellor and the Strategic Planning Steering Committee.
In addition to encouraging campus input and perspectives through meetings, focus groups, and surveys, we want to hear from you throughout the process. Send the Steering Committee an idea or feedback at any time. All you have to do is "Share Your Voice."
September 13, 2019 • Strategic Plan Prioritization
On Friday, September 13, the Strategic Planning Steering Committee hosted a campus-wide prioritization event open to all faculty, staff, and students. More than 200 participants took part in discussions and activities to help consolidate and prioritize our strategic plan.
September 4, 2019 • Strategic Plan Open Forum
A Strategic Planning open forum took place Wednesday, September 4, from 11 a.m. to noon in Kettler Hall, Room 146. Updates were provided on the planning work that has taken place since April, as well as a preview of the year ahead, including the September 13 prioritization event.
Download the Forum Presentation