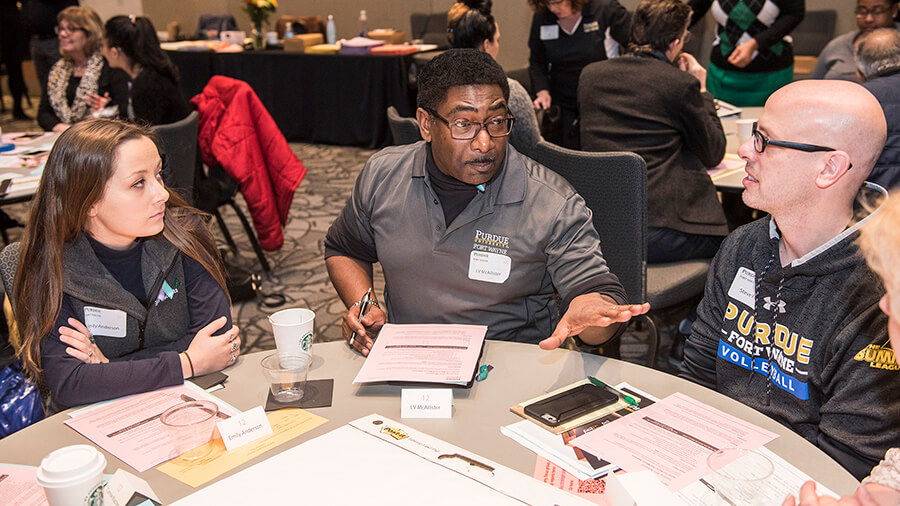 Stay Informed
It's one thing to promise transparency, but another to deliver it. We will make that happen through regular communication, both here and through other outlets like Inside Purdue Fort Wayne and messages from the Chancellor and the Strategic Planning Steering Committee.
In addition to encouraging campus input and perspectives through meetings, focus groups, and surveys, we want to hear from you throughout the process. Send the Steering Committee an idea or feedback at any time. All you have to do is "Share Your Voice."
SharePoint Site (Login Required)
January 22, 2020 • Open Forum
At this open forum we shared and discussed the results of the Campus Climate Survey administered last semester as well as the recommendations developed by the Diversity, Equity, and Inclusion (DEI) Action Team for establishing a Chief Diversity Officer leadership position for the university.
Wednesday, January 22, noon, Science Building, Room 168
Download the Action Team's Recommendations
View the Forum Online [log-in required]
Access the Presentation [log-in required]
November 2019 • Open Forums
We held the three open forums to talk about the refined strategic plan, the final approval process, the development of plan metrics, and updates on action planning. The forums took place on:
Wednesday, November 6, 3 p.m., Liberal Arts Building, Room 159
Monday, November 11, 9 a.m., Kettler Hall, Room 146
Thursday, November 14, noon, Science Building, Room 168
Refinement Process
We engaged our campus community in one last effort to collect feedback on the strategic plan. Our goal with the refinement process was to carefully review and refine the language of our objectives and strategic activities to ensure clarity of intention and maximum positive impact. Throughout the process we strove to ensure that each member of our campus community could see themselves and the direct ways they help us advance and achieve our collective strategy in the plan.
To support that effort, we held a series of focus groups to collect additional feedback on our objectives and strategic activities. We listened to what others had to say and received many specific ideas for improving our plan.
September 30–October 25: Focus groups and survey
November 4: Revised draft sent to campus
November 5–November 15: Open forums to discuss revised draft
Download the Consolidated and Prioritized Plan
September 13, 2019 • Strategic Plan Prioritization
On Friday, September 13, the Strategic Planning Steering Committee hosted a campus-wide prioritization event open to all faculty, staff, and students. More than 200 participants took part in discussions and activities to help consolidate and prioritize our strategic plan.
September 4, 2019 • Strategic Plan Open Forum
A Strategic Planning open forum took place Wednesday, September 4, from 11 a.m. to noon in Kettler Hall, Room 146. Updates were provided on the planning work that has taken place since April, as well as a preview of the year ahead, including the September 13 prioritization event.
Download the Forum Presentation