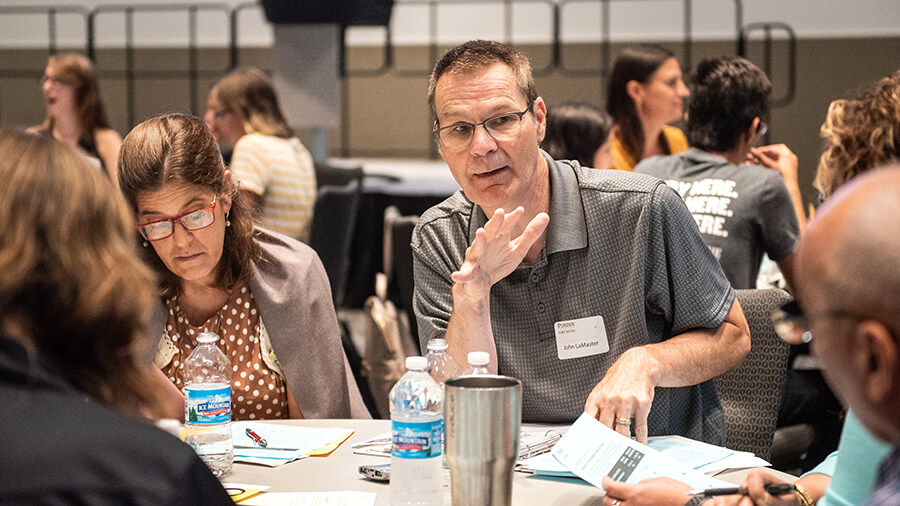 Action Planning
Priority Strategic Activities
Student Success 1.1. Increase the use of active learning strategies and high-impact practices in high-enrolling and gateway courses and in online and hybrid courses.
Student Success 2.2. Develop financial aid and assistance programs that make attending full-time a financially viable option, emphasize need, and support students at all stages of their academic careers.
Student Success 3.1. Develop a university advising model informed by the assessment of current advising practices, benchmarking of successful institutions, and advising best practices.
Quality of Place 3.1. Enhance the promotion of Purdue University Fort Wayne's arts, athletics, intellectual, cultural, and educational programming to attract diverse audiences and increase participation by students, staff, faculty, alumni, and the community.
Diversity, Equity, and Inclusion 1.2. Create a support structure, including a leadership position, support staff, and requisite funding, to promote and advance diversity, equity, and inclusion (DEI) initiatives across campus and in each unit. This team will focus on the process of establishing and hiring the leadership position; the rest of the strategic activity will be action planned and implemented after the leader is in place.
Community Engagement 2.1. Establish new community partnerships at each level of engagement: presence, connections, activity/project/event, relationship.
We are excited to get to work moving these activities forward and are confident that these are the right first steps to take in implementing our strategy.
Refinement Process
Please remember to RSVP to participate in a focus group on the current draft strategic plan or complete an online feedback form.
If you have any questions about our priority strategic activities or the action planning teams, please Share Your Voice.
Action Planning Teams
Student Success 1.1
Ron Friedman
Executive Champion
Interim Dean, College of Arts and Sciences
Alex Blauvelt
Cochair
Academic Advisor, Doermer School of Business
Marcia Dixson
Cochair
Associate Vice Chancellor for Teaching and Learning
Jeff Casazza
Associate Professor of Theatre
Heidi Jung
Instructional Consultant and Designer, Center for the Enhancement of Learning and Teaching
Chris Kuznar
Senior Associate Athletic Director for Academics and Student-Athlete Welfare
Luke Rodesiler
Assistant Professor of Secondary Education, College of Professional Studies
Amanda Seilheimer
Transfer and Special Populations Coordinator, Student Success and Transitions
Tanya Soule
Associate Professor of Biology, College of Arts and Sciences
Gary Steffen
Director of the School of Polytechnic, College of Engineering, Technology, and Computer Science
Student Success 2.2
Krissy Creager
Executive Champion
Vice Chancellor for Student Affairs
Doug Hess
Cochair
Director of Financial Aid Operations
Irah Modry-Caron
Cochair
Director of Institutional Research
Julie Creek
Director of the Office of Diversity and Multicultural Affairs
Seth Green
Assistant Professor of Ceramics, College of Visual and Performing Arts
Loaine Hagerty
Director of Scholarships and Awards, Development
Rachel Holycross
Associate Athletic Director for Compliance
Jenna Hoppe
Academic Advisor, Student Success and Transitions
Kristen Kampfe
Student Financial Services Assistant, Financial Aid
Ann Livschiz
Associate Professor of History, College of Arts and Sciences
Allyson Mills
Associate Vice Chancellor for Financial and Administrative Affairs
Sharon Parnin
Clinical Assistant Professor of Education, College of Professional Studies
Justin Shurley
Director of Development and External Affairs for Athletics
Student Success 3.1
Carl Drummond
Executive Champion
Vice Chancellor for Academic Affairs and Enrollment Management
Kim Myers
Cochair
Assistant Director of Student Success Curriculum and Assessment, Student Success and Transitions
Brett Wilkinson
Cochair
Assistant Professor of Counselor Education, College of Professional Studies
Stacy Betz
Chair of the Department of Communication Sciences and Disorders, College of Arts and Sciences
Leslie Clark
Director of Enrollment Management and Student Success, College of Professional Studies
Jamie Fleming
Assistant Director for International Programs, International Education
Corrie Fox
Director of Student Success and Transitions
Marietta Frye
Coordinator of Advising and Student Success, College of Arts and Sciences
Curt Hosier
Director of Tutoring Services; Continuing Lecturer of Sociology, College of Arts and Sciences
Kent Johnson
Director of Assessment, Accreditation, and Program Review
Buck Jordan
Director of the Student Success Center, Doermer School of Business
Kim McDonald
Associate Dean of the College of Engineering, Technology, and Computer Science
Kelsey Passaglia
Athletic Academic Specialist, Mastodon Academic Performance Center
Marissa Rittermeyer
Academic Coordinator, TRIO Programs
Karla Yauchler
Coordinator of Advising, College of Visual and Performing Arts
Quality of Place 3.1
Jerry Lewis
Executive Champion
Vice Chancellor for Communications and Marketing
Jordyn Hogan
Cochair
Director of Housing and Residential Education, Student Housing
Michelle Kelsey
Cochair
Chair of the Department of Communication, College of Arts and Sciences
Thera Bailey
Coordinator of Digital Fundraising, Development
Lisa Brodasky
Administrative Assistant, Doermer School of Business
Kelley Hartley
Director of Athletics
David Johnson
Associate Vice Chancellor for Communications and Marketing
Brad Oliver
Clinical Associate Professor of Education, College of Professional Studies
Renan Reilly
Program Coordinator, Career Services
Kelly Shanks
Coordinator of Academic Ceremonies
Nan Suntornpithug
Associate Professor of Marketing, Doermer School of Business
Samantha Theisen
Sustainability Coordinator, Environmental Resources Center
Logan Wiening
Fan Engagement and Marketing Coordinator, Athletics
Diversity, Equity, and Inclusion 1.2
Melissa Gruys
Executive Champion
Dean of the Doermer School of Business
Janet Badia
Cochair
Professor of Women's Studies
Cynthia Springer
Cochair
Associate Vice Chancellor for Human Resources and the Office of Institutional Equity
Ken Christmon
Associate Vice Chancellor for Admissions
Ranada Clark
Senior Administrative Assistant to the Dean of the College of Professional Studies
Adolfo Coronado
Acting Chair of the Department of Computer Science
Shubitha Kever
Director of Student Support Services, TRIO Program
Ahmed Mustafa
Professor of Biology, College of Arts and Sciences
Kim O'Connor
Associate Professor of Organizational Leadership; College of Engineering, Technology, and Computer Science
Vic Spencer
Director of Student Government and the Resource Center
Mia Starr
Executive Assistant to the Vice Chancellor for Development
Bart Tyner
Director of Web Services, Communications and Marketing
Community Engagement 2.1
Ruth Stone
Executive Champion
Vice Chancellor for Development
Don Mueller
Cochair
Associate Professor of Civil and Mechanical Engineering; College of Engineering, Technology, and Computer Science
Meg Underwood
Cochair
Director of Professional Development and Outreach, Doermer School of Business
Sam Battistone
Assistant Athletic Director for the Mastodon Academic Performance Center
Rachel Blakeman
Director of the Community Research Institute
Susan Byers
Executive Director of Career Services
Eve Colchin
Director of Development
Melinda Haines
Assistant to the Dean for Community Engagement and Director of the Community Arts Academy, College of Visual and Performing Arts
Bruce Kingsbury
Director of the Environmental Resources Center; Associate Dean of the College of Arts and Sciences
Melissa Kurten
Director of Training Outreach, Division of Continuing Studies

Eileen Pecoraro
Director of Administration and Operations, Communications and Marketing
Sean Ryan
Director of University Engagement
Sherrie Steiner
Assistant Professor of Sociology, College of Arts and Sciences
James Velez
Director of Student Activities, Student Life and Leadership