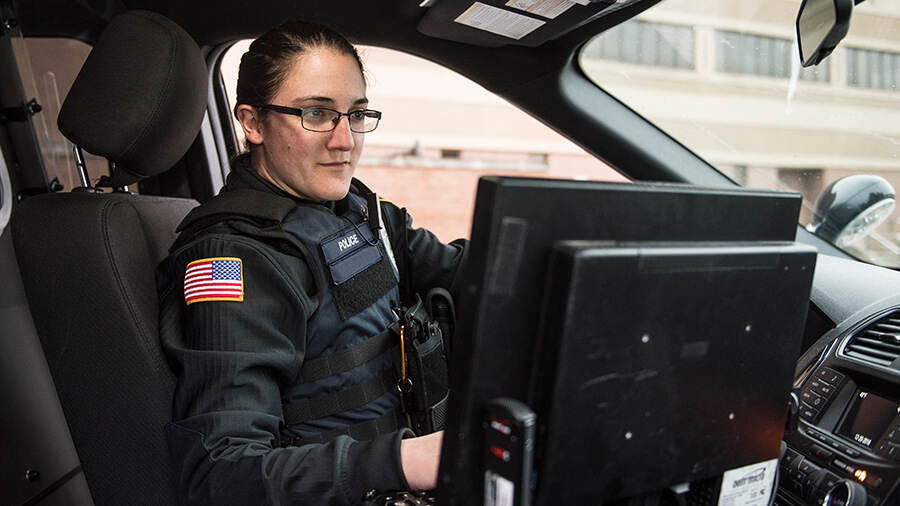 Answers to Common Questions
Take a look at our answers to frequently asked questions to learn more about our role on campus.
What is the policy on weapons?
The possession, use, or distribution of any explosives, guns, or other deadly or dangerous materials or weapons reasonably calculated to cause bodily injury is prohibited in university facilities, unless specifically authorized by an authorized representative or required by or used in the course of a university activity and under the supervision of a university representative. The authorized representative may make reasonable search of patrons, fans, or visitors for any explosives, guns, or other deadly or dangerous materials or weapons as deemed necessary for the protection of the university facility and its occupants.

The full policy can be found at Purdue's University Policy Office.
Do campus police officers have full police powers?
Yes. Campus police officers have full police powers and are state-certified. Our jurisdiction currently extends beyond the campus property to the entire state of Indiana. Our officers have the authority to write both campus and Indiana traffic citations.
Does Purdue Fort Wayne have 24-hour police service?
Yes. The campus is staffed 24 hours a day by commissioned police officers with full police powers.
If I do not feel comfortable walking to my vehicle alone, will the police give me an escort?
Yes. Call 260-481-6827 and give the dispatcher your location. The dispatcher will then send a police or safety officer to escort you to your vehicle.
If I lock my keys in my car or need a jump start, will the police help me?
Yes. We are prepared to assist you with unlocking or jump-starting your vehicle. Call 260-481-6827 if you need either of these services.
If I have a flat tire on campus, will the police help me change my tire?
No. Because of liability reasons, our officers are not allowed to help change tires. They are able to assist in calling a tow truck at your request to assist you.
If I get hurt or have a medical emergency on campus, who will help me?
All our officers are trained by the Red Cross in CPR, AED, and first aid. They will be the first to respond to your call for help and will contact additional medical personnel as needed.
What are staff parking permits and how can I get one?
Permits for parking in the staff section of the parking lots are only for full-time and part-time faculty and staff of the campus. Students and visitors may not purchase these permits.
Do you enforce parking meters after 6 p.m.?
Yes. We enforce these from 7 a.m. to 11 p.m.
Do all staff parking lots change after 5 p.m. and become student lots?
No. Not all staff lots become student lots. Please refer to your rules and regulations pamphlet as to which A lots become student lots after 5 p.m.
How can I dispute a parking ticket?
To dispute a parking ticket, you can fill out the online Parking Appeals Form. This is the only way that you can dispute a ticket.
Where is the Purdue Fort Wayne police station located?
We are located on the Purdue Fort Wayne campus at the north end of West Campus Drive. West Campus Drive is the main entrance to the campus off Coliseum Boulevard. The police station is a one-story building located at the rear (dock area) of the Liberal Arts Building.
Where do I get a copy of my accident report?
You may obtain a free copy of your accident report from the police station.
Where do I check if I have lost an item on campus?
There are four places for you to call or visit to see if your item has been found:
University Police: 260-481-6827

Helmke Library: 260-481-6505

Kettler Hall: 260-481-6880

Student Housing: 260-481-4180