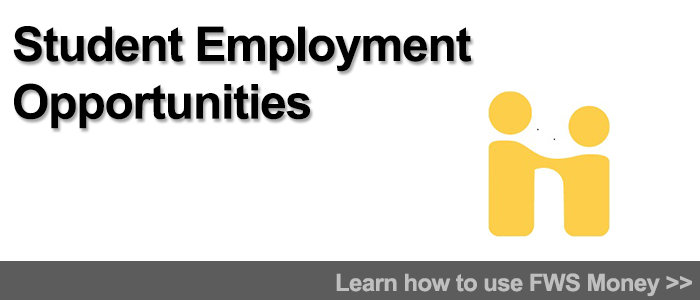 What is Federal Work Study?
Federal Work Study provides part-time jobs for undergraduate and graduate students with financial need, allowing them to earn money to help pay education expenses. The program encourages community service work and work related to the student's course of study. Based on the results of the Free Applicaiton for Federal Student Aid (FAFSA), eligible students are awarded an allotment which may be earned through part time employment in FWS approved positions either on or off campus. The program is designed to provide students with an opportunity for employment arranged around class schedules. Students must be enrolled at least half-time (six credit hours per semester) to be eligible for the program.
It provides part-time employment while students are enrolled in school.
It's available to undergraduate, graduate, and professional students with financial need.
It's available to full-time or part-time students.
It's administered by schools participating in the Federal Work-Study Program. Check with your school's financial aid office

to find out if your school participates.
What is the difference between an FWS job and regular employment?
The primary difference is in how the jobs are funded, as noted below:

Federal Work Study

Must demonstrate financial need by filing the FAFSA form.
Federal government pays 70% of wages; employing department pays 30%. (America Reads tutors are funded 100% by the federal government).
FWS earnings are not considered income when determining eligibility for financial aid the following year. Wages are considered when calculating need-based financial aid for the following year.
Only FWS-eligible students can work in FWS jobs.
FWS students have an earnings limit listed on the award letter.

Must meet minimum half time enrollment requirements:
6 semester hours (undergraduates)
4 semester hours (graduate students)
Same requirement applies for receiving FWS for summer.
Regular Employment
Filing the FAFSA is not required.
Employing department pays 100% of wages.
Regular employment earnings do not affect current year aid package.
Any student can apply for regular employment jobs.
Regular student employees do not have an earnings limitation. However, the number of hours worked may be limited by the department's funding.
Must meet minimum time enrollment requirements when working fall or spring semesters. During summer sessions, enrollment not required if:
Student was enrolled at least half time previous spring semester and there is evidence of planned (at least half time) enrollment for the fall semester immediately following